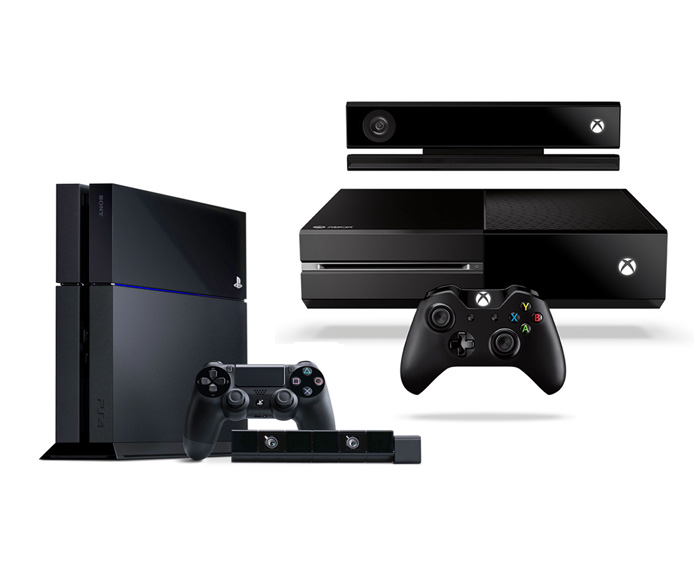 It's early days, but the fact that the two marquee game consoles launched this month before the holiday shopping season raises the question of whether the PlayStation 4 or Xbox One can claim the crown as the best between them. The truth is, there is no easy way to determine who might even be in the lead, much less win outright.
Those who love video games might look at this as a dilemma. Though some gamers are partisan when it comes to choosing camps, others either want both or are unsure which one to go with. It's not an easy call, no matter how you see it, but let's take a look at some of the comparisons and contrasts.
When it comes to design, the PlayStation 4 wins hands down. It's noticeably smaller and has a more tasteful form factor. It helps that it can also be propped up vertically, just like the two Sony consoles before it. Like the PS3, the power brick is embedded inside the chassis rather than outside, which is not only impressive, but also easier to manage when it comes to placement and setup of the console itself.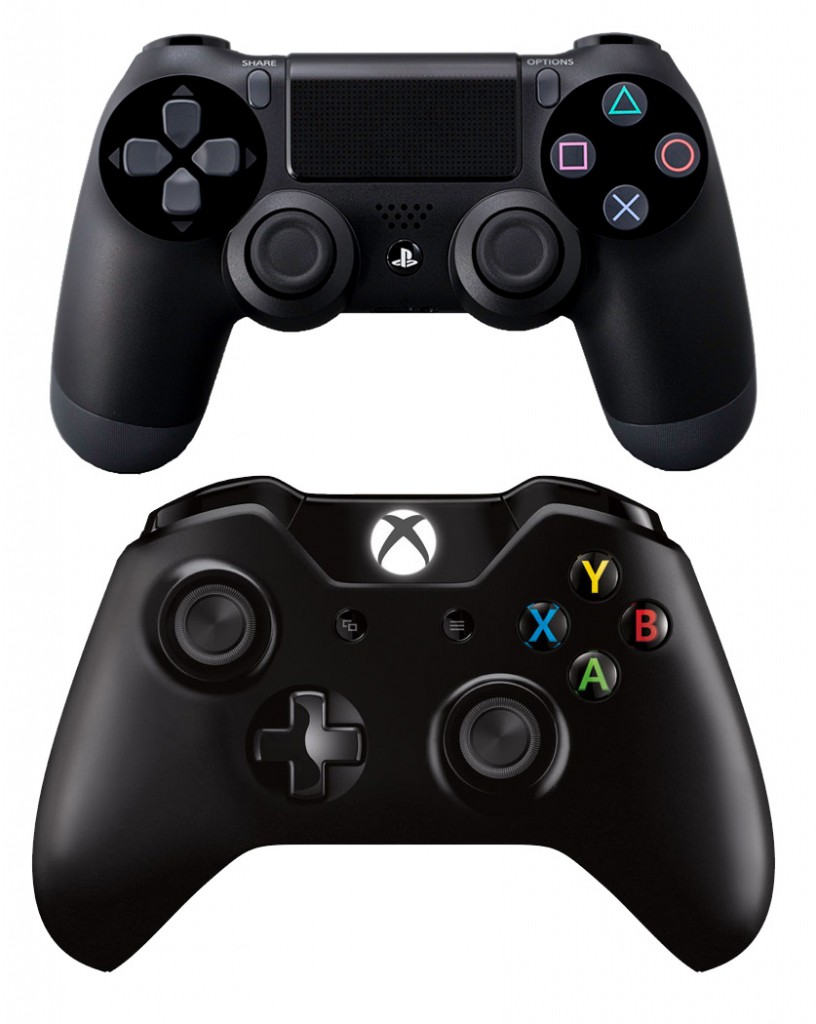 Even the Dualshock 4 controller, which looks very similar to its predecessor, has a slightly smaller profile, despite the fact it squeezes in a touchpad, internal speaker, rechargeable battery and motion-sensor.
In contrast, the Xbox One is considerably larger in size — yet still has the power brick on the outside. It shies away from the angular design of the Xbox 360 and goes instead with a traditional set top box look that is more function than fashion. The Kinect camera is bundled with the console but isn't physically attached to it, nor is it mandatory to use. Still, if you want to, you have to find a place for it, which can either be on top of the console or somewhere else where the camera can get a wide enough angle (above or below the TV is usually best).
The Xbox One controller also doesn't feature any real bells and whistles, and feels a little bigger than the Xbox 360 controller. Other than the standard port for connecting a wired headset for chatting and online gaming, there's not much else that's changed here.
Past the design, one of the top criteria would undoubtedly be graphics. Is one better than the other? At this point, the answer is no. Having played the same games on both systems, I don't see any real difference in quality from either platform. In that respect, they're evenly matched, and down the line, it's likely they will continue to be at the same level.
This is somewhat obvious from the games that are out now. Titles like Battlefield 4, Call of Duty Ghosts and FIFA 14 are out for both, and pretty much look the same, and even exclusive titles on both sides don't stand out above the others for graphics prowess. The Xbox One carries an advantage over the PS4 here, as the trio of Ryse: Son of Rome, Dead Rising 3 and Forza Motorsport 5 are a better overall offering than Killzone: Shadow Fall and Knack for the PS4.
The initial batch of games have greater importance out of the gate because neither the PS4 or Xbox One offer backward compatibility with older games. In other words, no game discs will work from any of the previous consoles. Though not confirmed, there is an expectation that both sides will make games from their respective libraries available via streaming or downloading in the future. They were already doing this with the PS3 and Xbox 360, but will have to expand that greatly considering the size and volume of games from those consoles.
It should be noted that doing anything online on the PS4 will require a PlayStation Plus subscription, which is $50 for 12 months. This is a departure from the PS3, which allowed online multiplayer for free, but now puts it in line with the Xbox, which always put online gameplay behind a paywall. An Xbox Live subscription remains $60 for 12 months. One key difference between these two is that you can stream from Netflix and the other apps on the PS4 without a subscription, whereas you can't on the Xbox One.
Apps are generally light on both sides as well, mostly because of geo-restrictions, but also because there isn't a lot to choose from anyway. For the Xbox One, there's Netflix, Crackle, CinemaNow, Xbox Video, NFL (for scores only), Sportsnet and Machinima. For the PS4, there is currently only Netflix, Crackle, NHL GameCenter and Crunchyroll.
The Xbox One also integrates Skype into its online catalog (you will need a subscription to use it though), so much so that it is a part of the overall interface. You can chat with someone while playing a game or watching TV, for example.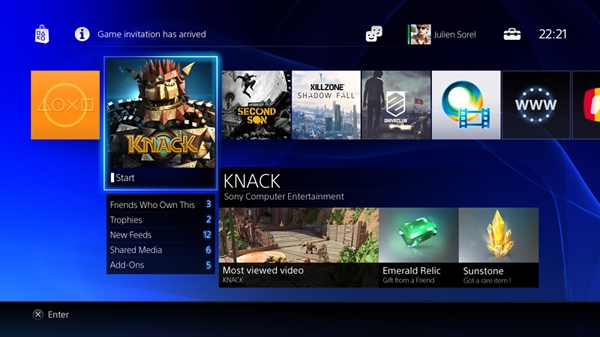 In fact, both have new user interfaces, though Sony's is more of a departure from the previous UI than the Xbox One, which uses the Metro look derived from Windows 8 that had already started to make its mark with the 360. Sony's is more visual now, using larger icons and smoother animations to present everything the system offers, including the Playroom (which uses the separately sold PlayStation Camera) and content you can buy or rent.
Sony has a cleaner look but Microsoft has packed more into its interface. Microsoft wants the Xbox One to be an entertainment hub in the living room, whereas Sony has made no such distinction — at least for now. The Xbox One can work with a cable or satellite box as a pass-through, allowing for live TV viewing through the console (though there is no program guide in Canada yet). With the Kinect camera, voice commands make it possible to control the TV that way, except that the initial functionality is limited in Canada when compared to the U.S.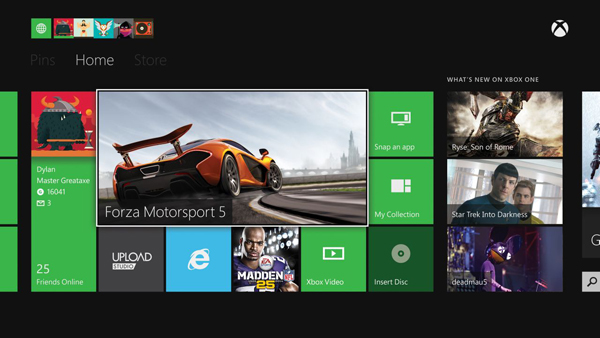 With the exception of the apps and Sony's streaming services (Music and Video Unlimited), the PS4 offers little as far as non-gaming content goes. It won't play CDs, MP3s, nor playback content from USB external hard drives that are plugged in. There's also no DLNA or UPNP support for streaming from a local network attached drive. In other words, there's not much you can do outside of Sony's walled garden. The Xbox One, on the other hand, can stream from a local network drive and plays MP3s. As of now, it can't enable external hard drives connected to its USB ports.
These are drawbacks on both sides right now, but can easily be remedied in the future with patches and firmware updates that add that kind of functionality, so they are by no means permanent problems.
Instead, Sony's 'games first' policy is based on the ability to stream live gameplay via Ustream or Twitch, as well as posting recorded footage onto Facebook. This has social networking implications that could potentially allow for more integrated collaborations — a sort of quasi-multiplayer where a friend coaches another, for example. The Xbox One records footage to a "Game DVR" but there's no streaming.
On the mobile side, the Xbox One has the free SmartGlass app (iOS, Android and Windows Phone), while Sony has its new PlayStation app (iOS and Android). They're both different but equally off to good starts.
Sony's unique Remote Play feature that allows you to play PS4 games on a PlayStation Vita within your home network is excellent, and changes the usability of the handheld device immensely.
Microsoft's goal to be the nexus of living room entertainment through the Xbox One is already crystal clear, whereas Sony's objectives are more measured because of the narrower focus to start. In a year from now, those lines will blur further, as the two gaming giants compete on more than just games for their respective consoles. If a clearer winner emerges at that time is hard to say, but as of now, there is no front-runner between them.
As far as pricing goes, the full cost needs to be viewed in a wider context, given that they are $100 apart. The PS4 is $400, but goes up once you add an extra controller ($60), the camera ($60) and a PS Plus subscription ($50). The Xbox One is $500 with an extra controller ($60) and Xbox Live subscription (($60). Doing the math, the price difference is reduced to $50 between the two.