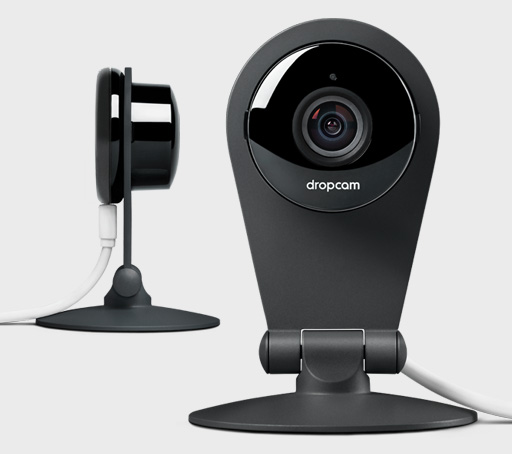 Home surveillance has come a long way in a short time, and the Dropcam Pro is a reason why, improving the optics and overall performance in such a way that you can get a very clear picture of what's going on in your home no matter where you might be.
The Dropcam Pro is the successor to the original Dropcam, and the most notable upgrade is the optics and image sensor used to capture footage. They do a fabulous job together, managing to take in a 130-degree viewing angle at full 1080p HD resolution at 30fps. Once the lights go out, it uses infrared to give you a clear view with plenty of detail. The upgraded microphone and speaker inside allows you to hear what's happening and speak through the camera from your smartphone. It's a compelling mix of initial features, and an ideal start to what turns out to be a solid product.
Even though there are competitors who offer similar features, they don't necessarily do so with the same level of beauty. Yes, beauty. The Dropcam Pro comes off as a classy product, from its packaging right down to when you unearth it from inside the box. Stylish with subtle cues, it looks like almost any smaller surveillance camera, yet with its own unique look and feel. The camera can be propped up with the stand or mounted to the wall using the included screws.
A couple of challenges do come up when it comes to placement. The camera doesn't have an Ethernet port, which may be an issue for surveillance sticklers that would prefer a wired setup. It also doesn't have a battery or its own power supply, so it needs to be plugged into an outlet at all times. Interestingly, Dropcam chose to make the camera black, but the USB cable and power adapter white. That might also pose a problem for some users. Given that it has a microUSB port, using a black cable is an easy alternative to match colours, unless you have white walls to blend in with the one included in the box.
Setting up the camera is painless, and can be done so directly from an iOS or Android device. After setting up a free account, the camera uses Bluetooth LE (low-energy) to link to the phone or tablet, allowing you to then connect it to your Wi-Fi network and preview what the camera sees. The whole process should take no more than five minutes. If you prefer, you can opt to connect the camera directly to a PC or Mac to set it up that way.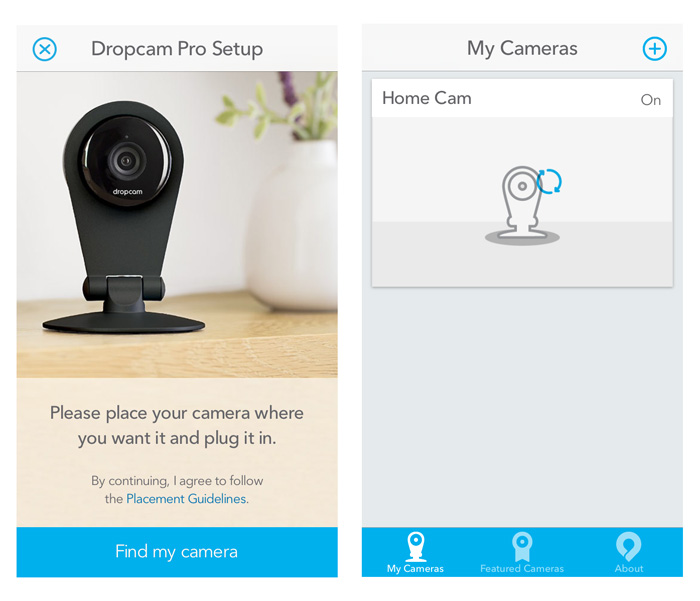 When viewing the live feed, you can pinch to zoom to get a closer look. This does use digital zoom, which would normally be a knock against it, but with the larger image sensor, it's able to keep the pixilation at bay just enough to provide a good image. There is motion and audio detection built in that proves to be great for catching someone or something in the act — except it's more relevant for those living alone or rooms that are locked to outsiders. The camera sends a text or email whenever it detects motion or audio, but can't differentiate what is normal and what isn't. For example, a roaming dog or cat will easily trigger the camera, leading to a series of alerts throughout the day. Dropcam says it's working on a way to separate these regular occurrences using a Web-only beta wherein you can teach the camera to learn motion patterns for a more customizable experience.
We noted also that we could view the camera live but not record anything unless we had a paid subscription to Dropcam's Cloud Recording (CVR) service. This records video in a loop to the company's servers in the cloud, letting you access pre-recorded content at will. You can even clip the content, save it and share it with friends, should it be relevant. Undoubtedly, these types of features could be used for nefarious purposes, catching unsuspecting people in pure invasions of privacy. Of course, that's not what Dropcam intends.
Pricing for this service isn't super cheap, either. For seven days of footage, it costs $10 per month or $100 for the year. For 30 days of stored footage, it's $30 per month or $300 for the year. That's worth the price if peace of mind and security are a top priority, but it might be a bit too high for the average user.
All told, we enjoyed using the Dropcam Pro, and found it to be among the best surveillance cameras we've tried. At $200, it's not really inexpensive, but the level of quality and consistent performance make the price reasonable for what you get.