A life-and-death scenario is playing out inside a major downtown sports arena: a potentially deadly mass casualty event is underway.
Emergency responders find injured people almost everywhere they look; the need for appropriate medical treatment is immediate.
Luckily, this situation is simulation.
A video crew and digital media production team is hard at work inside the cavernous Rogers Centre in Vancouver, BC. Actors portray the injured patrons and nearby, professional trainers from St. John Ambulance (SJA)  oversee the dramatic recreation.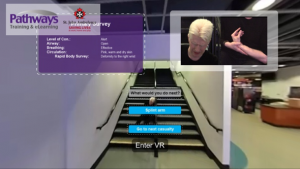 They are developing what's dubbed Canada's first 360-degree video, virtual reality-enabled eLearning module. The new app, almost a proof-of-concept program, tests people's knowledge of who to help and what to do in the case of a major emergency with multiple victims.
The ubiquity of digital media and mobile technology, especially connected, screen-enabled smart devices, opens up tremendous opportunities to consistently deliver important information in engaging, even entertaining, ways. Particularly for the first aid trainers at SJA, the opportunity to repeatedly deliver important information in a safe and controllable environment can be, well, life-saving.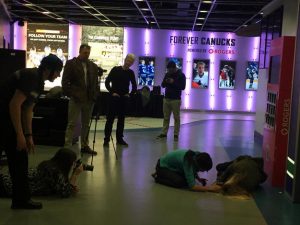 "We were looking for a way to remove some of the psychological barriers around first aid by creating a simulation that was as real as possible," said Stevan Anas, Interaction Designer and Provincial Training Officer from SJA. "We also needed that solution to be cost effective, repeatable, consistent, and easy to distribute over a large geographical area."
That looking around led to a casual conversation at a learning and technology conference between folks from SJA and a Canadian-owned and operated technology company called Pathways Training and eLearning Inc. Pathways  has offices in Toronto, Vancouver and Montreal.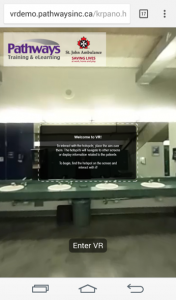 The team from Pathways was researching new learning technologies and evolving its theories about eLearning to include 360 video/virtual reality in the future of training. Pathways was ready to invest in VR production equipment, including a new 360 degree camera, and it was looking for content to create the first demo.
Anas and his team at SJA were familiar with some first aid apps that offered similar functionality as an eBook or digital reference with integrated videos. "Most apps make you a passive viewer, like watching TV," Anas described. But he saw the potential in VR assisted training to "learn by doing, which is shown to be significantly better at allowing learners to retain information."
As Jennifer Coles, Pathways Senior Director, Learning & Development, described the ensuing conversation in a blog post, "[W]e chatted about how great this training medium would be for first aid training as the closer you can get people to practice their first aid training in situations that are as close to the medical emergencies as possible, the more likely this medium is to save lives!"
So the Mass Casualty 360 Video/VR simulation recreates a first responder's initial walk-through and assessment of a mass casualty event, with actors portraying people who require medical assistance or treatment for different injuries.
The program uses 'clickable' graphic overlays superimposed on the video to present more information about a particular patient's symptoms. Then, by selecting from possible treatments or first aid responses displayed as text overlays, the program can provide positive feedback on the choice as a way to reinforce classroom learning, or it recommends further study.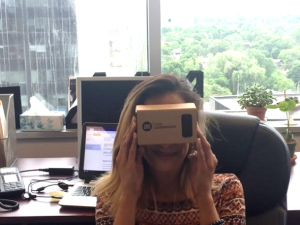 Of course, there's learning involved for the VR programmers and educational designers, too. Important insights are being gained about the nature of eLearning, and how to best structure the information presented and what reinforcements are most effective in achieving particular training goals or learning objectives.
It was, after all, at that annual DevLearn Conference and Expo where the initial discussions for the Mass Casualty 360 Video/VR simulation began, triggered in part by training specialists from around the world who see technology changing the face of corporate training and eLearning.
While the traditional instructional concept is a linear one – following a predictable trajectory from one fact to another – the nature of immersive virtual reality training is definitely not linear: users are likely to want to take pretty much any path they can from one fact to another. It is up to the program producers and instructional designers to build in appropriate options and anticipate user learning needs and desires.
Julio Ordonez, Pathway's Manager, Product Programming, describes some of the tools and techniques used to achieve those goals while creating VR programs. Although game engines like Unreal Engine or Unity are available to help create interactive content (as well as games), he notes the need for skills needed to create effective VR content. Without dedicated eLearning authoring tools (like Lectora or Adobe Captivate) for virtual reality training or 360 videos, a talented team of animators and 3D artists, programmers and coders familiar with C++ or C#, and as in the SJA case, talented videographers who can wear 360-degree cameras on their heads, are needed.
The downloadable VR training module can be viewed with a compatible smartphone and viewing headset like Google's inexpensive cardboard goggles.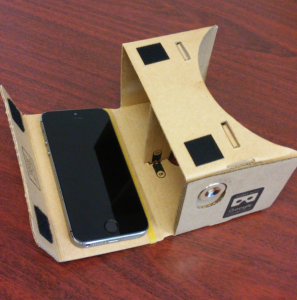 Anas reports that SJA "couldn't be happier with the final product. We are evolving our technology and education delivery, and we plan on integrating it into some of our programs and use it as a means to train our Medical First Responder volunteers. In the future, we do plan on integrating more technology in the first aid classroom. We are hoping that this simulation will allow us to make our training even better."

-30-