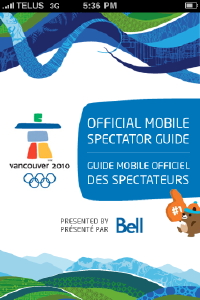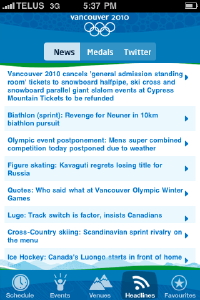 We recently covered the WOW application on Bell Mobility which gave us updates on the ongoing Vancouver Winter 2010 Olympic event. We got so used to realtime updates, scores and standings that we decided to search for similar apps for the iPhone. We found not one but three apps that can keep us tuned in to this exciting and historical event. Read on for the reviews.
2010Guide – Vancouver 2010 Olympic Winter Games: The Official Spectator Guide
2010Guide was created by Bell Mobility for the iPhone and is one of the prettiest and most elegant iPhone apps we've ever seen. It integrates the look, feel and mood of the Vancouver 2010 Winter Olympics with hues of ice blue, teal and green.
Functionally, 2010Guide delivers a fast, clear and comprehensive overview of real-time information on the games. You get the following features in one easy to use interface:
Schedules by event and location
Event sport and culture information (including meetups, parties, concerts and other peripheral events)
A list of sporting an cultural venues where athletes hang out
Headlines -One-stop for news, medal count and Twitter feeds
Integration with Google Maps – which shows ongoing events and schedules
You can use 2010Guide via 3G or Wi-Fi and we found the experience to be superb. It isn't clear who the developers of 2010Guide are but they need to be commended for creating a gorgeous, fast and truly useful app that keep us informed of all the events.
Rating: 5 out of 5
CTVOlympics– Vancouver 2010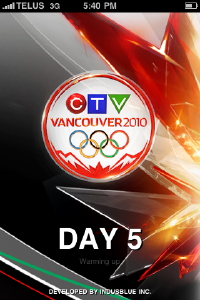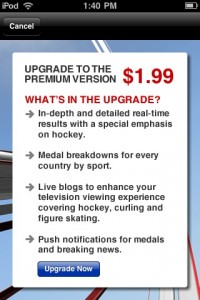 CTV is the main media outlet covering the 2010 Vancouver Winter Olympics and has supplemented its TV and cable offerings with an iPhone app of their own. Much like the 2010Guide, CTVOlympics can give you daily results by event, a good sampling of news as well as a comprehensive TV schedule of events and which channels are showing them. Medal counts, photo galleries, and Google Maps of the venues are also good features as is a by country listing of athletes and their stats.
The problem with this otherwise awesome app is the bait-and-switch tactic users are faced with when accessing the "Live Blog" feature. Requiring a $1.99 upgrade, "Live Blog" offers real-time info with "special emphasis on Hockey," access to live blogs as well as push notification for medals and breaking news. The $1.99 doesn't offer any audio or video just features that you thought you were getting in the first place.
The free features are great and useful but we aren't happy with the sneaky "upgrade to the premium version" tactic buried inside the "Live Blog" area, its just tacky and feels opportunistic. There's a "Hockey" section as well which doesn't do anything but bring up the "Upgrade to the Premium Version," screen.
Rating: 2.5 out of 5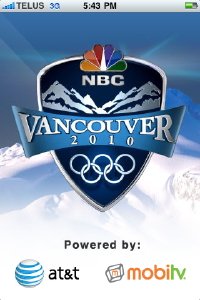 Neither NBC or AT&T are Canadian companies but since NBC is covering the 2010 Winter Olympics for the USA this is their version of an iPhone App. Canadian users can download and use most of the features except for the video files which are, understandably, only for AT&T subscribers in the US.
What is cool about this app? Aside from being really free, it manages to cram a lot of information on one screen for quick reference. in the "Now" screen, for example, you get top stories, featured American athletes, a medal counter, links to photos and an updated Twitter stream.
Going to specific Sports gives you news and information on specific events including what looks like Wikipedia summaries of events and their history. Schedules are also abundant as are links to social media which figures prominently in each athletes profile. Note however that while you can read entries in the social section linking or posting is limited to US based users who can receive SMS messages. We wouldn't use NBC Olympics as our primary event monitoring app but its a good secondary resource that costs nothing.
Rating 3.5 out of 5