By Gadjo Cardenas Sevilla
Troubling times ahead for Bell/Virgin and Rogers MiFi mobile  3G hotspot owners. The popular device has been recalled due to a hazard posed by overheating batteries.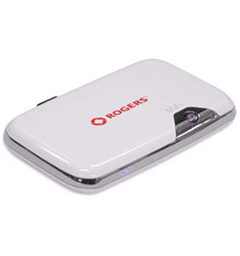 Rogers and Bell have recently recalled their Novatel MiFi 2372 product. The device's 4-hour rated battery is prone to swelling and possibly overheating and may be a safety hazard to consumers. Below is the official explanation from Novatel.
Novatel's top priorities are to serve our customers and end-consumers and to provide for the safe use of our products. There have been two incidents reported from Bell and Virgin Mobile Canada, with battery overheating issues. While we can't comment on specific consumer incidents, it has been reported that some customers have had difficulties opening the battery door thus utilizing sharp objects or excessive force to open it.
While doing this, customers can inadvertently puncture the battery when trying to remove it and this can cause the battery to over-heat. To reduce the probability of user-induced damage to the battery, we have redesigned the battery door to make it easier to open.
Any product or battery issue is considered a matter of utmost importance for Novatel Wireless. Consistent with that and as a preventive measure, the Company has communicated an exchange program for Bell and Virgin Mobile Canada customers to replace the MiFi 2372 battery and battery door.
The MiFi 2200 — addressing the CDMA market — represents the majority of the MiFi units we have sold and has different design features and components, hence, it is not effected.
Bell customers needing continued access to mobile Internet are given a loaner U998 Turbo stick while they wait. Users are advised to contact Bell in order to enable the recall and anyone who opts to skip the recall, will their get device deactivated remotely.
Rogers, on the other hand, is promising a 7-10 business day turnaround time for customers to get their MiFi back. While they haven't provided any loan, they will instead credit your bill while the device is being replaced. Rogers customers can call 1-866-511-5311.