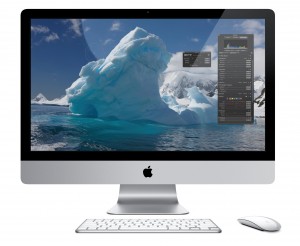 Aperture, which sells for $219, is a Mac only application that offers users a non-destructive photo editing and management tool. For an application that started out as a purely prosumer-oriented shooter's tool it has been revised to be simpler to use but with all the control you could possibly need under the hood.
A first look reveals a more user-oriented interface that will be familiar to iPhoto users. iPhoto is the standard photo app that's included with every new Mac. The biggest things we noticed with Aperture is the placement of buttons for direct upload to Facebook, Flickr, Apple's own MobileMe service plus a direct link to your email program.
It is clear that quick organization, the ability to enable on-the-fly touch-ups and more importantly the capability to share photos quickly through a wide variety of social media and web-based services is the key focus of Aperture 3.
Aperture seems to run in the background by default and comes to life as soon as a camera or a memory card is sensed by OS X. Once Aperture is activated, it automatically reads the card and generates thumbnails of all the images that are present before they are imported. This give you the option of weeding out images even before you even start putting the files on your hard drive. A space saving feature for sure.
Dealing with a lot of large RAW files, we opted to get images stored on an external drive and this worked well. You can manage hundreds of thousands of photos easily thanks to the application's search capability and its intuitive navigation. Spend a little time organizing by date, subject, place, camera and you'll soon tidy up your photo collection.
Aperture 3 has also integrated iPhoto's faces and Places features. Faces can automatically scan and tags photos by faces so it makes it easy to search by person. We found the Faces feature to be generally accurate although like most facial recognition software it tends to have some difficulty dealing with poorly exposed photos and oddly works a lot better at sorting Caucasian faces than it does darker skin tones.
Places works in a similar way but deals with location and is ideal for working with photos from cameras or smartphones  that have a GPS location capability.
Otherwise, you need to manually tag your photos based on location. It is easy enough to do as the feature is powered by Google Maps, which many users are already familiar with. Nothing revolutionary, but definitely a cool feature to have.
Many Aperture 3 features are easy to miss, like the full screen browser which allows for live-views of any adjustments or edits you may be making so you see changes accurately (this is done on a copy of the original so even if you mess it up you can start all over again).
We also discovered that there are dozens of third-party plugins that can enhance Aperture for specific types of photos manipulation. We tried Toon-It which re-colours photos in such a way that they resemble comic books. This open system allows photographers to tailor their digital darkroom and use a variety of effects to enhance their images.
Aperture is a deep and complex program but made simple by its interface and we will need to spend a lot more time to figure out all of its functionality. Is it worth the $219? For photographers who need to catalogue and manage huge collections it will definitely do the job but remember it needs a Mac to run.
One caveat and the source of some frustration is that the proprietary RAW formats of newer cameras are not always supported right away. We had a hard time working with RAW images shot on a Canon Digital Rebel 2Ti as well as the Olympus PEN E-PL1. The recent Aperture update took care of the Canon problem but Olympus is still unreadable by Aperture. Another reason to push for a RAW digital negative standard across camera manufacturers which is unlikely to happen.
If you're happy with iPhoto and are comfortable with the feature set, then that's fine. For more advanced photo management and organization plus editing features, Aperture 3 is worth a look as a multifaceted solution to photo management, light editing and creative workflow.
Rating: 4 out of 5 stars