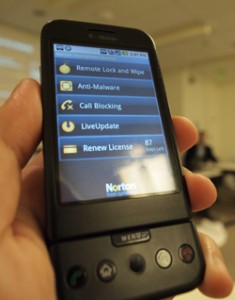 Text and Photos by Gadjo Cardenas Sevilla
PALO ALTO: The recently concluded Next@Norton event in Symantec's world headquarters in Palo Alto, California brought together Norton executives, engineers and product managers with tech journalists to highlight the company's products and initiatives for 2010, most specially their work on cloud, social media, smartphone and Internet connected non-PC devices. WhatsYourTech.ca was there to get the lowdown on next generation security solutions first-hand from Symantec's engineers.
"Times have changed, there's an angry horde of malware coming at us today," Kevin Haley, product manager for Symantec's security and response group explained, while stressing that the volume of threats facing users in their PCs, mobile devices and online through social media is only expected to rise.
Symantec reportedly has to handle 20,000 virus signatures a day that translates to a staggering 1,000 updates a week to its security products. A number that is expected to grow even more as connected devices increase.
Critical Reputation
Also discussed was Symantec's reputation system that generates a software rating system based on the reputation of the developer and source. The company claims the new technology can accurately weed out harmful software and viruses from legitimate programs.
Symantec leverages data from multiple sources such as millions of Norton Community Watch members, software publishers and enterprise customers in a data collection program tailored to large enterprises. This data is continually imported and fed into the reputation engine to produce a security reputation rating for each software file, all without ever having to scan the file itself.
These reputation ratings are then made available to all Symantec users through a large cloud-based infrastructure of Symantec servers.
Just to give you an idea of the scope of these tests, there are 393 Windows OS versions tested plus the entire relevant Mac, Linux, Unix and OS/400 version as well.
Norton 2011 goes for proactive protection
Norton 2011  is now available as a public beta.
Norton 2011 is supposedly faster and has a smaller footprint, which means it will take up less space on hard drives. It also addresses some of the threats posed by scareware and fake antivirus malware that have proliferated in the recent past.
There's a download insight feature that verifies if files you are downloading from the Internet are from a trusted source and if they contain threats even before the file hits the user's hard drive, which is considered as the point where real infection and system compromise begins.
Among Norton 2011's many features is Proactive Performance Alerts that offer real-time notifications if something in the system seems off or is acting strange.
"Performance alerting is the next level. Its proactively telling you that an application is hogging CPU or memory and that the user should know about it," Knop explained. "This is totally configurable by users and you can decide what are the sort of thing you want to be alerted on."
During the event we also saw demos of Norton Power Eraser, a free application that scours and eliminates hard to remove malware or viruses that regular virus scanning is likely to miss and Norton Bootable Recovery which is the tool to use once a PC is so addled with malware that it won't even boot from its own OS. Both of these products are available for download.
During the demo, a fake antivirus program, was installed on a pc and not only did it root in the user's system but it also prevent scans and removal from real antivirus applications. Using a combination of bootable recovery and the power eraser allowed the complete removal of the malware.
We saw first hand how programs pretending to be antivirus applications immediately corrupt host computers and render them almost useless. These bogus antivirus apps look convincingly real and once enabled look like they are really scanning the host computer when in truth it is infecting it at the very core.
Protecting Facebook and the rest of the web
With social media becoming a bigger part of people's lives it is inevitable that services like Facebook eventually become a platform for all sorts of unsecure threats. Norton Safe Web works as follows.
The Norton Safe Web for Facebook application scans user's current news feeds to see if they contain links that are unsafe to click on. The scan results help users easily see which links are rated safe and which are risky. This is an opt-in application that many believe should be standard in every Facebook user's account.
Khan Tran and Chandra Cidambi, product managers for Norton Safe Web gave an overview of the scope and data infrastructure required to support the vast stream of data that's connected and analyzed. They discussed cloud computing and a number of security advancements in blogging platforms as well as possible implementation of a security link shortening services like bit.ly, snipur.coml, tinyurl.com and metamark.net.
Beyond the PC
Of particular interest was Dan Nadir's focus on security beyond the PC. Nadir is director of consumer business for Symantec and was joined in the forum by Adrian Turner the CEO of device security firm Mocana asthey discussed some of the upcoming solutions for smartphones and net appliances.
Overall, the Next@Norton 2010 event was an insightful overview into all the multifarious threats that can affect our digital lives. Not only do we need to look out for threats to our PCs but also our personal and professional social media profiles as well as our most private and personal devices, our smartphones.
The intensive one-day visit was hardly enough time to cover everything but it was nonetheless an extremely informative and educational event.
More security coverage