That's munch.
Not punch.
It's supposed to be fun, after all, not violent.
But, getting you engaged and involved with Toronto's Mayoralty Campaign is the point of a cool new interactive website.
Game play results will be crunched in real time, and then displayed on programmable digital display networks that criss-cross the city.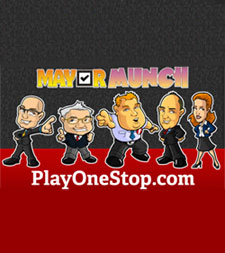 On the home page is an online game that stars animated versions of Toronto's top five mayoralty candidates. You start by picking one to be your avatar (and your pick is tallied as a 'vote' for that candidate).  Then, it's a little like the old Pac Man game, in that you navigate a maze filled with edible points and opposing candidates who just might eat you for lunch – unless, of course, you munch them first.
Mayor Munch is the brainchild of Michael Girgis, and the gang at Onestop Media Group in Toronto.
But Onestop takes the game one step further – showing the real-time vote results live on its digital signage network and to more than two million people every day!
You are one of those two million, if you ride the subway – those screens hanging over the TTC subway platforms are part of the Onestop network.
 They are all connected and IP addressable, and taken together, they are called a digital out of home network, or DOOH. 
Onestop also manages DOOH networks for the Toronto District School Board (TDSB) and in residential high-rise buildings across the city (among others).
So, the new game is targeting a very specific audience, one largely recognized as an untapped and often unengaged voting community – 18 to 34 year olds.
And therein lies the real motivation. (if it's not the 50 inch HDTV you could win by registering and voting in the game!)
"We want people to get more engaged in the upcoming election, and so we thought of media and online connectivity as a new way to do that, one that is relevant to their generation," company president and CEO Girgis says. "Someone is going to run this city for the next four years; if we care about life in our city, we should care about who that will be."
Girgis says that, in addition to several on-going client projects, that he will update and enhance Mayor Munch over the course of the election campaign.
We joked that one add-on might be a 'None of the Above' character, because one of the reasons often cited for low municipal political engagement (particularly among younger voters – way less than half turned out last time) is the quality of the candidates, or perceived lack thereof.
"Yes, we can have fun with it – but there is a serious point underneath," Girgis notes. "If we can get one, or one hundred, or one thousand people to get into the election, then we will have succeeded."
(The game could go mobile, too, but he says for now the most common denominator is a web browser. Besides, the 'Munching Maze' would be really small on a cell phone screen!)
So the game is fun. The goal is admirable. And you could win a great prize! What are you waiting for?
* * *
Well, take a minute here and learn a little more abut DOOH, if you will, 'cuz the networked digital signage idea is really neat when you think about it.
Which is what students at four select high schools in Toronto do on a daily basis.
Their in-school networks are like their own TV channel. Very local, but very customizable. You can put on just about any kind of media content on a DOOH, and they do!
The students act as program managers, site admins, content creators and programmers, marketing agents, you name it. They can even sell ads and raise some money for the school!
Of course, it is school – so the students are supervised and marked as part of their class work, maybe for a communications or creativity course.
"Operating the network is closely integrated into the curriculum," Girgis explains of Onestop's participation in getting it started. "We worked with students, teachers, parents and TDSB folks to provide a voice for students and help them develop media literacy along the way."
Very cool – and of course, the network provides immediate communication within the school, too, if needed.
And yes, the network could carry the Mayor Munch results – no time like now to get started on political engagement, I always say!
Besides, the Mayor Munch poll – and contest – closes Thursday October 21st.
-30-