Canadian entrepreneurs and small business owners intend to invest more in innovation than they did in the past – yes, they want more tech in their companies, but they also want more tech support for their companies.
Those are among the findings of two surveys released during Small Business Week in Canada that show entrepreneurs are very proactive in making business investments, and intend to integrate new information and communication technologies (ICT) where they see it making a difference in the success of their business.
It's a strategic investment, designed to boost productivity, gain a competitive edge – or both.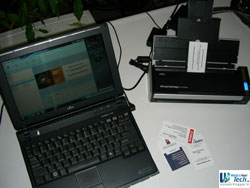 But, at the same time as technology offers an apparent advantage, many say the human touch is what's really needed.
For example, 93 per cent of 18 to 34-year-old small business owners who replied to the surveys use advanced wireless solutions to keep them connected to their customers and suppliers, while at the same time keeping their business future proofed.
But, a similarly large group — close to 90 per cent — say they prefer direct service and personal support from the companies they themselves purchase from.
So small business finds itself on either same of the same question – how to take best advantage of available technology while still maintaining the human touch in developing and nurturing strong relationships with customers and staff.
In other words, automated voice answering systems are probably out!
That's one of the reasons behind the launch earlier this year, of Live Agent, a dedicated support program from Rogers specifically for its business customers designed to ensure immediate, real-time assistance with specially-trained service representatives.
Those representatives are live, and they're in Canada.
"Our customers have told us they need the solutions that enable them to take advantage of even small blocks of time and the support that lets them get back to their business," explained Gordon Stein, Vice President, Business Segment, Rogers Communications. "At Rogers, we understand that …. personal, dedicated support is imperative for all small businesses to stay competitive, productive and ultimately help them succeed."
Building  to provide small business customers with the support and resources they need, Rogers has also just unveiled RedBoard Biz (redboardbiz.rogers.com), a new corporate blog designed to provide business customers with business news, industry trends and key product and service information and the opportunity to comment and share ideas. 
Angus Reid Public Opinion, Rogers Communications, the Business Development Bank of Canada Intel Canada were all involved in studies and surveys on small business, the results of which they are all using to demonstrate  the importance of technology — and good support for that technology — to small business.
In general, small business favours laptops, with smartphones coming in third among the favourite technologies used.
The Top Three Small Business Tech Tools
Laptops
Used by 55% of businesses
Backup storage solutions
Used by 42% of businesses
Smartphones
Used by 37% of businesses
Source: Angus Reid
But while technology is seen as the main communications and information sharing tool, young entrepreneurs ranked personal service (68 per cent) and access to dedicated customer support when making purchases (55 per cent) among the top deciding factors when choosing vendors, suppliers and providers for their own needs. 
While voice remains the number one cell phone application in terms of importance (79 per cent), nearly half of small business owners are turning to their mobiles for data (48 per cent), followed by texting (31 per cent) and browsing the Web (28 per cent).
"Clearly, we've passed the point where the Internet is a luxury or an add-on to a business's operation," said Doug Cooper, country manager for Intel Canada, in a release on the poll's results. "Canada's small business segment wants, needs and uses the Internet to advance their company goals," he said.
His take on the surveys just underscores the entrepreneurial desire to invest in new equipment, and to integrate ICT (information and communications technology) into their business.
Of the three main reasons entrepreneurs gave to explain their investments in the past 24 months, 47% wanted to improve productivity, 34% wanted to keep up with the competition and 30% wished to take advantage of an opening in the market.
"The competitiveness of Canadian companies depends in large part on productivity improvements and innovativeness," said Jean-René Halde, BDC's President and Chief Executive Officer. "At a time when the economic outlook is gradually improving, it is encouraging to see that our entrepreneurs intend to invest strategically in activities that will help them become more competitive."
Small Business Week was started by the Business Development Bank of Canada (BDC), which hosts events across the country.
For more information about the scheduled events, and detailed survey results, visit the BDC website.