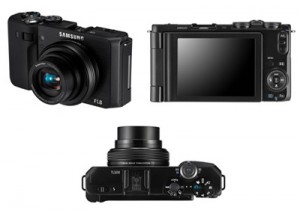 The prosumer point-and-shoot segment has maintained its popularity and photo-happy users not keen on large DSRLs or even compact interchangeable lens cameras have been looking for powerful yet pocketable cameras. Samsung's EX1 is a fixed lens camera that harkens back to rangefinder cameras that were small yet managed to take stunning photographs.
Made out of machined aluminum and steel, Samsung's handy EX1 includes a fast f/1.8 lens that gives photographers a wider range of aperture steps and shallow depth-of-field, giving them the ability to blur out the background of their images while maintaining focus on their subjects. A quick, high-quality lens, the 24 mm ultra wide angle Schneider-KREUZNACH lens is great for all around photography and capable of performing admirably in low light conditions.
In terms of build quality, the EX1 feels both sturdy and incredibly well put together. There's just something about having a camera with a metal body which makes it feel more substantial than the multitude of plastic cameras out there. Ergonomics, grip and button placement of the EX1 is superb and you can somewhat  justify the camera's pricey $499 price.
The EX1 offers A, S and M shooting modes and supports raw file capture. It provides dual (optical and digital) image stabilisation and Samsung's Smart Auto 2.0 scene recognition technology. Applicable to both video recording (640×480 at 30fps / H.264) and for still photography, this function analyses the scene and automatically selects the appropriate camera settings. The EX1 measures 114.3 x 63.2 x 29.2 mm. The mark of a good prosumer compact is the ability to shoot good RAW images, these small cameras are popular backup cameras for professional or prosumer photographers and can do an awesome job as your main camera.
The Samsung EX1 can compete with the Canon and Panasonic models in this segment and even brings more functionality with its articulated screen that can be flipped around for a greater variety of photographic angles. The AMOLED screen is bright and offers rich colour and detail but may be a bit over saturated for some and may also be reflective in certain conditions. This is something that can be easily corrected by angling the screen to avoid glare.
The beauty of the EX1 is that while compact, it can easily be deployed in situations where a larger DSLR would bring unwanted attention. The EX1's advanced optics and range of operation makes it possible to take stunning photos and passable video under most conditions.
The  EX1's f/1.8 lens also allows users to take better photos in low-light environments as more light is passed through to the high-performance 1/1.7″ CCD sensor. Larger than the sensors typically found in compact digital cameras, the EX1's 1/1.7″ CCD offers unrivalled sensitivity (max ISO 3200/full-resolution). A wide angle adapter can also improve this awesome camera's already impressive versatility. We tested the EX1 primarily for street photography as well as portraits where the camera really impressed. This is an ideal camera to take to a trip if want to travel light but also want to make great photos and memories without having to carry a lot of gear.
Its great to see that Samsung isn't all about the large megapixels (which in small sensor cameras like this one also means the potential of producing a lot of noise). 10 Megapixels is more than enough for up to 18 x 24″ prints shot in high quality. Shooting smaller print ready photos and JPEGs will satisfy 80 per cent of users.
Photographers in the market for a high sensitivity, low noise capable compact camera should give the Samsung EX1 a good look. It is just the right size, has stellar 24 mm ultra wide angle Schneider-KREUZNACH lens with a 3x optical zoom and that beautiful 3″ AMOLED screen and a solid metal body that's build to withstand the demands of professional photography but is friendly enough for novices to use.
Rating: 4 out of 5