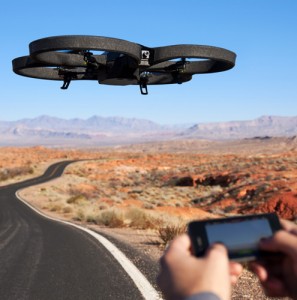 Parrot may be better known in some circles as a company that does a lot of Bluetooth and audio products for vehicles, but at an event in Toronto this week, they showed off the AR.Drone 2.0, a smartphone-controlled quadrotor helicopter and the Zik, the company's first set of wireless headphones.
The AR.Drone 2.0 is the successor to the original AR.Drone, which was never released in Canada. The first drone had four propellers with a camera mounted at the front of the unit that streamed footage directly back to an iPhone or Android device, which also doubled as the drone's remote control. There was a free dedicated app for the drone on both iOS and Android that helped create an ad hoc Wi-Fi connection between the phone and drone.
With all those bells and whistles, the drone undoubtedly carried a wow factor with it, but there were obvious kinks that needed to be worked out.
The 2.0, set to launch exclusively at the Source nationwide in May, has been designed to offer more lasting usability for consumers than the original model could. Though we saw the 2.0 model in action at CES in January, we were given the chance to test pilot the drone at the event.
One of the most notable new features is the inclusion of a 720p HD camera to replace the original one. In addition to streaming footage back to an iOS or Android device, you also have the option to record the drone's video onto said device or a USB stick, since Parrot put a USB port inside.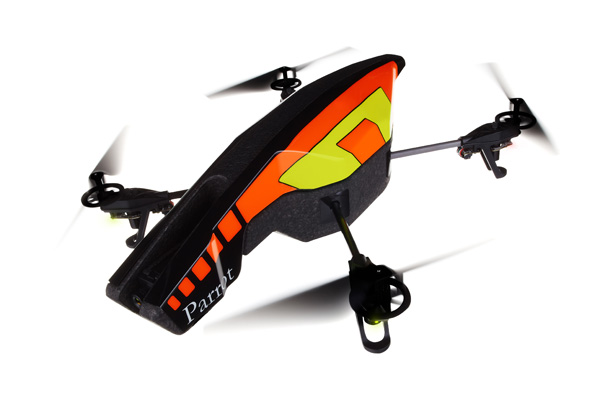 Still photos can also be saved to either device as well, and Parrot says it's including a one-touch upload feature to YouTube and Picasa for sharing content. No word yet on if Facebook will eventually be added. The amount of footage you can capture largely depends on how much storage you have on your phone or USB stick, and the fact that battery life is officially rated at 12-15 minutes.
The original model was highly susceptible to windy conditions, so a new pressure sensor was developed to increase the 2.0 drone's stability when flying or hovering at greater heights. Absolute Control is basically an encompassing feature that uses an onboard 3D compass to work with the compass on the control device (i.e. iOS or Android device) so that it can read the distance and orientation of the smartphone and follow it. This is a departure from the original model, which used its camera as the flight reference point.
And perhaps the most exciting feature is the flip, whereby double-tapping the phone's screen can initiate a barrel roll while the 2.0 drone is in flight.
A small but enthusiastic community seems to have blossomed around Parrot's drone on the blogosphere and YouTube, of which Parrot is aware, and plans to add specific games for the 2.0, along with something it calls "AR.Drone Academy", a forum where users can join the community and share content, as well as geo-location and flight data that can be posted publicly.
When it does finally launch, the AR.Drone 2.0 won't come cheap. At $329.99, it will come at a bit of a premium, and some might decry the fact it's made of largely plastics and foam. Even so, the engineering and sensory circuitry involved seems fairly elaborate, though the extra tweaks unfortunately left no room for an increase in battery life.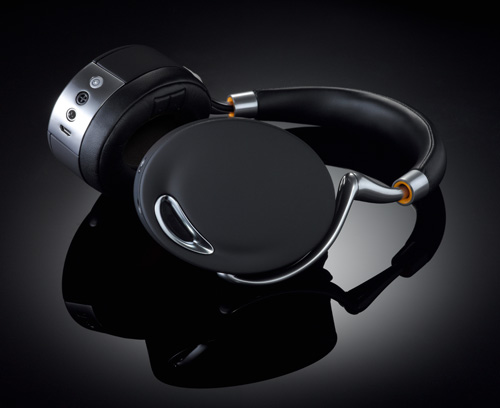 The Zik headphones, crafted by renowned product designer, Philippe Starck, are made of a combination of alloys and rubberized veneers, and are meant for high-end consumers and audiophiles. Aside from the noise-cancellation and bone induction technologies, the Zik also has a "head detection sensor", which basically pauses the music once you lift them off your head and place them on your neck. The right earpiece has a touch-sensitive panel where you can slide your finger up and down to control volume, or swipe it back and forth to skip tracks.
Parrot representatives at the event (Philippe Starck wasn't there, unfortunately) said the idea behind the digital signal processing algorithms was to make the music seem like it was facing you rather than funneling directly into both ears. They call this the "Parrot Concert Hall" effect, and it's supposed to offer a more harmonious and melodic experience akin to a concert than the "thumping of a nightclub". To manage this, Parrot will be launching a free app that users can tinker with to achieve the desired effect.
As for hands-free calls, the Zik acts like most other headsets in that it will pause music to make or take calls. Noise reduction works with the bone induction technology to block out sound while keeping your voice clear. Bone induction is not a new, by any means, as other companies have been using similar concepts on their own Bluetooth headsets for the last few years. Except Parrot says the Zik is a standout because the two noise reduction microphones work with a digital signal processor to identify outside sounds and block them. In some rudimentary testing at the event, it was hard to say whether they work in noisy environments or not.
Interestingly, the Zik headphones are also the first to have a Near Field Communications (NFC) chip inside (in the left earpiece), though the company is mum on what it's ultimately supposed to be there for.
As mentioned earlier, these are not meant for the everyday consumer, considering the $429.99 price tag. In the limited time we got to listen to music on them, we were impressed with the overall audio fidelity. And for prototypes, the head detection and touch panel worked flawlessly.
Retailers are still to be confirmed but the Zik headphones are set for release in Canada in July.