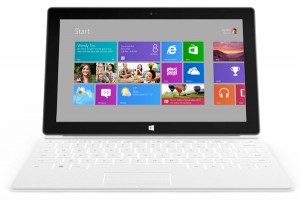 By Gadjo Cardenas Sevilla
Microsoft has just released its iPad competitor the sleek and innovative Surface tablet. Running a derivative of their mobile OS, Surface aims to bring a new entrant into the tablet space.
In terms of hardware, the Surface is a thing of beauty. Cast in light yet rigid Magnesium alloy, it puts most plastic Android tablets to shame and can give the 9.7-inch iPad a run for its money in the fit and finish department.
The design is equal parts sleek, angular yet sturdy. So sturdy in fact, that Microsoft's engineers bolted wheels on a Surface to turn it into a skateboard and it worked.
Microsoft did one better by including expansion by way of a full-sized USB 2.0 port, a microSD card port and various video-out options which the iPad doesn't offer. Surface also has the best WiFi radio I have tried on any device and can pick up hotspots I didn't even know existed in my building. No 4G-LTE capability in this version, though.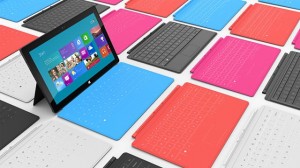 A bright and responsive five-point multi-touch screen is 10.6 inches but is also oriented at 16:9 which means playing back HD video won't have those annoying black surrounding the picture.
The Surface's key ingredient is the Touch Cover, which is a magnetic protective cover that doubles as a  keyboard. The concept is certainly innovative but it will take a lot of practice to get used to typing on what feels like fabric.
Thankfully, Microsoft offers a thicker Type Cover which integrates a proper mechanical keyboard.
The keyboard plus a much-ballyhooed  built-in kickstand turn the Surface from tablet to notebook. Again the concept works in so much as the screen is propped up for typing and the keyboard is where it is supposed to be.
You do need a flat steady surface to get it to work optimally so no one will be using this set-up to type on the subway or in a train.
Allowing the kickstand more points of articulation and enabling some sort of locking mechanism would have really made the Surface more versatile in terms of use cases, but it is what it is.
What the Surface is and what it isn't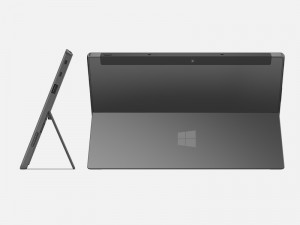 Surface is a tablet running a tablet OS the same way the iPad is a tablet running iOS mobile OS. The iPad does not run OS X Mountain Lion apps and neither does the Surface with Windows RT run any Windows 7 apps. People need to know this.
Surface has more in common with Windows Phone 8  than it does Windows 8 for PCs and although it features a powerful-enough quad-core processor and 2 GB of RAM it will never be able to run any Windows 7, Windows Vista, Windows XP applications. 
Another version, Surface Pro, will use an Intel processor and will run older Windows 7 applications but it isn't due for three months and will cost as much as some Ultrabooks.
The current  32GB Surface starts at $519 with the Touch Cover, you can get it without the cover for $499. Pricey but it is a premium product made from high quality materials.
Surface runs Windows RT which is an all-new OS that will run all-new apps.
Right now the device ships with the Office Suite (Word, PowerPoint, Excel and OneNote), it has Internet Explorer as a browser and it has various Bing apps for searching news, weather and travel information.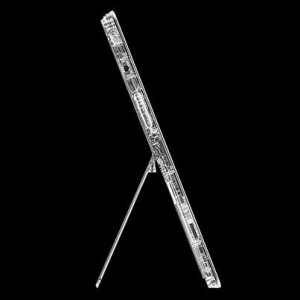 There is a Microsoft Store that allows the perusing and purchasing of apps from within the device but there is a dearth of first-tier titles. The good news is that the apps that do exist (Skype, Netflix, Amazon Kindle) are quite amazing. The apps aren't there yet, but they are coming. Or so we hope.
The Surface is a great first effort for Microsoft and an interesting departure for the software giant. They have relied on hardware partners for so long but now they've decided to go whole hog making hardware as well as software.
Sure, they've ticked off a number of these partners who have refused to come up with Windows RT devices but there are others like Lenovo and ASUS who will put out competing products to the Surface and likely at cheaper price points.
I like the Surface, it is a fresh take on the post-PC tablet and a sure sign of where Microsoft is headed. I like that it feels like a book and that it has the best (or only) Microsoft Office experience on a mobile  device. I think it is premature to pass judgement on a product at this early stage (specially since the apps aren't there yet).
How it competes with Android and the iPad will really depend on how useful it becomes once the apps from third parties finally come in. I just hope Microsoft can bankroll the project long enough to really make an impact.
My advice, try and check out the Surface at Microsoft's pop up stores and see if it is the tablet for you.