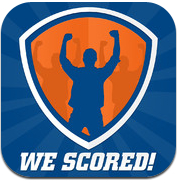 By Gadjo Cardenas Sevilla
Data connected smartphones are great for sports fans. We Scored! App takes this to another level.

The idea behind We Scored! App is simple. Each time any of your favourite hockey teams scores a goal, the app will play a team-specific goal horn in real time. It's like having the Budweiser Goal Light in your pocket.
"We scored! does not send a broadcast push notification to all users. Instead, it only sends push notifications to each user following each team," says Jacob Topping of Melon Ink Multimedia Corp. who created the app. While currently focused on Hockey scores and notifications, Topping says that We Scored! App is expanding its portfolio.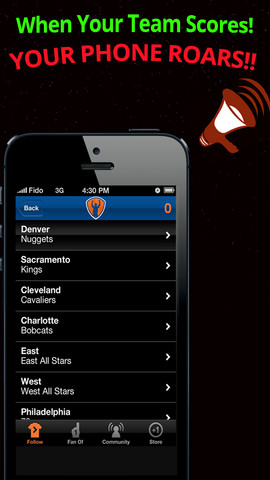 "We Scored! is in the process of creating custom made scoring sounds for each team, in every league. We have completed NHL hockey, and are now building MLB, NBA, NFL, and Premier League european football (soccer)." This would offer sports aficionados a comprehensive and instantaneous connection to the teams they follow and the ability to get real time in-game updates when they aren't able to watch a game live. It will be interesting to see how they implement the feature for high-scoring sports like basketball with multiple baskets made a minute.
We Scored! App is a great example of all the elements of a great idea, great timing and execution. It is also an inspiring example of how to perserve in today's competitive and demanding app economy.
"The We Scored! app was a result of this spring's Calgary Start-up weekend. A 54 hour hackathon in Calgary, Alberta. Conceived during heavy marketing of the Budweiser Hockey horn… Jacob and Pete DeJong were discussing the immense popularity of hockey horn apps in Canada. At the time 3 of the top 10 paid sports apps were "hockey horn" apps, whose main function was playing a hockey horn, after touching a button." Topping recalls.
"After 54 hours of building the concept, and mobile app, the team of three – Jacob Topping, Rana Varma, and Stephen Schaff presented the idea at the Calgary start-up weekend event. We Scored! ad won the "Best Pitch" award, for having the best, and most exciting idea pitched, of 11 teams, and over 80 participants."
It wasn't all smooth sailing for the We Scored! team. The completed app was rejected by Apple four times before it was finally let into the App Store. The rejections were due to the tricky way in-app purchases have to work, an issue that has plagued various iOS developers, many of which removed the in-app purchase feature altogether.
Other challenges were finding live streaming data streams of real time sports data. There are few providers of multi-sport data, and the data provided is expensive (up to $10,000 per month). Still, Topping (CEO), Rana Varma, director of marketing; and Stephen Schaff (CTO) persevered.
Their efforts paid off,  the app is listed worldwide on Apple's iTunes App store in the Paid Sports Category. In it's first week, it reached a top ranking position of #6 (out of approximately 23,000 apps in it's category). The team at We Scored! believe that their app's unique features are what has made them so popular.
"We scored! is the only app – that we're aware of – that marries the combination of goal horn sounds, and real time push notifications. This allows the user to hear audibly the goal sounds of their favourite teams, whenever there is a change in the score. When you receive a push notification of score changes in We Scored!, users know what team scored, without even touching, or looking at their phone," Topping notes.