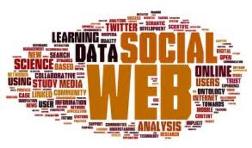 At first, no one was there. When everyone began jumping on the social media bandwagon, few people really "knew" why nor what the implication was for their business. Business as well as social media pundits alike were skeptical, and forced the discussion, "What's the ROI of Social?"
Perhaps the hesitation was less about economics, though, but more about an investment in time and effort for just a few customers / stakeholders who "were chatting with friends". Now it's clear that the ROI of social can increase or damage brand equity. As we've seen, negative exchanges and content in social media have the potential to damage a company's reputation, to contribute to business loss and eventually a company's profits.
The 'connected' customer is forcing businesses to change. The purchase of dynamics are now clearly influenced by peer and network opinion and experiences. Peer sharing, content creation, and the speed at which this information is processed is changing the mix of how organizations use new and traditional communication tactics. This generation will witness mediums like radio, traditional print advertising and direct mail become less significant. Technology and applications that continue to drive increased connectedness will emerge and thrive, with organizations hoping to entangle the stakeholder/customer further into their brands.
Where Business Needs to Evolve
What businesses are witnessing is that the social customer is changing the way business is done. My colleague Andrew Jenkins has said this repeatedly,  "A customer that tweets a complaint doesn't care operationally how a business is structured or set up to deal with that complaint; that customer just wants a solution… and fast."
"A company must adapt to changing expectations. It needs to become more proactive and put the appropriate systems, people and processes in place to appropriately manage the conversation with this changing customer. If it does, it will begin to reap the rewards by harnessing the insights about the market and its customers –> information that, up until now, they have largely ignored or disregarded. Companies that pay attention to this data will begin to see that much of the guesswork from the past is eliminated."
If you think about it, we are moving back to the days of the Mom & Pop stores, when word of mouth was the be all and end all. The customer's opinion mattered most and purchasing decisions were influenced most from it.