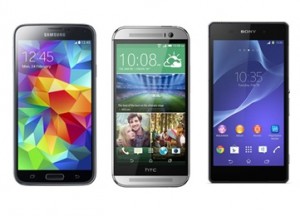 By Gadjo Cardenas Sevilla
Anyone shopping for an Android flagship smartphone today has a solid shortlist of contenders to choose from. The HTC One (M8), Sony Xperia Z2 and Samsung Galaxy S5 square off.
Today's best Android flagship smartphones are all sequels of successful and innovative products that took Google's Android OS and reshaped it into something unique. Everyone's gone for larger screens with 5-inches being the starting point. While Sony has excelled in water and dust-proofing their devices, both Samsung and HTC have integrated some measure of splash resistance. Camera technology has improved across the board, Sony's Xperia Z2 is one of the first handsets to be able to capture 4K video while Samsung and HTC have both improved on last year's camera models.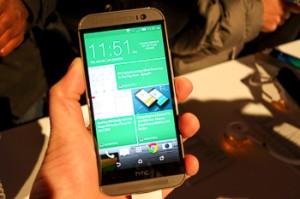 HTC's One (M8) gets bigger, more powerful and also features expansion via a microSD card and also a unique dual-camera setup which enables great low-light performance and a range of post-processing editing tools.
The HTC One (M8) clad almost completely in satin-finished or brushed-metal aluminium is also the smartphone that feels the most premium.
The larger 5-inch 1080p LCD screen features a density 440 pixels per inch, down from 469 from the smaller 4.7-inch screen of last year's model, but individual pixels are still invisible to the naked eye and picture fidelity is still impressive.
I enjoyed using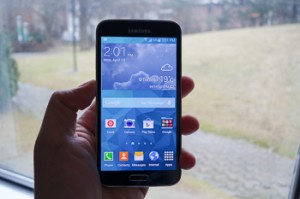 the HTC One (M8) for shooting photos, specially since there is so much you can do with these photos after you've captured them. HTC's software running on top of Android 4.4.2 KitKiat is also vastly improved and less intrusive, making the user experience smooth and intuitive.
The Samsung Galaxy S5, which is the most powerful device on paper, improves the styling and build of last year's S4 and adds a vivid new display plus basic water resistance.
While still using polycarbonate parts and accents as opposed to metal and glass, the new Galaxy S5, with its 5.1-inch super AMOLED display,  feels more durable and the dimpled backplate that covers the battery offers good grip and a quality feel. After spending a week with the Galaxy S5, I would say it is the toughest and most robust Samsung smartphone that's come along in a while and its build reminds me of the way BlackBerry puts together its phones. That's a good thing.
Aside from the usual upgrades, Samsung's devoted this year's Galaxy S5 to various health and activity tracking applications. This is designed to work in tandem with the new wearables that were launched with the Galaxy S5. The latest Galaxy Gear 2 Neo and Gear Fit devices, have improved specs, battery life and functionality of their predecessor and make adopting these devices into one's lifestyle more efficient even if pricing is still high.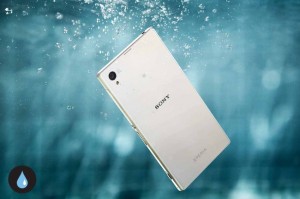 Sony is following up one of the best handsets it ever created with the Xperia Z2. This year's model has an  IP55/IP58 rating and l is completely submersible under water for 30 minutes. It can also shoot photos and video underwater without any problem.
The Z2 also has a powerful 2.3GHz quad-core processor that puts many midrange notebooks to shame. Sony has reinforced performance with 3GB of RAM, a rarity in this class of smartphone.
The crown jewels of the Xperia Z2, however, are its display and camera. The display is a thing of beauty, with 5.2" Full HD TRILUMINOS Display for mobile with X-Reality for mobile picture engine and 16,777,216 colours in  Full HD with 1920×1080 pixels. The 20.7 megapixel camera is expected to be the best in its class and one of the few that can grab 4K video.
Conclusion
These are the three kings of the Android mobile platform right now.
They're very similar in terms of performance and capability and user-preference for specific styling and user interfaces will help them decide which device suits them best.
Users needing larger screens and diehard photographers and videographers will gravitate towards the Sony Xperia Z2, Samsung loyalists now have one of the tougher flagships with an impressive set of tracking tools and wearable integration and anyone looking for the best build quality and materials, loudest stereo speakers and most innovative dual-camera should check out the HTC One (M8).