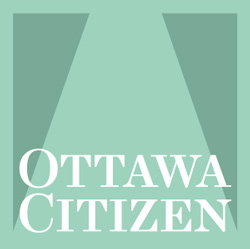 Canada's largest newspaper publisher is reimagining what a newspaper is – or can be.
The Postmedia Network, Canada's largest English language paid subscription newspaper publisher with titles across the country, is launching a multi-platform digital strategy, starting with its paper in Ottawa
The publishing company unveiled the new Ottawa Citizen today, the first step in what it is calling the 'reimagination' of all Postmedia products, to take place over the next 12 to 15 months.
There's a new look to the print version, there's a new online hub for Web versions, and a new smartphone version for the Citizen – part of what the newspaper chain sees as a new way to consume news.
"Canadians of different demographics, backgrounds and interests told us that depending on when, where and on which device they're consuming content, they want different stories, told and presented in fundamentally different ways," said Wayne Parrish, Chief Operating Officer.
Canadians no longer rely on one single platform for news and information, Postmedia says, citing research that shows readers consume different information at different times using different platforms, with younger Canadians heavily favouring the smartphone.
Postmedia adds that its internal metrics show the migration of its digital audience has accelerated in the past 18 months to the point that two-thirds of total traffic is now accessed via mobile devices, either smartphone or tablet.
The company's new four-platform strategy is called 'One Newsroom' and its designed to coordinate the efforts of some 800 Postmedia journalists across the country, so that each Postmedia local brand can still focus on local news and information while a central hub creates the best national and international content for the entire network.
Each of the four new products has its own role to play in developing and conveying compelling news stories. Colour coded sections help navigate the newspaper, while new responsive-designed websites comprise the "digital hub", where breaking news, features, columnists, opinion, video, audio, interactive media, archives, blogs, special sections and social media are aggregated.
The iOS and Android smartphone app is an always on product designed for the skimming, sharing, mobile audience, with links to the web for non-local news. It's created 18 hours a day for the small screen and audiences on the go.
But the new 6 p.m. news and current affairs tablet magazine is a more in-depth, feature-driven way to expand on the news of the day through an interactive story format. It is to be delivered through Apple Newsstand.
WhatsYourTech.ca provides syndicated editorial material to titles in the Postmedia Network, such as the Calgary Herald.