A new report details just how dangerous certain online behaviours and mobile activities can be – like searching for news about your favourite music, TV or movie star.
Pop culture personalities generate the most dangerous search results, the report says, and chart-topping Canadian musician Justin Bieber leads the way.
He's the Most Dangerous Canadian Celebrity to search for online, according to the McAfee Most Dangerous Celebrities study published by Intel Security. A dangerous celebrity is one whose name, when it's the subject of an online search, can generate results that link to fake websites where visitors are exposed to computer viruses and malware that can steal passwords and other personal information from PCs or smartphones.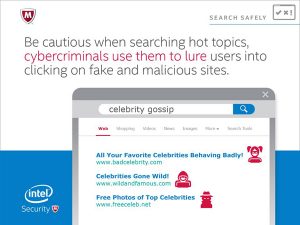 That malware can also be delivered by email with embedded links that falsely promise access to celebrity content.
The Dangerous Celebrity report talks about "the various ways hackers can take advantage of unsuspecting fans" like offering up apparently free video content or linking to so-called insider information about a star's lifestyle or current whereabouts. Instead of celebrity news, computer viruses and malware may be waiting.
Malicious software can monitor what you do and where you go online (spyware and keystroke loggers). It can scan through the files on your hard drive, open applications, and transmit any information it finds, including passwords, contact lists and financial information, to a cyber-criminal.
The report looked at a broad list of well-known figures including actors, comedians, musicians, TV hosts, athletes and more whose online persona is dangerous bait for their fans. Finishing behind Bieber on the list of most dangerous Canadian cyber celebrities were Gemini award-winning comedian Russell Peters, Grammy and Juno-award winning musician Michael Bublé and electronic music producer and performer deadmau5.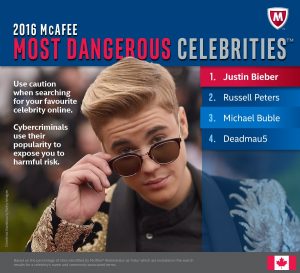 But Bieber's name, like those of other celebrities, has appeared on the list before. Bieber was the Most Dangerous Celebrity back in 2014! He slipped to second place last year, and now he's regained his title!
So "unsuspecting" may not be the most accurate way to describe his fans – this suspect has been identified before.
As has the risk of "clicking without thinking" – a dangerous online activity that speaks both to following an unknown link to its possibly dangerous destination as well as providing links to one's own information online.
McAfee provides some good advice and tools to help avoid such risks:
Think before you click! Are you looking for the latest episode of Amy Schumer's TV show "Inside Amy Schumer?" Don't click on that third-party link. Get your content directly from the original source at comedycentral.com to ensure you aren't clicking on anything that could be malicious
Use caution when searching for "torrent." This term is by far the riskiest search term. Consumers searching for torrents or files to download should be careful so as not to unleash unsafe content such as malware onto their computers
Keep your personal information personal. Cybercriminals are always looking for ways to steal your information. Don't give it out thoughtlessly. Do your research and ensure it's not a phishing attempt that could lead to identity theft
And while a search for 'Justin Bieber video' or 'Amy Schumer torrent' that brings a one in three or greater chance of connecting to a malicious website seems most a risk for young people, there's plenty of reason to continue to keep warning seniors and the elderly, too, particularly about online financial fraud and identity theft.
Different bait, different objectives, perhaps, but very similar techniques are used. Groups like the Canadian Banker's Association warn surfers about deceptive tactics and unsafe habits that can lead to downloading software or apps can steal log-in user names, passwords and personal and financial information.
McAfee's report was issued this month; the company noted October is Cyber Security Awareness Month. Probably also good to know that cyber security is a good idea no matter what the month, no matter who the star.
# # #
The top four Canadian celebrities with the highest risk percentages include:
| | | |
| --- | --- | --- |
| Position | Celebrity | Percentage |
| 1 | Justin Bieber | 13.11% |
| 2 | Russell Peters | 8.89% |
| 3 | Michael Bublé | 8.87% |
| 4 | deadmau5 | 8.11% |
The top 10 celebrities from this year's U.S. study with the highest risk percentages include:
| | | |
| --- | --- | --- |
| Position | Celebrity | Percentage |
| 1 | Amy Schumer | 16.11% |
| 2 | Justin Bieber | 15.00% |
| 3 | Carson Daly | 13.44% |
| 4 | Will Smith | 13.44% |
| 5 | Rihanna | 13.33% |
| 6 | Miley Cyrus | 12.67% |
| 7 | Chris Hardwick | 12.56% |
| 8 | Daniel Tosh | 11.56% |
| 9 | Selena Gomez | 11.11% |
| 10 | Kesha | 11.11% |