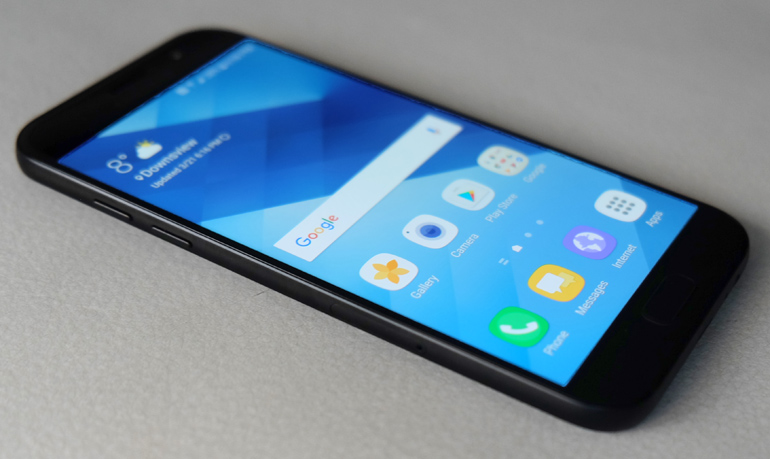 Samsung has become the benchmark brand for Android smartphones, driven by its flagship Galaxy handsets. Now, it's looking to woo those looking for something more affordable with the Galaxy A5.
This smartphone was announced in January, and launched this month with Rogers, Bell and Virgin Mobile. At $500, it is in the mid-range, but on the higher end of that spectrum. It's not surprising Samsung chose to model the Galaxy A5 after the Galaxy S7 to some degree. Naturally, some corners were cut to bring the price down, with a final result that would be more compelling if it had come to market at a different time.
All in the family
Here are the basics. The phone has a 5.2-inch 1080p HD Super AMOLED display, negligibly different from the 5.1-inch size in the Galaxy S7, albeit with half the resolution. The Exynos 7880 processor is not as zippy as the 8890 chipset. You get 3GB of RAM here, compared to 4GB. The 16-megapixel rear camera sounds better compared to the S7's 12-megapixel shooter, but don't let the numbers fool you. The A5 is a considerable downgrade.
The 16-megapixel front-facing camera isn't a common feature in mid-range smartphones, but it is capable of shooting good, crisp selfies with room to crop.
The overall dimensions are almost the same — the thickness is identical. The battery inside is the same, and the weight is only 5 grams heavier with the A5. The 32GB of internal storage and microSD expansion is equal too.
As is the version of Android they run on, 6.0.1 Marshmallow. This distinction makes little sense, given devices have been upgrading to 7.0 Nougat since it launched in the fall. One reason may be that Samsung's TouchWiz overlay will have new features to introduce in the next Galaxy flagship, which will already be on Nougat. Among the various rumours is speculation of Samsung releasing its own voice assistant called Bixby. Whether that ever makes its way over to a mid-ranger like the A5 remains to be seen. One point that is confirmed is that TouchWiz will be renamed Samsung Experience with Nougat moving forward.
Some of the staples seen in the company's flagships are available here, like the fingerprint sensor on the home button and home button double-click to automatically launch the camera. Plus, the Always-On Display shows the time and notification types on the screen at all times when it's locked. A USB-C port at the bottom with headphone jack is also nice to see.
The one oddity is the speaker being placed on the right edge above the power button. Samsung has needed to improve this aspect of its phones for years, and the A5 only continues that trend.
Punching higher
It's not common to see a mid-range handset be waterproof, but Samsung did give the A5 the same water-resistant treatment of the S7. It can withstand being submerged at a depth of up to 5 feet for up to 30 minutes. Outside of that, however, the A5 is more on the fragile side. Being glass on both sides, an accidental tumble could have devastating consequences and shatter either side. As nice as the device is, a case would be advisable to protect it.
One curious app pre-loaded on the phone is called Secure Folder. It is a lot like its namesake implies. Parents looking to keep certain apps out of reach of children would appreciate this feature, but it can be used for all sorts of purposes. A separate Google account can be assigned to it, and identical apps can run within the folder and without. The level of privacy is nice, and while it certainly could be used for more nefarious purposes, it's there for whomever wants to use it.
The notification pane appears more streamlined now, presenting several choices, including new ones that are useful. The Bluelight Filter, Always-On Display and Secure Folder chief among them. I'd like to see Samsung make a cast shortcut available to use with the Chromecast, but it instead prioritizes its proprietary Smart View to work with its own TVs. Casting content through supported apps is perfectly fine, but screen mirroring can otherwise be a problem.
Overall performance shows why this phone is situated where it is. It's fairly snappy and doesn't feel bogged down, except more intensive tasks, like gaming or video editing, do make it evident this isn't a flagship. Moderate users are unlikely to feel too much of a loss here, but it's hard to read how well such a device might stand up longer-term.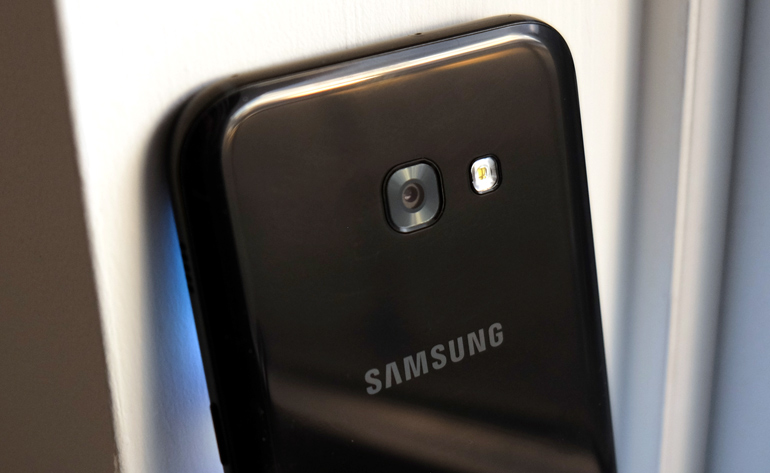 Camera and battery life
It's in the camera performance that the A5 is decidedly in the mid-range camp. More megapixels don't mean anything if there is a pedestrian lens and image sensor to work with. Samsung definitely cut corners here, opting to go with a tighter f/1.9 aperture and less capable sensor. The resulting images aren't terrible, by any means, but they illustrate the performance gap with the excellent shooter that is the S7. Shooting at night or in low-light exemplifies that further.
Compared to other mid-range handsets, it fares better as a tough competitor. Mid-range phones have improved greatly in only a few years, and camera performance is the one area where I've noted the biggest fluctuations. There can be a major difference between a $300 phone and a $500 one, like the A5, except it's not always stark.
The front-facing camera may have the same aperture, but it shoots better than the S7's paltry 5-megapixel sensor manages. Those of you who love selfies for social media will be quick to adopt this side of the camera.
The Always-On Display is nice, but it can be a battery drain if the white text is always bright on the black background. When dimmed, it sips power at a much slower rate, making the feature more useful over the course of a day.
Overall, battery life was impressive, easily lasting a full day and then some, particularly when Always-On was turned off. Samsung wisely chose to include its Quick Charge charger in the box to speed up recharging.
Who is this for?
If you are a Freedom Mobile customer, the Galaxy A5 beats out the S7 because it includes Band 66, the one its LTE network runs on. That alone makes the phone compelling, bearing in mind that the upcoming Samsung Galaxy flagship will support the band too. The LG G6 is already confirmed to have it.
But at $500, it will come perilously close to what an S7 will sell for in less than two months. As of this review, Samsung and the carriers are currently selling it for $800 outright. That price won't stand once the next Galaxy flagship launches. The A5 will still be cheaper, but not by a huge margin.
Then there's the competition. The OnePlus 3T has been touted highly on the web. The Huawei Nova Plus, ZTE Axon 7 Mini, Alcatel Idol 4, Asus Zenfone 3 and even the iPhone SE all come in under the A5's price point. Plus, it's relatively easier to find any of those phones unlocked. Even finding a Galaxy S7 second-hand through auction and classifieds sites is possible at a similar price point.
While Samsung has done an admirable job here with a solid mid-range device, it's not the most inexpensive and is up against solid competitors. Something to keep in mind if you're thinking of going with this handset.