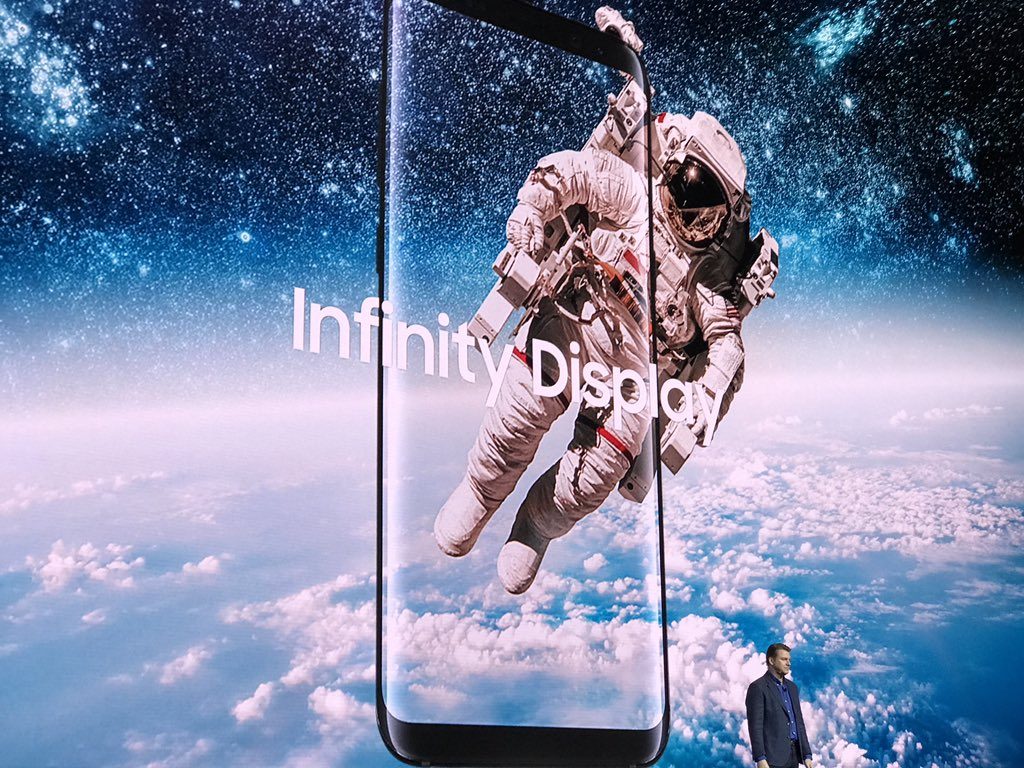 By Gadjo Cardenas Sevilla
New York – Samsung staged the start of its comeback here in New York City. Bringing media and partners to the Lincoln Center for the Performing Arts, the Korean electronics giant put on a show by unveiling its new handsets, hinting at a voice-controlled A.I. future and showing their cards for the future of Internet of Things.
Samsung hit all the high notes expected from a big reveal. A high-profile venue, ample space for journalists and bloggers plus an abundance of test units to try out and well-prepared specialists eager to show off the goods. Samsung Mobile CEO DJ Koh, set the pace early by acknowledging the company had a troubled year on the heels of the Galaxy Note7 fiasco with fires, recalls and bad press costing the company a total of US $6 billion in losses as well as bumping them off the top spot as smartphone makers.
"The Samsung Galaxy S8 ushers in a new era of smartphone design and fantastic new services, opening up new ways to experience the world," said DJ Koh, President of Mobile Communications Business, Samsung Electronics. "The Galaxy S8 is our testament to regaining your trust by redefining what's possible in safety and marks a new milestone in Samsung's smartphone legacy."
The Galaxy S8 and S8+ will be available in Canada starting April 21, 2017 and will be offered in Midnight Black and Orchid Grey.   Pricing is $1035  for the Galaxy S8 and $1150 for the Galaxy S8+ unlocked.
Galaxy S8 and S8+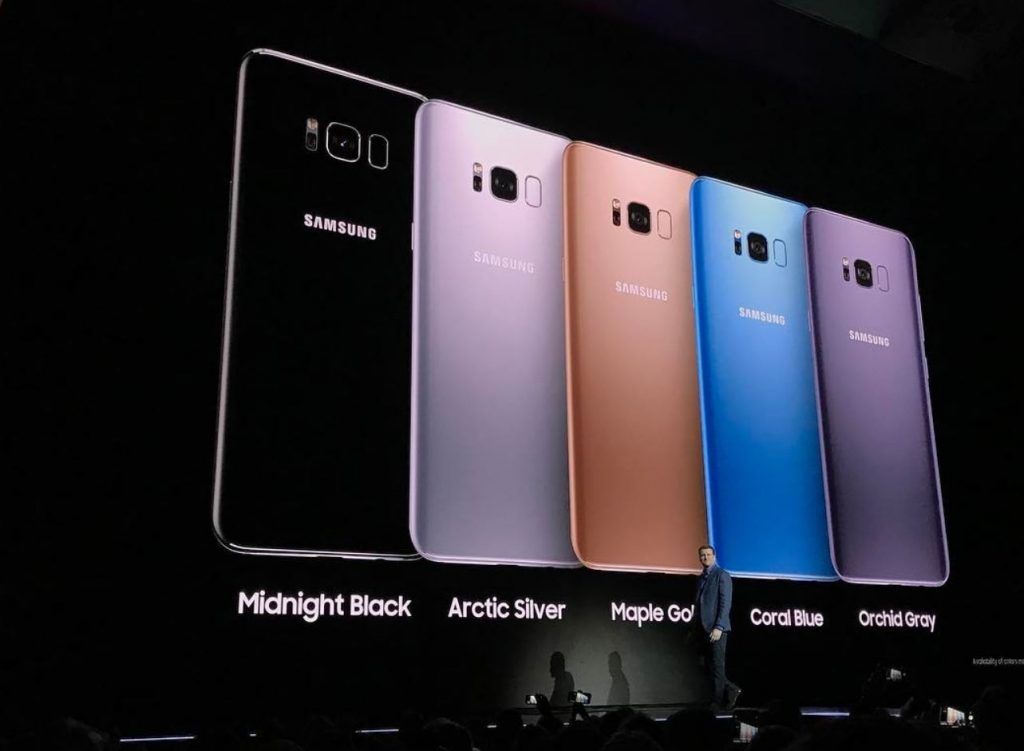 There's a lot to like about the new Samsung Galaxy S8 and large S8+ smartphones. They're sleek, feature an Infinity Display that's curved, has minimal top and bottom bezels plus gives users an impression of an integrated one-piece device that's seamless. The display is the definite highlight, it's the first on a smartphone that's HDR certified for High Dynamic Range image and video reproduction.
The Galaxy S8 is equipped with an advanced 8MP F1.7 Smart autofocus front camera and 12MP F1.7 Dual Pixel rear camera for outstanding low-light, zoom and anti-blur photos with enhanced image processing.
Samsung, has also flexed its performance muscles, Galaxy S8 features the world's first 10nm processor in a smartphone, enabling increased speed and efficiency. The devices are ready for gigabit LTE and gigabit Wi-Fi ready with support for up to 1 Gbps so users can quickly download files, regardless of the file size.
I had a few hours with the Galaxy S8 and found it to be a capable and impressive handset. It has a 5.8" (146.5mm)1 Quad HD+  (2960×1440), (570ppi) display, a solid 3,000 mAh battery.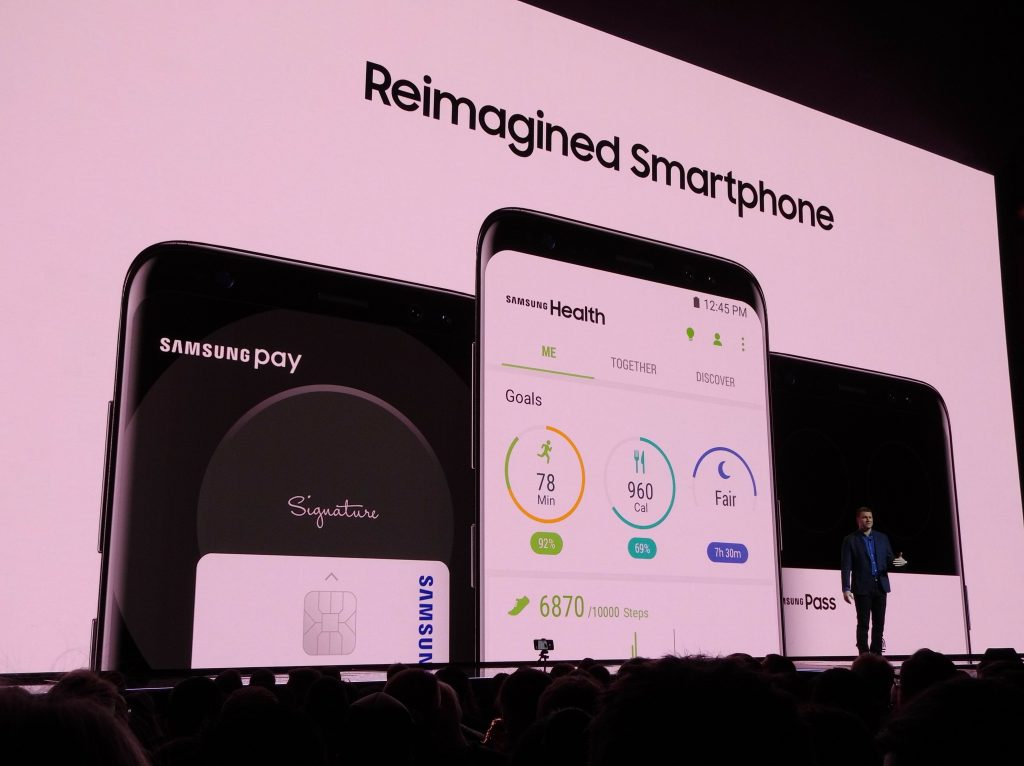 Beyond the smartphone
Samsung knows that releasing a stunning smartphone isn't enough. There needs to be a ripple effect, a stickiness that extends to services and functionalities. For the Galaxy S8, there are various of these ecosystem plays. The new Bixby personal assistant, which uses voice but also the camera and the user's habits to generate helpful contextual information could be a real difference maker. Samsung has bigger plans for Bixby , too. The company, who makes everything from smart TVs, refrigerators, and appliances, believes that Bixby is the best interface to interact with these devices.
The focus on Internet of Things included a new Connected Home Wi-Fi router, which also doubles as a hub for managing various connected home solutions. The Galaxy S8 had a variety of accessories, the most intriguing was the DeX, which is a dock that turns the phone into a desktop PC (albeit one that runs smartphone-level apps on a larger display with a keyboard, monitor and mouse).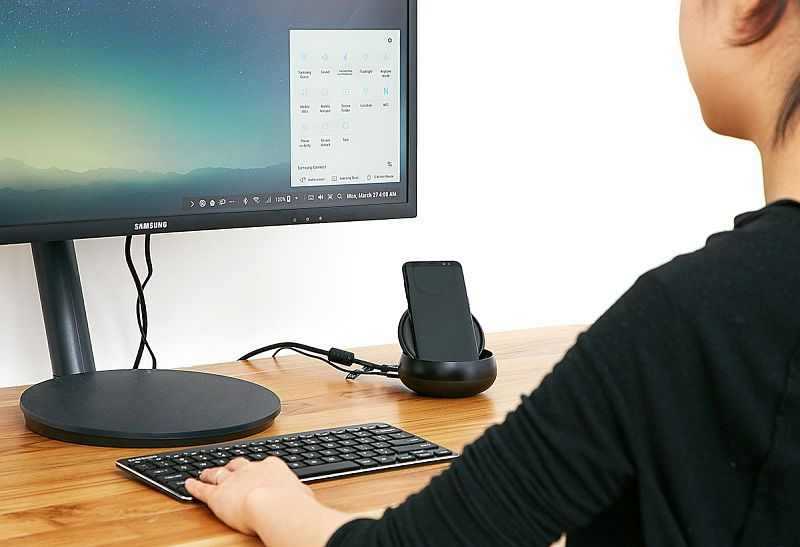 A smartphone that can transform into a PC has been a long-time pipe dream. Microsoft showed some promise with its Continuum feature on Windows Phone, but since it discontinued making mobile devices, that implementation (which made the phone OS transform into a desktop OS with the right accessories) faded away.
Samsung's implementation looks very good and the DeX might be one of those features that makes new users gravitate towards the new phones. Also announced at the event were new Gear VR headsets and controllers, an updated Gear 360′ camera which shoots video in 4K and can be used to live stream 360'video. The big surprise is that Samsung is making this camera work on other Android devices as well as on iPhones.
Samsung is definitely on the right track to distance itself from last year's troubles. A host of new products, brand new services and big thinking towards services and new inroads into personal assistants and Internet of Things might just be what the company needs to generate excitement and win back goodwill of partners and customers.