We're a society of wastefulness, as tough as it is to hear. And that's especially so when it comes to food. We're all guilty of having thrown out mounds of food that weren't consumed before the best by dates.
This behaviour extends to companies as well, not just individuals. Restaurants, grocery stores, cafes, and fast food chains consistently throw perfectly good food in the garbage simply because they can no longer sell it.
According to a report from Value Chain Management published in 2014, Canadians waste more than $31 billion in food each year. That was up 15% from 2010, and the numbers have likely risen since then.
There's a lot we can do to help reduce food waste, starting with more diligent purchasing and storage habits right at home. Some countries have been taking drastic measures to help reduce food waste. In 2015, France passed a bill that requires grocery stores to donate unsold food to charities and food banks instead of throwing it out.
In Come Apps
Interestingly, the app world has extended its reach to help combat some of this massive food wastage with some interesting options.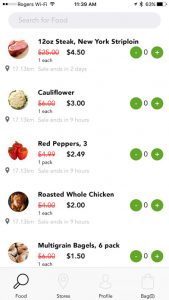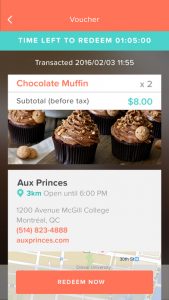 Available in Montreal, Ubifood helps local restaurants and eateries sell food that would otherwise be thrown out at a discounted cost. Available for iOS and Android devices, customers can browse through the offerings, pay from their phones, then pick up the items in store. Perhaps it's a mom who is readying a big batch of banana bread and could make good use of those spotted fruits the local cafe is about to chuck because they are no longer saleable. Or the low-income family that is happy to use a food item that is a day or two past its best by date even if the restaurant can no longer sell it to customers. To date, the app counts companies like Van Houtte Cafe, Subway, and Le Fromentier, among its many partners.
Inspired by Ubifood, Flashfood (iOS, Android) currently operated in beta in London, ON, and works in much the same way, connecting restaurants and grocery stores with customers who are eager to snag the food deals. Log on to the app, then search for food deals in your area. For example, I was able to find deals on honey orange carrots for $1.50 versus $3.23, pizza sauce at $0.75 instead of the regular price of $1.49, and all-butter croissants for $2 versus $3.99 – all from the local Farm Boy grocery store.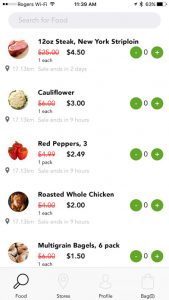 That said, there's still a way's to go. Both apps are very regional, and have not yet expanded across Canada. But, as with any new initiative, it will take time to move across the province and country. Farm Boy, which appears to be a key partner for Flashfood, has 24 stores across Ontario, including in Ottawa, Whitby, and Kitchener. So even an expanded deal with that one grocer could raise Flashfood's profile tremendously, and help save more edible food from becoming unnecessary waste.
Opening Our Eyes to the Issues
Last October, CBC Marketplace held an undercover investigation into how much food grocery stores throw out. The results were staggering, including not only food that needed to be thrown out (e.g. milk past it's best before date or that had been sitting out of refrigeration), but also sealed items that had not yet past the due date, and even sealed bottles of water. The television segment prompted major retailers like Walmart Canada to review its processes. Currently, Walmart says it does donate some of its food items to Food Banks, but suggests that since the charities lack transportation and refrigeration, it makes it difficult.
Apps like Ubifood and Flashfood could help reduce some of the waste, though operating such a program on a large-scale as might be needed with a big box retailer like Walmart could be difficult. But for smaller independent grocers, cafes, and restaurants, these such apps represent great options to ensure that consumable food is not wasted. Following this up by offering food items that haven't been sold at heavy discounts for pickup by charities could go even further to eradicating the problem, and making these apps that much more appealing.
Related
Hunger for Mobile Food Apps Growing with Public Launch, Seed Funding for Canadian Developers