It's pretty rare that I will ever answer my phone unless I'm expecting your call, and there's an important reason I need to speak with you. Life is busy. And while instant messaging, texting, and even that old technology known as e-mail, might appear impersonal, the truth of the matter is that it's convenient. It allows busy individuals to multi-task, whether it's because you're working hard at the office, or tending to the kids at home.
We turn to a myriad of messaging apps to keep us connected with those who are important to us. Research from Flurry Analytics, cited by Yannis Dosios, Vice President of Platform and Exchange for Yahoo at the FFWD Advertising and Marketing Week in Toronto earlier this year, found that messaging apps showed the biggest year-over-year growth at 98%, behind only sports, which flew ahead by 172%.
What are the best apps to use when you want to connect with friends and family? Here are 4 great options.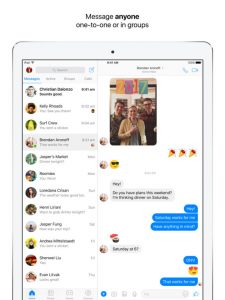 Facebook Messenger
Facebook Messenger is a great service for connecting with friends and family. While its part of the Facebook social media site, it's also a standalone app that can be used for text-based messaging, sending photos and videos, or even making voice calls over Wi-Fi. You can even use Facebook Messenger to send money via TransferWise, directly in the app. Receive daily updates on the exchange rate so you can make payments between currencies when the rate is most favourable. Facebook Messenger can be accessed through the Facebook app, and works as a standalone app, in and of itself, for iOS, Windows Phone, and Android. If you're already using Facebook, then Messenger is an ideal way to communicate with the likely hundreds of people with whom you're already connected on there.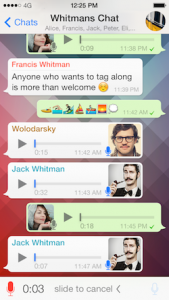 WhatsApp
The go-to messaging service when you want to avoid SMS but your connections don't have the same platform device as you is WhatsApp, which works on pretty much any device, with support for iPhone, Android, Mac/PC. Windows Phone, BlackBerry, and Nokia. Once all persons are set up, you can send instant text-based messages to one another, as well as photos, videos, and audio files. Send messages to individuals, or groups of people. WhatsApp goes the extra mile, allowing you to make voice calls over Wi-Fi as well. It's no surprise that Facebook shelled out a cool US$19.3 billion for WhatsApp back in 2014. By last February, WhatsApp's user base clocked in at more than a billion.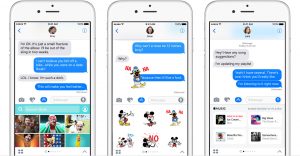 iMessage
The tried and true instant messaging service for iOS device users, iMessage has a number of great features, particularly with the latest OS update. The most basic advantage is the ability to sync your messages across Apple devices, so you can respond to someone's smartphone using your MacBook computer, for example. Like other services, you'll see confirmation that the message has been delivered, and when the person has read the message (if they have enabled read receipts.) It's instantaneous and convenient. The latest update adds cool, new features beyond standard text, like the ability to send animated GIFs and memes, chosen from various themes or keywords, and scribble fun messages. iOS 11, due out this fall, includes updates like a redesigned app drawer that affords more convenient access to apps and stickers, so it's easier to decorate iMessages, share a song and more.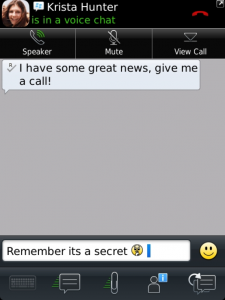 BlackBerry Messenger
After holding out far too long on opening up its Messenger service to other platforms, BlackBerry Messenger is still alive and well, despite steep competition from the services noted above, and others. Long overdue, it's no longer just used for BlackBerry owners to communicate with one another, but you can download it to other devices as well, including Android and iPhones. Using the BBM app, you can send text-based messages to contacts, and include fun stickers. BlackBerry has stuck with its long-running method of connecting people through the use of a unique PIN, which now comes in the form of a QR code as well as an eight-digit alphanumeric code. While it's unlikely you use BBM unless you, or at least one person with whom you communicate frequently, has a BlackBerry, it's still a secure and viable option for messaging that's worth considering on any platform.