With gold gaining ground steadily this past year, and more market watchers believing it will continue to rise in value this year, the time to invest in the glittery resource may again be now.
So it's not surprising to learn that a new Canadian company has launched a virtual reality platform that targets gold investors, offering what it calls "a new way to discover and research investment opportunities". The platform also serves as a marketing and promotions tool for those gold mines that are featured on companion mobile or desktop apps.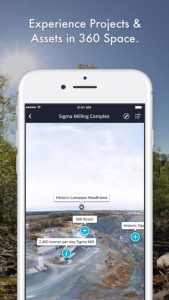 Nor should it be that surprising that the company is backed by natural resource and technology experts, including executives from Canadian businesses like Integra Gold, True Gold Mining and Blast Radius.
The VRify app offers 360-degree virtual video tours of gold mines operated by publicly traded companies. The platform opens up a look at these remote assets (northern Ontario, central Mexico) in order to provide users with a behind-the-scenes look at the operations.
More to the investor's point of view, the application also provides connectivity tools to access live stock quotes, company updates and financial news, along with direct access to in-house experts in technology, marketing, and finance.
Alio Gold, a Canadian mining company involved in gold exploration, development and production, is one of the companies that has partnered with VRify, and it has opened up virtual access to its San Francisco Mine, a property in Sonora, Mexico (the Vancouver-based company has a number of exploration properties, all in Mexico) it calls "a cornerstone asset".
Now, a trip to Mexico (what with winter coming on) is not a bad idea, but that can't be on everyone's schedule.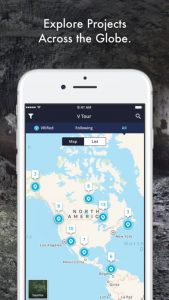 "Ever wanted to see a project before you invested in it? Can't take the time to fly to a remote part of the county for a tour of the mine? Too expensive to fly your investors out to your site?" asked George Salamis, somewhat rhetorically, when announcing his latest glittery initiative.
Salamis is a former executive at Integra Gold and a co-founder at Integra Resources; he describes himself as a geologist at heart, a "boots on the ground kind of guy", but he knows not all investors can make that long trip to a remote locale.
"The industry is challenged by its limited means to create a tangible connection with investors as a result of complex projects in relatively or completely remote locations. Communicating the opportunity to the modern day investor in a visual and immersive experience is essential…but industry-wide efforts to reach today's investor are still pretty traditional. We all have websites, PowerPoint decks, conferences and press releases galore – though it feels like we're stuck in the same, old school ways of communicating. We've been there, done that, many times over!"
Of course, Salamis and his start-up team (co-founder and CTO at VRify is Matt Jameson, another former Integra executive) are excited to bring the 360-degree VR video experience to the investment and mining sector. The results so far (two properties have become 'VRified' and have a presence on the company's still-developing web portal) point to more developments to come.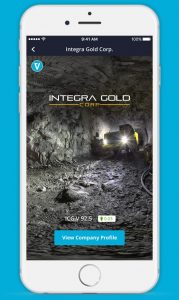 The VRify app (currently available on iTunes) will be available for Android devices, as will a desktop version that promises investors instant access to concentrated information. VRify also acts as a communications platform, and can be used to connect users to social media outlets or financial news sources.
Also key to the app's development (and the company's investor team) are the creative folks at Blast Radius, a digital marketing and branding company with offices across Canada (it's part of the global WPP advertising and communications conglomerate) where executives have long been considering and implementing strategies around virtual reality applications and investments.
Of course, it is a bonus to be able to see and virtually tour a prospective investment property; surely, however, the real decision-making factors are numerical in nature, so bringing in financial data and analytic capabilities into an investment tool like VRify is key.
Perhaps adding some words of wisdom from the most recent recipient of a Nobel Prize in economics would also help investors: the University of Chicago's Richard Thaler was honoured for his pioneering work in behavioural economics.
We know the study of psychology as it relates to economic decision-making may be just as crucial as numbers and statistics. Individuals and institutions often make financial decisions that are not in their best long-term interests, and powerful human emotions can often be the reason.
Emotions like those triggered by a precious, valuable, glittery metal.
-30-