It may come as a surprise to some, but Canada tops the list of the world's best cities for broadband connectivity.
In fact, fifteen of the top thirty cities and towns on a list of broadband-enabled intelligent communities worldwide are in this country, according to the Intelligent Community Forum.
(ICF is a global network of information and communication technology leaders from government, academia and industry who actively promote collaboration and development of beneficial technological solutions and applications. Every year, the ICF names the world's Top Intelligent Communities, among other rankings and technology assessments it makes.)
Its broadband competition results come as Canada is in the midst of a nation-wide broadband expansion program, one that particularly targets rural and remote locations. What's more, the government is conducting a national Internet speed test right now that anyone can use to evaluate their own broadband connectivity.
There may be a lot of complaints in Canada about our Internet service, speed and price (while making comparisons among multiple levels of tiered service offerings is always a challenge, there are Canadian communities and regions that are demonstrably under-served), but the ICF takes a basic definition: broadband is an "always on" service with speeds ranging from just two megabits per second up to 50 times that.
Whatever the speed, the organization understands the inherent value of broadband: it connects our computers, laptops or mobile devices to billions of other devices and users around the world, and it's changing how we work, play, live, educate and entertain ourselves, how we're governed and how we relate to rest of the world.
With that in mind, ICF has named Montréal the #1 city on its list. Canada's largest city, Toronto, is also on the list (at #5). But in a sign that big cities and big budgets are not the only criteria that count, one of the country's smallest communities is on the list, too: Olds, Alberta, with its population of less than 10,000, is a top global broadband community!
Communities 'nominate' themselves for consideration, and the ICF reviews replies submitted to a questionnaire with 27 multiple-choice, short answer and narrative questions.
ICF says it evaluates a number of criteria, including:
how widely available and adopted broadband is
the programs and supports a community has developed to build broadband
the levels of broadband competition
Communities are judged based on data communities submit for 2015 through 2019. Self-reported and third-party data are weighted in the evaluation, and data is subject to onsite validation.
Following the review, numerical scores are given by a team of analysts and finally, an international jury (made up of officials from ICF Intelligent Communities worldwide) goes over all the documentation and site visit reports to select the finalists.
Montréal rolled out its Smart City plan more than five years ago, contributing to its current #1 broadband ranking. The plan triggered a build-out of the city's wired and wireless broadband infrastructure, as well as the deployment of technology to make city services and systems more efficient. It has also launched an open citizen's lab where information, communication, technology (ICT) and social technology companies are given a hand to succeed in the city that's home to a tenth of Canada's population.
On the other hand, Olds, Alberta is home to less than 10,000 people. But it is also home to one of the first community-owned, gigabit-speed, Fibre-to-the-Premises (FTTP) networks. The town has also, through its own non-profit organization, created its own local telecommunications company to offer triple-play media services to its consumers
They will do well in a speed test that's designed to help provide data for future broadband expansion to remote and rural communities across the country.
Innovation, Science and Economic Development (ISED) Canada is now conducting the online high-speed Internet test, and it says the information gathered will contribute to the federal government's announced plans to get a minimum 50/10 Mbps broadband service to all Canadians over the next 10 years: it has committed more than $6 billion in investments as part of its overall connectivity strategy.
The high speed broadband connectivity strategy is one that consumer advocates and tech analysts have said is long overdue. When finally implemented across the country, it may will put more Canadian names on the list of the world's best broadband communities.
# # #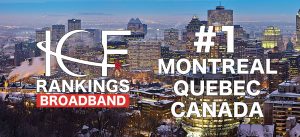 -30-