Is your Internet slowing down? Videos streams looking a little ragged? Notice your email service chugging a bit these days?
In the reassuring phrase of our time, you are not alone.
Canadians across the country are reporting slower Internet speeds as our online usage increases significantly as part of the social response to COVID-19.
And they're not far wrong: speed tests around the world do show some overall slowdowns; in Canada, there's been a charted drop of eight per cent in available fixed connection download speeds, and just a four per cent drop in mobile download speeds (measured early in April by Speedtest.net).
Major Internet providers here have reported increases in data consumption from 20 to 50 per cent and more.
So it is not surprising that as many as 38 per cent of Canadians who responded to a recent survey said they notice slower home Internet connections than before the current coronavirus pandemic stay-at-home, shelter-in-place, social distancing measures began.
Those pandemic responses have greatly increased demand on connectivity services across Canada and worldwide; among other online activities, users are doing a lot more video streaming, face-timing, and video conferencing, each of which is a particularly bandwidth-intensive activity).
The Canadian Internet usage survey, conducted for the Canadian Internet Registration Authority (CIRA), shows that 70 per cent of respondents report spending more time streaming TVs and movies, and more than a third say they are spending 'a lot' more time doing so. Over half (61 per cent) of Canadians report spending more time connecting with friends, classmates, and colleagues via video conference.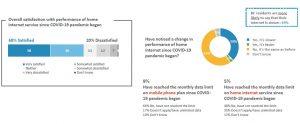 "COVID-19 has changed everything. It feels like overnight the entire country had to move their work, schooling, and social calendar online," described David Fowler, CIRA's vice-president, marketing and communications, when the report was released.
One of the immediate responses to our increased online data consumption has been a reduction in the quality of (and therefore the data required to deliver) our video streams. That reduction was in many cases by request. From the service provider point of view, Internet video traffic was a key component of a 20 to 30 per cent increase in Internet traffic over a period of just seven to 10 days following the initial COVID responses calling for stay-at-home self-isolation.
So Internet service providers around the world and here in Canada have asked companies like Netflix, YouTube, Disney+, Amazon Prime and others (collectively known as over-the-top, or OTT, providers) to immediately start streaming a reduced quality of signal. Previously, a busy period for streaming to the home would be maybe four hours a day; now, that's risen to as much as ten. Video gamers are in the same boat; Sony will reduce the bandwidth required to deliver its PlayStation experience.
Like a lot of things these days, it is hard to tell how long this will last. In Canada, the cable and Internet service providers' request was to reduce bandwidth draw through the end of April. There's no official word yet if the request and the throttling will continue past tomorrow, but it is likely to do so. In Europe, Netflix described, the goal is to provide a 25 per cent reduction in traffic overall during the government-mandated shelter-in-place period.
Despite the streaming flood, major providers say they are able to meet the demand; in fact, they are ramping up their capacity and infrastructure and investment in order to do so.
Internet giants like Equinix, operating more than 200 data centres around the world, including Canada, are upgrading traffic capacity. Moving from 10 to 100 gigabytes was to take a year or two – but Equinix says it's being done in a few weeks.
Here in Canada, a similar approach is taking shape.
Reporting a 40 per cent home wireless usage increase and a 75 per cent jump in the use of its Crave video streaming service, Bell has announced an accelerated rollout of its new Wireless Home Internet (WHI) service in rural Canada as part of its response to the COVID-19 crisis. Bell ultimately plans to cover approximately a million homes in Atlantic Canada, Québec, Ontario, and Manitoba with WHI service, delivering speeds op to 25 megabits per second
TELUS says it is enhancing services in Alberta to support that province throughout the COVID-19 pandemic with the expansion of its fibre and high-speed Internet networks to 282,000 homes and businesses across Alberta, including a specific focus on connecting rural and remote communities. The company says its total investment in network infrastructure and operations in the province this year will reach some $3.5 billion.
Cogeco has reported a significant increase in the use of all its services, including an approximately 60 per cent increase in its Internet service during the day and growth of between 20 and 40 per cent for other video streaming services, including Netflix. The company says it is able to meet the current increase in demand and the essential need to be connected at this time because of its ongoing investments in operating, upgrading, and expanding its network.
Meanwhile, most of the smaller independent providers, as well as the big four, have reduced or eliminated their Internet usage caps and many have suspended late payment penalties. That's a thoughtful consideration of the situation and the hardships many connected Canadians face these days (although cap removals and cost deferrals may be a strategy that runs counter to the need to reduce bandwidth consumption).
Many data centre systems are automated to one degree or another, and they can be monitored and maintained remotely (new installations are another matter). When physical intervention is needed, (especially when considering the maintenance of the entire system, from the data centre to the user's home) having qualified staff, including admins, engineers network techs, and consumer device repair people, is just as important as having the bandwidth.
Perhaps we should add them to the list of essential workers.
# # #
-30-

WhatsYourTech.ca has more COVID-19 related technology articles you can read; please visit our new dedicated articles listing page.