Travel is the last thing on anyone's mind these days as we practice social distancing and try to flatten the curve with the COVID-19 coronavirus pandemic that has dominated our lives for the last few months. Because of how easy the virus can spread, and the fact that there's no cure or vaccine yet, flights have been cancelled, and travel overall limited.
That said, many airlines are offering refunds for flights that were already booked as well as the ability to book now at discounted rates with the promise that you can cancel without penalty if needed. So while you're holed up at home, unable to leave for anything but necessities, it's the perfect time to plan your next vacation, even if it won't be for another year or two.
And there are some great new tools that can help.
Google launched its Trips app for Android and iOS devices in 2016. But in August 2019, the app was shut down. It has since been replaced with http://google.com/travel, which includes much more robust vacation planning tools that you can access easily on a mobile device or computer.
Using the site, you can search a variety of destinations and get detailed information at a glance.
First off, you'll be greeted with recommended locations based on your recent search history. Because I was recently researching for Spring vacations to a number of Caribbean destinations, many of those showed up as recommended locales for me. If you already have confirmed trip reservations, they will show up or you can manually enter the details to keep track of everything in one spot.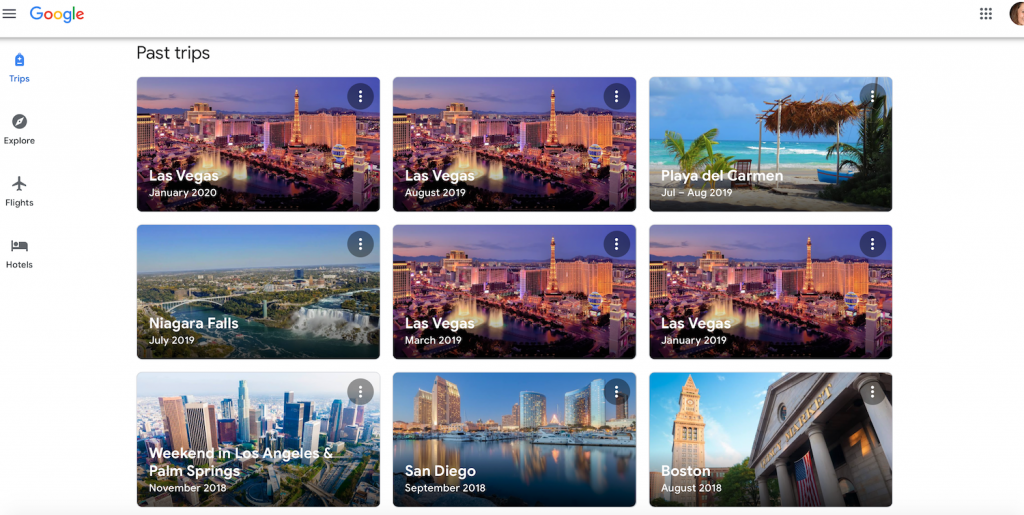 But if you're looking to book, this is where the new website adds tremendous value.
Selecting a Specific Location
To check out the latest features and how it works, I ran my own search.
I selected Punta Cana, Dominican Republic, which is where I was supposed to be headed in April. ( the trip was canceled and I was issued a travel credit that's good for 24 months.)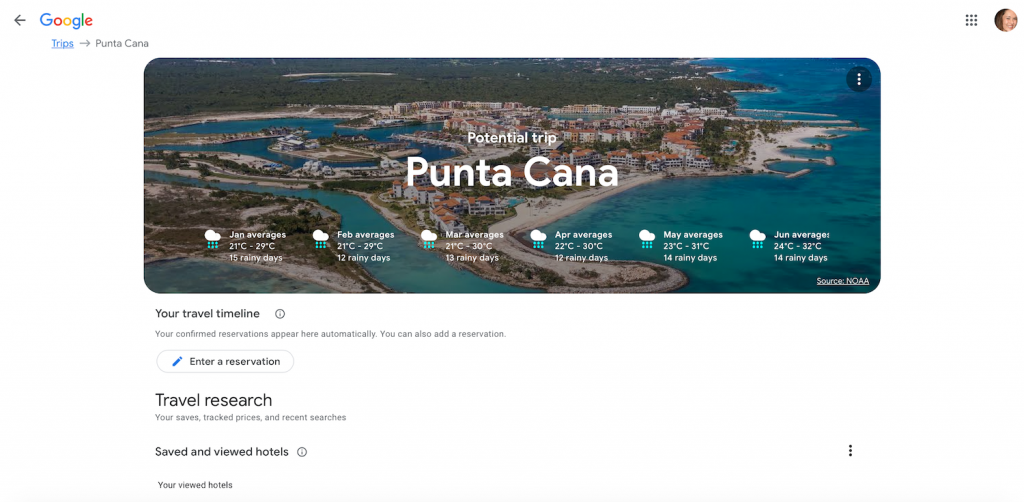 It instantly showed me an overhead view of the city along with the average temperatures for the four upcoming months, including highs and lows as well as how many rainy days are expected.
A section called Travel research shows saved searches, helping you track pricing. You can also view and save hotels to look back at as you research.
Among the viewed hotels was indeed the one that I booked along with two others I had been considering. Scroll down and there are icons with images linking to helpful articles on Punta Cana, including "everything you need to know for your trip" and one that highlights the 10 best things to do there.
Clicking into the desired hotel (I selected the one I had booked), shows a strip of images you can scroll through, ranging from the pool to the room and restaurants. I can instantly see the hotel's star rating and pricing along with some of the highlights (great dining, breakfast, and service.) Click on the date range provided to change to your desired dates and see how pricing adjusts. It will also provide additional information at the bottom of the page. In my case, it was advising that I could stay an extra two nights for a cheaper nightly rate.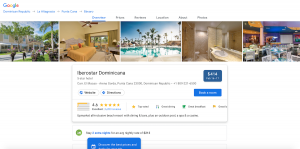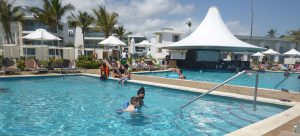 An ad also appeared further down the page allowing me to check availability and book directly through BookIt.com.
Scroll further down and you get information about the neighborhood – in my case, it's rated "good for visitors," highlighting the beaches, coral reef, and golf courses. Three top "things to do" are noted nearby, including two beaches and a park, and two airports are listed nearby. Click "more about this location" to get even more details, including how close the hotel is to other things you might want to do, how close it is to restaurants, if there are nearby transit options (since mine is an all-inclusive resort, there aren't any), and more.
Finally, you can browse reviews from multiple websites like TripAdvisor, Expedia, and Orbitz, even filtering by specific topics, like nightlife, fitness, or service, or by typing in your own customized search term. I searched for "kids club" to see what the experience might be like there. It filtered to show only reviews that mention kids club and bolded the sentence where those search terms are found so I could easily scan the results. I was able to see that the kids club does not have a pool table as advertised, for example. Selecting "nightlife" instantly shows that reviews are 83% positive.
Keep scrolling down the seemingly endless results page and you'll see a nice selection of photos categorized by those provided by the property, exterior shots, rooms, and photos taken from visitors.
Finally, you can see the basic "about this hotel" information that might help sway your decision, including things like free Wi-Fi, free parking, and a hot tub. And you can view web results for the property as well as similar hotels nearby.
Exploring Vacations
If you are at the beginning stages of your trip planning and aren't tied to a specific destination, you can choose the Explore option and check out popular destinations. These will be highlighted with nice, big photos along with the most popular attractions there. For example, for Toronto, it shows the CN Tower and Royal Ontario Museum. For Ottawa, the National Gallery and Rideau Canal. And for Kingston, more generally, the lakes, limestone buildings, and Fort Henry.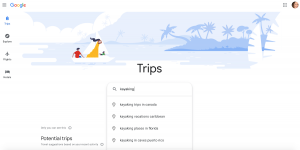 You can also search for things to see and do. If you are interested in kayaking, for example, type that into the search field and it will take you to a general Google search results page. Or look more specifically for kayaking places in Florida, for example, and you'll see suggestions like Miami, Walt Disney World Resort, and the Everglades National Park along with images and basic details like the average cost of a flight and accommodations there.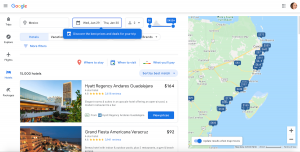 Look more generally for all-inclusive resorts in Mexico and it will run down the results (15,000!) highlighting the average prices, reviews, and a short description for different hotels. You can also filter further to drill down to exactly what you want, by parameters like star ratings, guest ratings, and amenities, or see just what's being offered now as a deal so you can jump on a best price option. To the right, you'll also see a map showing how prices change based on the area, and you can click on a specific price to see where exactly the hotel is located.
On the dashboard, you can also scroll all the way to the bottom to see a history of all of your past trips (kinda creepy!) including where you went and when. These are automatically created based on confirmations that were sent to your Gmail account so if you don't use Gmail, it won't be as detailed (or have anything). Click one on (I selected my most recent trip, which was to Las Vegas for the CES 2020 trade show), and you can see a summary, including where you stayed and for how long, what flights you took, and read articles about things to do. This will make rebooking simple if you want to revisit somewhere you've already been.
Bottom Line
The new Google Travel website makes it really easy to search for vacations without having to go back and forth among different vacation websites, running different Google searches for reviews and other information. It's a true one-stop shop for vacation planning.
Once you're ready to book, however, you will be taken to the destination's own website versus a vacation company. So for vacations like all-inclusives, you might be better offer going to your vacation booking site of choice, like Air Canada Vacations or Sunwing, to be able to get flight and hotel together. But for many other vacation types, Google Travel is an easy way to compare pricing, find the best options to meet your needs, and book.
Happy travels!