While drive-ins are opening up across Canada, there's also an opportunity to take advantage of your own backyard and create your own outdoor movie theatre. Plus, if you're looking for the big screen experience but don't have the budget to invest in a new big-screen LED or OLED TV, setting up a screen and projector can actually be relatively inexpensive in comparison.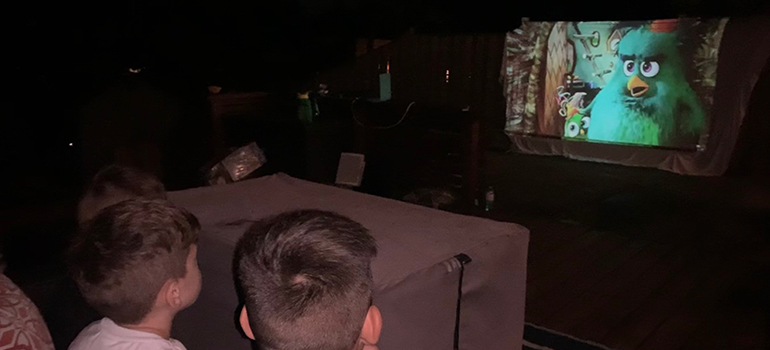 So what do you need in order to set up your own backyard movie night? Here's a list of gear.
A portable projector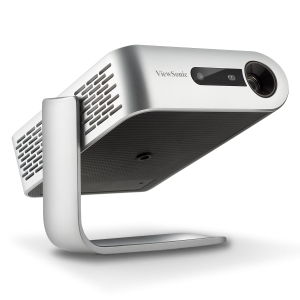 You can get pretty inexpensive portable projects that will project an image as large as 150″ on a screen or wall. The Viewsonic M1 Ultra-Portable LED Projector ($400) is a good option. It can display images at 854 x 480 resolution and 250 lumens, and has a built-in battery so you don't have to run a long extension cord to keep it plugged in. It's safe to use both indoors and out and comes with dual Harman Kardon speakers along with a microSD card slot, USB Type-A and USB Type-C ports, and a smart stand so you can adjust it to the right angle.
If you want to get something on a budget, the NAXA NVP-1000 Home Theater Projector is about half the price and can project an 800 x 480 resolution image of up to 150″ in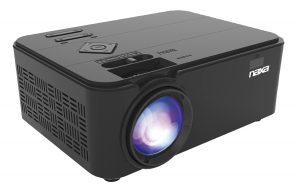 size. It has Bluetooth for connecting external speakers as well as two HDMI ports, USB 2.0, memory card slot, AV In, and MHL connectivity options.
A screen
While a projection screen isn't necessarily needed – you could effectively project your movie on a white wall or sheet – it's ideal to have one. And they are pretty inexpensive. Ideally, you want one that you fold up so you can easily put it away in the shed or garage when you aren't using it. The Vivider Projection Screen is under $20 and allows you to project an up to 100″ image at 16:9 aspect ratio. Made of polyester fibre, it can be folded up and you can even iron it to get wrinkles out that might form over time. It weighs about 3.29 lbs.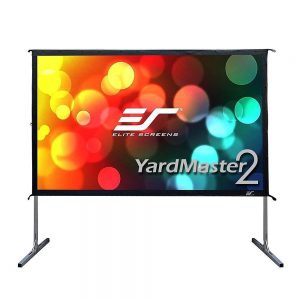 To avoid having to mount the screen, you can get one that comes with its own stand, which is great if you want to play the movie in different areas. The Elite Screens YardMaster 2 ($322) is smaller but comes with its own stand for easy set-up on grass, decks, and other spots. Fold it up when you aren't using it and unfold the screen, attach the legs, and you're ready to go.
Audio
Even if the projector has built-in speakers, you'll want something better, especially if you plan to have lots of people watching, sitting in different areas all around the screen. If the projector has Bluetooth, pair it with external speakers for improved audio; even set up a network of portable speakers around the backyard. JBL speakers that have JBL Link make this easy, allowing you to daisy chain multiple ones together to create your own "surround sound" set-up.
I prefer using a big outdoor speaker, like the Soundcast VG7, which is designed for outdoor use so you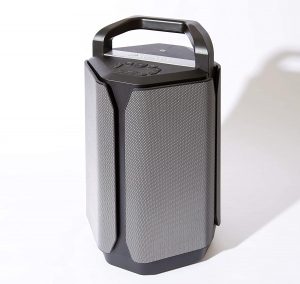 don't have to worry if it starts raining. It has Bluetooth and comes with a built-in 7″ downward firing subwoofer for booming bass your movie-goers will appreciate. It weighs 21 lbs. but comes with a carry handle so you can easily move it around.
Source of Content
Of course, once you have all of the gear set up, you need the actual content. Most portable projectors like the ones noted here offer options for connecting a source, like a USB port or microSD card slot for inserting a USB flash drive, streaming stick, or memory card with a movie, or streaming technology. Find a movie you want to watch then connect the appropriate device to the projector.
If you want to stream something from Netflix, plug in a Roku stick or Amazon Fire TV Stick to get going. If you want to watch a movie you downloaded to your computer,
transfer it to a flash drive or memory card and insert that, or connect the projector directly to your computer, tablet, or other mobile device via HDMI.
How easy it is to do this and which devices are compatible will depend on the projector you have so make sure to do your research ahead of time to ensure that you will be able to watch content from your desired source.
Lighting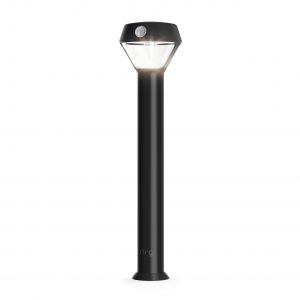 While you'll get tons of light from the screen, you might also want to set up supplementary light on areas like steps and stairs in case kids need to pop to the bathroom. Consider lighting like Ring Solar Pathlight ($40 ea.), which you can set up to lead the way to the back door. It's motion activated and powered by batteries and solar power; you'll need a Ring Bridge as well.
Seating
A Canadian staple is, of course, Muskoka chairs, but any outdoor seating will do. Have the neighbours bring their own foldable outdoor chairs, complete with drink holders, so they can watch in comfort. Set seating up six feet apart if you're inviting others or have the whole family cuddle together on an outdoor coach or patio chairs if it's just an intimate family night.
Spray The Area
If your backyard is prone to mosquitoes during the late-night hours, spray the area ahead of time. There are foam-based products you can spray an hour or two before setting up, in the surrounding areas like bushes, to help keep bugs away long enough for a movie. Make sure everyone attending also covers up just in case, and/or applies bug spray ahead of time so movie night under the stars doesn't turn into an uncomfortable evening.
Snacks
Movie snacks are a must, including popcorn, candy, and soda. Create your own snacl boxes or order authentic Cineplex movie theatre snacks through Uber Eats. Sure, you're paying a premium for candy and popcorn you can buy in bulk for much less. But it will add to the authenticity of the event.
And voila! Your own movie theatre experience at home might have an initial upfront cost. But you can set it up pretty easily without breaking the bank.
More great ideas & tips in our  Smart Home features