On Tuesday, September 15, Apple held its first-ever virtual event to launch its latest slate of products. The event, called Time Flies, revealed a new Apple Watch, new iPads, and new subscription-based services, including Apple One, which combines all of your bills into one, for a discounted rate.
Missed the livestream? Here's a synopsis of all of the key announcements from the annual event.
Apple One Subscription
Before delving into the hardware, it's important to take a look at the software end of things. Apple customers tend to be loyal and use many devices and services within the Apple ecosystem. Because of this, Apple has launched Apple One subscriptions, which will allow customers to pay one price to access all of their favourite services on compatible devices. There are three tiered options. An Individual plan includes access to Apple Music, Apple TV+, Apple Arcade, and 50GB of iCloud storage for $15.95/mo. Families can consider the Family plan, which includes the same services with a total of 200GB of iCloud storage for up to six family members for $20.95/mo. Also available for up to six family members is the highest-tier option, the Premier. At $33.95/mo., it includes all of the above with iCloud storage upped to a whopping 2TB, along with Apple News+ and Apple Fitness+ (more on that below). With the latter two plans, everyone maintains their own personal accounts and preferences.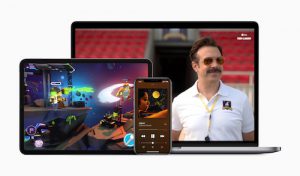 Apple will be recommending subscriptions to customers starting this Fall, and customers can sign on for three-day trials for services they don't already have. The plan option can be changed at any time. Customers who already subscribe to many of these subscriptions, or are interested in doing so, can save anywhere from $7/mo. up to $32/mo. based on standard monthly pricing.
Apple Watch Series 6
The newest member of the Apple Watch family, the Series 6, will replace the Series 5. Most notable among its new features is a Blood Oxygen sensor that can measure oxygen saturation (Sp02) of your blood to detect things like respiratory issues, along with fast 1.5-hour charging, real-time elevation through the barometric altimeter, and new finishes and band colors. Other features that come with it, like Family Setup and native sleep tracking, are part of watchOS 7, which will be available for compatible previous-generation Apple Watches as well. (More on watchOS 7 next).
The Watch has a new dual-core processor that's based on the A13 Bionic chip found in the iPhone 11, and an upgraded S6 SiP that allows it to operate up to 20% faster than the previous-generation watch. The U1 chip and Ultra-Wideband antennas also enable short-range wireless location to support devices like next-generation digital car keys. Another notable upgrade is with the enhanced Always-on Retina display, which is 2.5 times brighter than the Series 5, making it comfortably viewable in bright sunlight, and lets you access things like notifications while your wrist is down without having to wake the screen up. Looks-wise, there's a new blue color option and various new band options. The Watch starts at $529 for the GPS version and $659 for the GPS + Cellular, and will be available starting Friday, September 18.
Apple Watch SE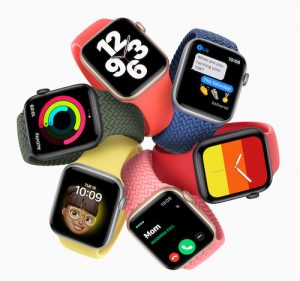 For those looking to save a few bucks, Apple is offering the Apple Watch SE, a pared down version of the device that has all of the core features but with easy-to-read icons and fonts and watch faces optimized for the display. It's designed for older folks who might want something simpler and that displays larger text, or those who are on a stricter budget. It will start at $369 for the GPS version and $429 for GPS + Cellular.
watchOS 7
At the heart of both the new Apple Watch Series 6 and Apple Watch SE, and available for compatible previous-generation models (dating back to Apple Watch Series 3 and requiring iPhone 6s or later running iOS 14.; not all features will work) is watchOS 7. The updated operating system adds new watch faces, new health and fitness features like low-range VO2 Max, sleep tracking, and automatic handwashing detection, new workout types, accessible Maps on the wrist, and Siri language translation. Features for older adults include a simplified onboarding and configuration process, refreshed X-Large face, and a Health Checklist in the Health app for making sure critical features like fall detection have been enabled. Another key feature is Family Setup, which we'll delve into more detail about next.
Family Setup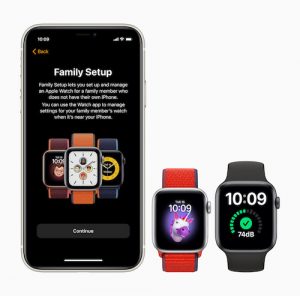 So what exactly is Family Setup? It's a feature that lets other members of the household leverage their own phone number (through a separate cellular plan) and Apple ID to follow things like a schedule of family events in Calendar, manage tasks in Reminders, view synced photo albums from the guardian's iPhone, and more. In the U.S., for example, customers can send money to their kids' watches that they can use to pay via Apple Pay. Parents can receive notifications when their kids pay for things and even see what the purchases were in Wallet on their iPhone. Songs can also be played on Apple Music through Bluetooth headphones, you can ask Siri questions, navigate to locations using Maps, and more. For parents and guardians, a family member's location can be shared using the Find People app on the Apple Watch, and you can receive an update on someone's location, whether it's an elderly grandparent or a young child walking home from school.
There's also an optimized Activity Rings experience for kids, which only tracks Move minutes but not Calories burned and provides customized exercise and stand goals. Specific exercises like outdoor walk, outdoor run, and outdoor cycle have been tuned for kids as well so they get the proper credits for their fitness efforts. And coaching is designed to be more fun for kids, tailored to their reading levels and with the inclusion of emojis.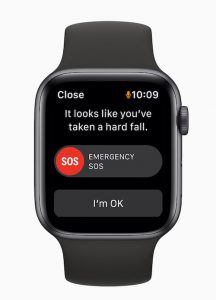 For elderly users, family members can set up emergency services using the side button of the device, while guardians who are listed as the emergency contacts will be notified if it's depressed. The Medical ID can be used to store critical documents for kids, including medical conditions, allergies, and required medications. Parents can also view shared health and activity information via the Health app, and manage what third-party apps kids download to the device, using content restrictions and ask to buy requirements.
Another new feature in Family Setup is called Schooltime, which restricts access to apps during school hours and activates Do Not Disturb mode. Parents can also set schedules from their iPhones. Kids will receive a reminder five minutes before the Downtime feature is about to kick in.
Family Setup requires cellular models of Apple Watch Series 4 or later or Apple Watch SE running watchOS 7, paired with iPhone 6s or later running iOS 14 and with a wireless service plan.
Apple Fitness+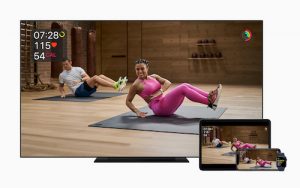 Also on the software side is Apple Fitness+, which provides workout recommendations to individual users based on your past workout and exercise habits and personal choices. Scheduled to launch later this year, it features studio-style workouts that are accompanied by curated music from Apple Music, with an appropriate subscription. Further customize the workout experience using filters. The workouts work on the Watch as well as companion devices: you could use an Apple TV, for example, to display the workout video on the big screen while following along. Details like countdown timers and heart rate will animate on the screen as the trainer takes you through the exercises. You'll even see the Activity Rings showing your progress. For further motivation, use the optional Burn Bar to see how you measure up against others who have done the same workout.
Fitness+ will launch with popular workout types like Cycling, Treadmill, Rowing, HIIT, Strength, Yoga, Dance, Core, and Mindful Cooldown. New workouts will be delivered weekly and range from intense workouts for professionals to the Absolute Beginner program, with accompanying music spanning various genres. Some sessions will require equipment, like a treadmill or dumbbells, while others don't require any equipment at all. A subscription will be $13/mo. or $100/yr. with a one-month free trial. Subscriptions can be shared with up to five people with Family Sharing, which is great for family or couple workouts. For a limited time, those who purchase an Apple Watch Series 3 or later will receive three months of Apple Fitness+.
Eighth-Gen iPad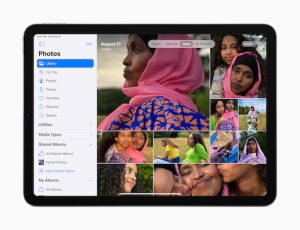 Apple also introduced a new version of its popular iPad, marking the eighth-generation device to date. At the heart of the tablet is a 10.2″ Retina display, A12 Bionic chip with Neural Engine, and all-day battery life. Starting at $429 ($599 for the Wi-Fi + Cellular model) the new iPad is 40% faster than the previous-generation model with twice the graphics capabilities. Use your finger, the optional keyboard, and/or the optional Apple Pencil. Loaded with the new iPadOS 14, it offers improved features with the Apple Pencil, including Shape recognition and the ability to recognize text like phone numbers and dates for seamless integration with other features of the device.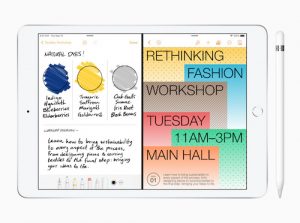 Scribble, available as part of iPadOS 14, lets you handwrite in any text field using the Apple Pencil, so you can do things like quickly reply to an iMessage or search for something in the Safari browser. It comes in silver, space grey, gold finishes in 32GB and 128GB configurations. The first-generation Apple Pencil remains $129.
Apple iPad Air With A14 Bionic Chip
The iPad Air now comes with an A14 Bionic chip and a larger 10.9″ Liquid Retina display, along with camera and audio upgrades, a new integrated Touch ID sensor in the top button, and a thin and light design. Compatible with the Apple Pencil as well as Smart Keyboard Folio and other accessories, it can handle demanding tasks thanks to the high-end chip. It comes equipped with a 7MP front-facing FaceTime HD camera and the same 12MP rear camera that's in the iPad Pro. Stereo speakers are now available in landscape mode. The USB-C port affords up to 5Gbps data transfer, combined with Wi-Fi 6 performance and fast LTE connectivity. It also comes loaded with iPadOS 14 and will start at $779 for the Wi-Fi model and $949 for the Wi-Fi + Cellular. Size options include 64GB and 256GB and there are five finishes:  silver, space grey, rose gold, green, and sky blue.