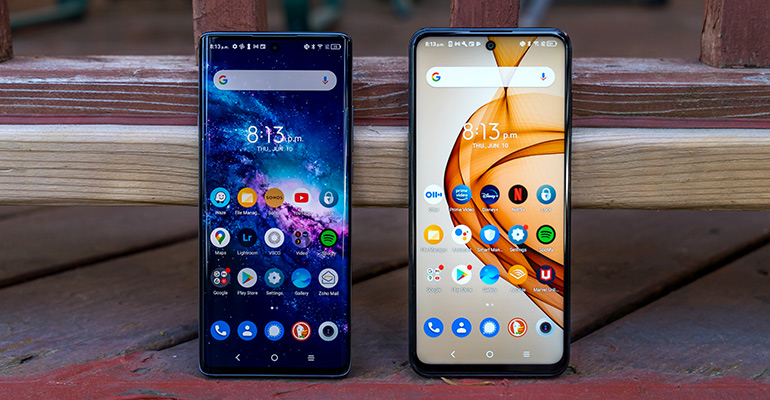 TCL is doing to its phones what it has been doing to its TVs, which is trying to offer more for less than competitors do, and without gunning for flagship territory.
The company's smartphone presence in Canada is still fairly new, having only brought its handsets to the Great White North in 2020. Rather than try to woo people with a super expensive flagship device, the focus was more to compete in the mid-range. Offer something more affordable, while looking more premium.
That's a good way to describe the TCL 20 Pro and 20S, two phones that look better than their respective price tags might indicate. The 20 Pro, in particular, which I focused more of my time with, has a decent mix of design and performance to at least be part of the conversation.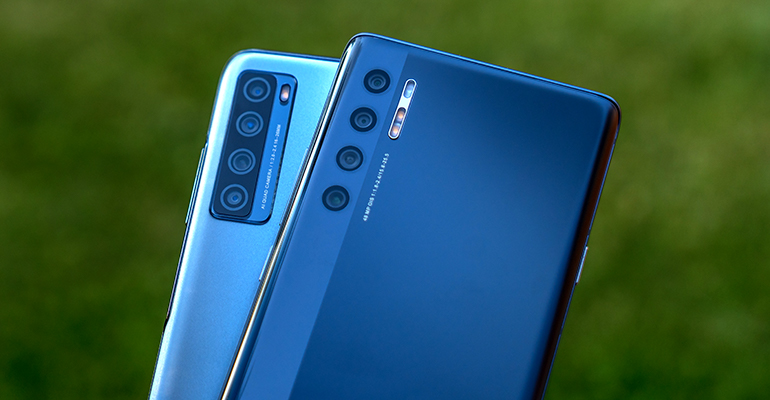 Looking good
I'm not especially a fan of curved displays on smartphones, but if you are, TCL included one in the 20 Pro (the 20S has a flat display). The 6.67-inch AMOLED screen looks fabulous, despite what you might perceive as a modest 2400 x 1080 resolution. It supports HDR10+ for a little extra visual flair for content supporting it.
The screen also features some of TCL's TV technology in the form of NXTVision 2.0. The company doesn't always do a great job explaining how it applies bigger screen tech to smaller displays like this, but in any case, the purpose is to enhance the contrast, colour and detail. By default, NXTVision is on and set to Vivid, making colours pop more than they otherwise would under Natural or Standard. It's not unlike how Samsung would saturate colours to increase vibrancy, although TCL's attempt doesn't feel as excessive here.
Under the hood, there's a mix of specs. The 256GB of internal storage is generous for a mid-range device, whereas the 6GB of RAM and Snapdragon 750 processor are common. The RAM probably could've been higher, especially when it costs $750 outright.
The 20S has the same size screen, albeit as an IPS LCD, not an AMOLED. It also uses the Snapdragon 665 processor, and a different rear camera array than the 20 Pro does. Not surprising for a phone that comes in the $450 range outright.
In both cases, the phones use design treatments that give a nicer appearance relative to their spec sheets. I mentioned the screens already, but even the svelte backs look slick. The 20S has a sheen to it that would look good facing up on any surface.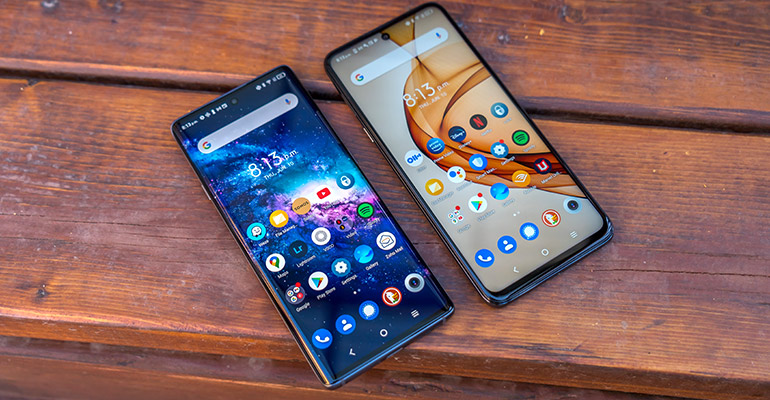 Software and features
To add some extra performance perks, each phone uses a different fingerprint sensor. For the 20 Pro, it's built into the display itself. On the 20S, it's built into the side power button. Both have headphone jacks, and a separate Smart Key on the left edge. That button is far more useful than it may first appear, and the main reason why is versatility. This is a carryover from the BlackBerry-branded Android phones TCL manufactured in recent years. Single or double-clicking the button lets you launch a specific app or function within an app. For example, I used the single press to launch the camera, and the double to launch the camera's Pro mode.
Holding it down launches Google Assistant by default, but there are plenty of other options. Samsung used to have a similar button, only limited what it could apply to. The more democratized variety makes so much more sense.
TCL's overlay on top of Android at least doesn't take too much away from the operating system. That it looks pretty good also helps with staying aesthetically consistent.
That said, one drawback of TCL's NXTVision display is that it only clocks at 60Hz. With phones increasingly coming out at 90 or 120Hz, the lack of smooth navigation was noticeable to me. Whether or not it is to you largely depends on your experiences with other devices, but it is something to note, given how much the company plays up the 20 Pro's screen.
TCL also considers the 20 Pro something of a gaming phone, but that needs to be put in context. Can you play games? Sure. Can you play any game? I'm not so sure. Most games will be fine, but the lower refresh rate and modest internal specs won't put it at the same level as flagships. Still, you won't run into issues if you're more of a casual gamer on your phone.
Generally speaking, the 20 Pro is fine. I streamed music and video without a problem. Browsing, email, video calls, and most other apps ran perfectly fine. The same was true of the 20S, though its abilities aren't going to be as substantial.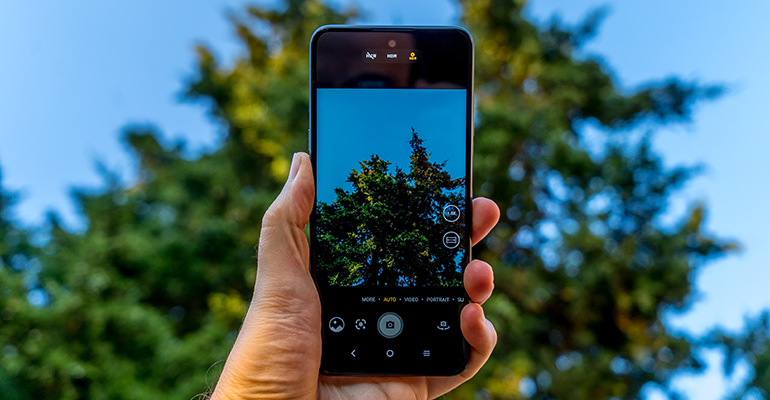 Camera output
This was an area TCL claimed it would improve on significantly, so I tested these two phones based on that proclamation. The 20 Pro comes with a quad-camera array in the rear led by a 48-megapixel main camera, 16-megapixel ultra-wide, 5-megapixel macro and 2-megapixel depth camera.
The main camera can take good photos, but it's how you take them that determines the quality of the output. Good daylight will almost certainly get you something you can use. Same with the ultra-wide lens. Low-light and night shooting, however, is totally hit or miss — mostly miss. One of the issues is that the ultra-wide lens doesn't work with the Super Night mode, giving you only the main one to work with. Another problem is that the exposure slider sometimes likes to disappear depending on the conditions. I couldn't figure out when or why it would do that, but whenever it did, it was usually the point when I needed it.
The various available modes lend the 20 Pro a decent set of tools. Most of them aren't gimmicky, which is always nice to see, and even specialized ones, like Light Trace, have some value. The challenge is that each mode is limited in its range and ability. For instance, try shooting a waterfall with Light Trace and it blurs the entire frame, not just the water. The only way around that is to use a tripod, which isn't always practical.
TCL applied all of the same features and modes with the 20S's camera, though the image sensors aren't all the same. Results fall within what you'd expect from a phone in its price range, but in fairness, you can spend the same money on a Google Pixel 4a and get considerably better shots, especially in low-light and night situations.
Battery life
The 4500mAh battery in the 20 Pro is adequate for its size, and certainly adequate for the chipset it runs on. I easily lasted a full day using the phone with moderate or even heavy usage. While I thought video might tax it more, it was actually playing games and going back and forth between browsing and endless reading that seemed to sap more out of it.
The 20 Pro does support wireless charging, whereas the 20S doesn't. There was some convenience in having that, but the good news is both charge pretty fast when you plug in via USB-C.
A good follow up effort
If we're to look at this as a sophomore effort for TCL, then the results are good, but not surprisingly good. For their respective prices, I would expect certain features (refresh rate, a highly competitive camera) to be there to compete with others already available on the market. The Samsung Galaxy A52, for instance, is also a 5G-capable phone that you can find for less than TCL's best handset out of this duo.
Mid-range smartphones are a crowded field of tight competitors all trying to stand out, and I'm not sure how much TCL has managed to do that here. My sense is that a few of the design points may win over those looking for them. A big curved display for a lower price, the value of the Smart Key, or getting 256GB of internal storage with the ability to expand that further.
The 20S is less distinct because it's up against one of the best value smartphones you can find in the Pixel 4a. But if you want good value and like the larger screen, the 20S may have something you're looking for. My suggestion is to shop around, or if possible, get an actual feel for either of these TCL phones to see how you like them.