As summer begins to wind down, many people within Canada are scrambling to get those last few beach days in while the sun is still shining and the humidity is out in full force. The best way to spend a beach day is, of course, with family and friends. You also need the essentials, like a beach blanket or towels and/or chairs, umbrella for shade, sunscreen for safety, snacks, and cold water for hydration. But there are a few tech gadgets that can make the experience much more fun.
A Rugged Waterproof Bluetooth Speaker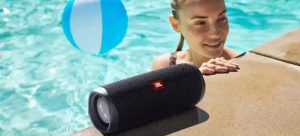 I never go to the beach without a Bluetooth speaker in tow. You don't have to blast tunes so loud that they disturb other families nearby (though you might find that people actually approach and ask you to turn up the tunes!) But you can have a playlist to listen to within your own little sandy oasis. The important features to look for are rugged build, waterproof or at least water-resistant design, and long battery life, which you can find in models like the JBL Flip 5. If the speaker can maintain a connection to multiple devices at once, that's a bonus since people can take turns with the song choices or playlists. If you have enough data on your wireless plan, I recommend tapping into a streaming a radio station that will provide a surprise selection of music and a variety of tunes. I love BobFM from Cayman Islands, which is my go-to playlist for workdays.  Enter for your chance to WIN a JBL Go 3 Portable Wireless Bluetooth® Waterproof Speaker
or your chance to WIN a
Portable Phone Charging Bank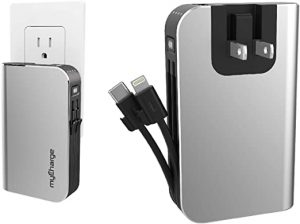 One thing many beachgoers forget when they dutifully pack a portable Bluetooth speaker is that they will probably be using their smartphone as the source of streaming tunes. What happens if your smartphone battery dies? You're out of luck for music! That's why I also always bring along a portable phone charger to keep my phone sufficiently juiced up. Not only is it streaming music for several hours, which can be a massive battery drain, but you're probably using it to take tons of beach photos of the kids or relaxing selfies and posting them to social media. An absolute must feature for me when it comes to portable phone chargers is built-in cables so I don't have to bring along a separate one, and flip out wall prongs for charging directly into the wall. These types of charging banks tend to be a bit more expensive but are totally worth the extra bucks. The MyCharge Hub 18W Turbo fits the bill.
Portable Grill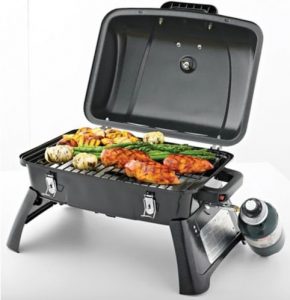 While some beaches have restaurants nearby where you can grab food, or even have grills available for public use, not all of them do. That is why a portable propane-powered grille is a handy small appliance to have. All you need is the grille, a full small portable propane tank, and a picnic table or other surface, and you can cook up burgers and hot dogs for everyone. The Master Chef portable gas BBQ, which you can get for a killer deal right now from retailers like Canadian Tire, has a 234 square-foot cooking surface and porcelain-coated cooking grate. It lights easily via push button and works with 1-lb. propane tanks. The legs fold in for easy transport and storage, and it has a locking lid for safety.
Waterproof Earbuds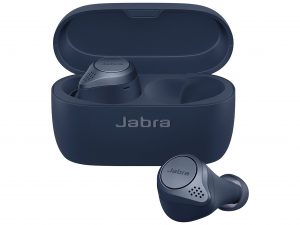 If you're enjoying a solo beach day or you and your partner want to listen to different music or podcasts, you might prefer to opt for a good pair of wireless earbuds. Getting waterproof or water-resistant ones are ideal since they could get wet after you come out of the water and pop them in your ears while you dry off and work on your tan. Plus, sand can be tough to get out of just about anything, earbuds included. So, if you have earbuds you can actually wash after the trip, it's a plus. The Jabra Elite Active 75t not only stay put securely in your ears, they are waterproof and sweatproof, so you can confidently wear them at the beach without worry that they'll get ruined when the kids decide to splash you with a bucket of lake water. The buds can withstand being in fresh water for up to a meter for up to 30 minutes. With 5.5 hours of continuous use per charge and up to 24 hours with the charging case, they'll last for the entire day at the beach, the ride home, through work morning run and workout the next day, and then some.
Enter our contest and WIN  Jabra Elite 65t True Wireless In-Ear Earbuds
Waterproof eReader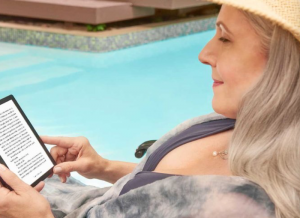 I have taken paperback books to the beach to read while relaxing in between dips in the water, and they never return home looking the same. Not only do they get sand stuck between the pages. But if I take a dip in the water then pick up the book to resume reading once I sit back down, the pages inevitably get wet, whether it's from my still wet hands or dripping hair. An eReader like the Kobo Libra H20 is the ideal solution because, not only is it waterproof thanks to the inclusion of HZO protection that allows it to be submerged for up to 60 minutes in up to two metres of water, but it can store thousands of digital ebooks in its memory, and last for weeks per charge. This means you can start a novel on the plane to your beach destination, continue reading on the beach, then rinse the eReader off and keep reading while you relax with a tea on the front porch at night.
Visit  our contest section and win some great cool prizes for back to school!