Looking for a new phone? Or maybe it's a first phone for a teen/tween or elderly parent who only needs limited functions (and plan options) at a reasonable price. While Samsung and Apple remain the two top phone makers, and brands like LG confirmed earlier this year that they would no longer be making mobile phones, there are plenty of options when it comes to smartphones from these two brands as well as others.
Here's a breakdown of some relatively new phones worth considering in the premium, mid-range, and budget categories.
Premium Phones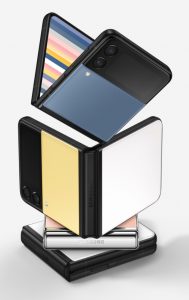 Samsung Galaxy Z Flip 3 Bespoke Edition
If you're going to go all out, as they say, go all out. And the Samsung Galaxy Z Flip3 Bespoke Edition is about as high-end as you can get. Slightly less expensive than the super-high-end foldable Galaxy Z Fold3, the Z Flip3 starts at $1,260 and includes features like a larger 1.9-inch cover screen that shows notifications and messages without you having to open it up in addition to the folded compact 4.2-inch screen (total opened screen size is 6.7 inches), cover screen widgets, stereo speakers with Dolby Atmos, and a Flex Mode Panel for interacting with it in unique ways while the phone is only partially folded. Other specs include a 10MP front camera, dual rear 12MP cameras with ultra-wide-angle lens, and a variety of camera modes.  With the Bespoke Edition, you can choose from 49 customizable colour combinations to get the phone in a style that suits you.
Apple iPhone 13 Pro Max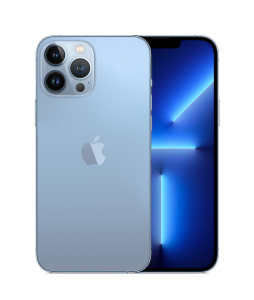 While Apple doesn't yet have a foldable phone, the 13 Pro Max is its highest end device to date, and it packs plenty of features into the slim chassis. This includes a Super Retina XDR display with ProMotion 120Hz refresh rate, improved battery life, Apple's A15 Bionic chip, an advanced 5G experience, ultra-wide, wide, and telephoto cameras, Dolby Vision, up to 1TB capacity, and more. It starts at $1,549 outright.
Google Pixel 6 Pro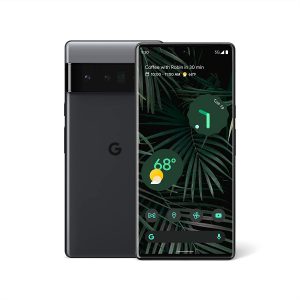 If you want to stick with Google and go right to the direct source for Android, the latest from this brand is the Pixel 6 Pro, which starts at $1,179. Running on Google's first custom-made processor, it has features like Live Translate, a new adaptable experience with apps, information, and typing, and an advanced camera system that demonstrates marked improvements over the Pixel 5. With a 6.7-inch QHD+ LTPO smooth screen with up to 120Hz refresh rate, triple rear camera system with LDAF sensor and 11.1MP front camera, 12GB RAM, from 128GB storage, and a polished alloy frame, it's a sight to behold. Plus, the 5,003mAh battery lasts for 24 hours-plus and supports wireless fast charging.
Mid-Range Phones
TCL 20s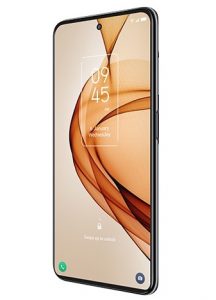 At about $460 outright, the TCL 20s sits firmly in the midrange category. It offers compelling features, including a 6.67-inch screen, Qualcomm Snapdragon 665 octa-core processor, 4GB RAM, up to 128GB internal memory (expandable up to 1TB via optional microSD card), quad rear camera with LED flash, 16MP front-facing camera, and a fast-charging 5,000mAh battery with reverse charging capability. You won't get all the bells and whistles that come with a higher-end model, like the TCL 20 Pro 5G, which is almost twice as expensive at about $850. But for a decent phone that has more than you'd find in a budget device, this is a good option.
Apple iPhone mini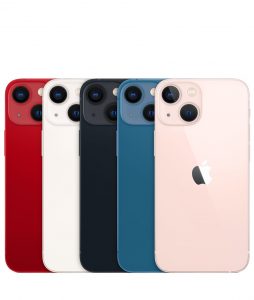 As a mid-range option in Apple's line, the iPhone 13 mini is still more expensive than you'd pay for other devices that are considered mid-range. But for Apple users who are used to paying a premium, the $949 price tags falls into the midrange category; though a worthwhile alternative to consider is an older-model premium device at a discounted rate. The durable phone has a 5.4-inch screen, is water-resistant, 5G-enabled, and comes with storage starting at 128GB. You'll still get the A15 Bionic chip, Super Retina XDR display, and Ceramic Shield front cover, too.
Huawei P30 Lite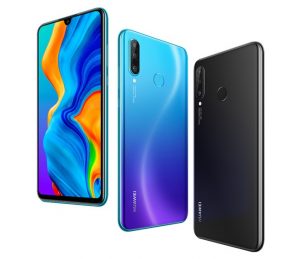 Any phone with Lite in its name is an indication that it's a step-down from the higher-end version. But in the case of the P30 Lite, you still get some fabulous features. Along with an ultra-wide-angle lens and 6.15-inch FHD display with Eye Comfort Certification, it has 4GB RAM and 128GB storage along with a Quick Charge 3,340mAh battery. With additional features for gamers and taking photos, it's a good middle-of-the-road option that can be had for under $500.
Budget Phones
Nokia Value 2.4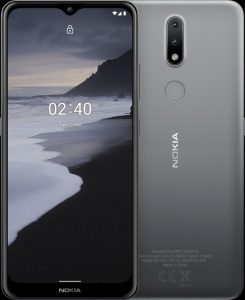 When it comes to budget phones, Nokia excels in this space, and the Value 2.4 is about as entry-level as you can get. Introduced earlier this year, it is based on the Android OS and features two-day battery life, 6.5-inch screen, fingerprint sensor, and AI face unlock. You won't get any high-end features here, but for basic calls and messaging, web browsing, and emergencies, it's a solid device. And the best part? It's only $230 outright.
Motorola moto g pure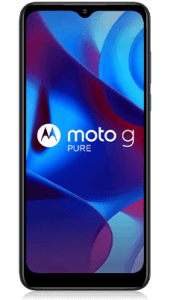 While the moto g pure is technically classified as a mid-range phone, since carriers are offering it on contract for zero dollars, and it sells for $229 outright, it falls into the budget category when it comes to price. Powered by a MediaTek Helio G25 processor, it comes a 13MP rear camera and 2MP front camera along with all the basics you'd expect, like Wi-Fi, LTE, Bluetooth, and even 5G connectivity. Equipped with a 6.5-inch screen, it won't "wow" you with any of its features. But as a first phone for a teen/tween, or just something simple so you can keep in touch with elderly parents, it will do just fine.
ZTE Blade A7P
Selling for about $150, the ZTE Blade A7P is an affordably priced phone for someone who just needs the basics. With a sizable 6.5-inch HD+ screen, 3,200mAh battery that supports fast charging, dual rear cameras, back fingerprint sensor, 32GB storage (expandable up to 128GB), and the Android 11 OS with MediaTek 676D octa-core 1.8GHz processor, there's nothing mind-blowing about the device. But the price is right. Great for the elderly, it's also hearing aid compatible with digital TTY/TDD.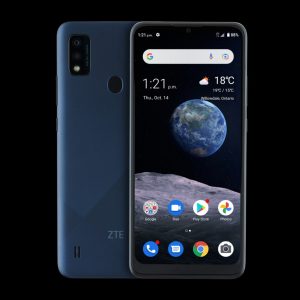 More articles on smartphones