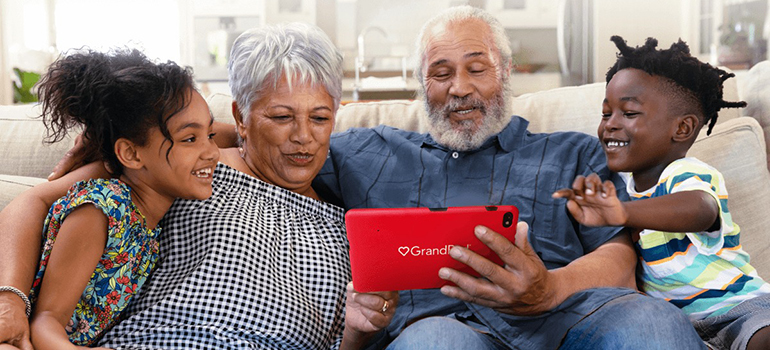 Our population is rapidly aging. According to the Government of Canada, by 2030, one in four Canadians will be a senior citizen. While many Canadian senior citizens still live at home, this becomes increasingly difficult when they require special assistance, and it can put a burden on family members tasked with caring for them. The result is overcrowded retirement homes, a struggling home care system, and stressed families.
It makes sense to help seniors remain in their own homes for as long as they can so they can maintain some semblance of independence. It's no surprise that many aging boomers prefer to grow old at home when it's an option. If they can care for themselves or afford personal home care visits, it's a possibility. And with a little help from technology, it's even less of a pipe dream.
When it comes to tech for an aging population, we have come a long way from the days of the medical alert bracelet or necklace with a button to press when in distress, like after a fall or other health or mobility-related incident. Tech today is empowering aging boomers more than ever.
Tech for regaining independence
One of the simplest ways to use tech to help seniors gain independence in their own homes is to integrate smart home technology. This can include security cameras so a caregiver, like a family member, can look in at any time to make sure things are OK as well as receive motion detection alerts from the front door.
Add automated lights to the set-up so the elderly can use their voice or mobile device like a tablet to turn lights on and off without having to get in and out of bed to do it. You could also consider a smart motion activated Wi-Fi dimmer switch like the Kasa Smart KS220M that will automatically turn on the light when you enter a room and turn off when you leave. We're giving one of these away with some other smart lighting and power products that will come in handy for boomers, including the KL400L5 lighting strip, KP303 Wi-Fi Power Strip, and KP405 Outdoor Wi-Fi Plug. All these products allow you to control lighting and power to devices remotely, or from the comfort or a bed or chair using an app. Enter for your chance to WIN a smart home bundle.
You can add a smart speaker or display for calendar reminders to audibly remind the Boomer when it's time to take their medicine, or to double check that the stove is off and the door is locked.
Swap out the smoke alarm in the home or apartment with a smart one that will alert you via an app if smoke is detected, if the person accidentally left the stove on, for example, tipped over a candle, or there's another electrical issue.
All of this will require a slight learning curve, but with a simple set-up using Google Assistant or Amazon Alexa, a caregiver can walk the person through how to handle things. And the caregiver or family members can remotely log into the home using the same app to control things from afar.
Medical alert devices
The medical alert necklace or bracelet was all the rage in the '80s, with those iconic "I've fallen and I can't get up" commercials. But the technology has advanced considerably. Nowadays, an older-model Apple Watch Series 3 can be had for a steal and it includes useful safety features for seniors. The Boomer can feel empowered that they have something cool and high-tech on their wrist instead of a device that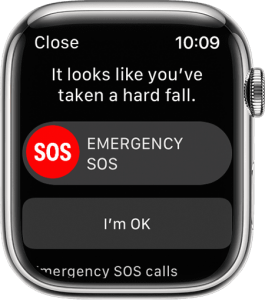 makes them feel old. And features like fall detection will automatically contact a loved one or emergency services if a fall is detected and the person does not deactivate the alert to say they're OK.
The bonus with a smartwatch like the Apple Watch is that it can also be used for things like 24/7 heart rate monitoring, taking an ECG, mindful breathing, and more. If the person detects an irregular heartbeat, for example, they can contact a loved one or doctor for advice. The data is also kept as a log in the app so they can show a medical professional at their next visit to help monitor changes and even proactively tackle a potential issue.
Discreet New Tech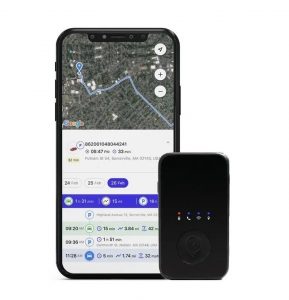 There is plenty of new tech coming out that targets the aging population and helps them maintain independence in their own homes. The PrimeTracking SafeTrack, for example, is a real-time personal GPS tracking device. Powered by wireless 4G technology and boasting a long battery life, caregivers can monitor the location of the elderly, particularly useful if someone tends to wander or get lost. It's just US$30 and is managed using the simple iOS or Android app. It has unlimited GPS range within Canada as well as the U.S. and Mexico. It does, however, require a service subscription.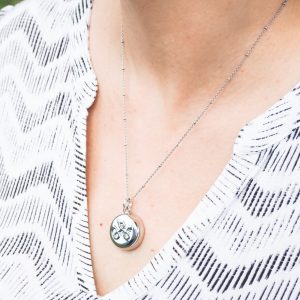 Telus, which has long been involved with medical technology, recently launched SmartWear Security in partnership with InvisaWear. Dubbed discreet wearable accessories, the products offer emergency support and 24/7 monitoring without the person advertising that they're wearing such a device. Instead, it's disguised to look like a piece of jewelry or a key charm.
The app provides 24/7 monitoring via the Telus monitoring service, which means the person will also need a cell phone and plan from Telus. Then, set the desired alerts from the app. Double click the device in the event of an emergency and it will alert five preselected emergency contacts that something is wrong or instantly connect you with the 24/7 monitoring team for emergency assistance. Wearers can send notifications, GPS location, and SMS updates to the five contacts, or partake in live chat SMS with a professional emergency response Telus agent, who will stay connected discreetly until the issue is resolved. The device also provides activity tracking via GPS for up to four hours. Once the person returns home, they can check in to confirm so it stops tracking. If the timer expires before you check in, emergency contacts will be notified after which they can share your location with law enforcement if something seems amiss.
Telus SmartWear is available across Canada with the exception of Quebec. SmartWear devices include a necklace, bracelet, or keychain for $139 or the charm alone for $99 and you'll require a monitoring plan as well, which starts at $12/mo.
Smart Photo Frames and Other Connectivity Devices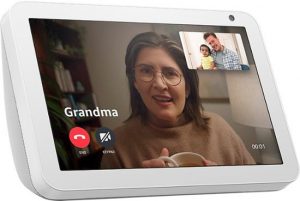 Smart photo frames aren't necessarily for safety, but they help Boomers feel connected to their families. Speaking from experience, both my elderly parents and my 101-year-old grandmother have digital photo frames where kids and grandkids upload new photos frequently. They love sitting and enjoying seeing a new round of photos of the kids at the park, on vacation, playing sports, celebrating birthdays, and more. It brings a sense of joy, and frames from brands like Brookstone and Nixplay make it super-simple to control remotely. Some use apps with a login code you can share and others also include a dedicated e-mail address where everyone in the family can send photos to instantly appear on the frame.
Privacy is a concern for the elderly, who are often being targeted for scams. This makes access to the Internet a worry for most family members who are afraid their parents or grandparents will be taken advantage of. Especially designed for seniors, the GrandPad has built-in 4G LTE so seniors won't need a reliable Wi-Fi connection and allows them to connect with a closed circle of trusted contacts. This helps prevent scams, phishing, and spam while also allowing the senior to connect with others. They can use the tablet for voice and video calling, including group Zoom calls. It can also display a slideshow of private family photos and video streams without the worry of privacy concerns. Plus, it has built-in apps, music, and games, all of which are safe for seniors to enjoy without worry about being scammed. The device can also be used to connect the elderly with healthcare providers for virtual visits. The unit comes with 24/7/365 high-touch personalized support service at the touch of the button should the seniors need help. Pay for an annual plan at US$57/mo. with the hardware included, or go month-to-month at a rate of US$89/mo., also with the hardware included.
Bottom line
There's plenty of tech that can help seniors live more independently while also taking some of the burden off caregivers who are, more often than not, family members with their own priorities. While technology can sometimes sound daunting to someone from the Boomer generation, the fact that most systems can be tapped into from afar makes it less overwhelming.
Something as simple as being able to turn on the lights to go to the bathroom in the middle of the night without having to get up and find a light switch, or hearing a timed audio message reminding them to take their pills or turn off the stove, can make a world of difference in keeping aging Boomers at home for as long as possible.