Every popular streaming service in Canada, from Netflix to Disney+, Crave to Amazon Prime Video, has a recommendations engine that offers suggestions of what to watch next based on what you have watched prior. They also provide lists of trending content, organize shows in neat genre and theme categories, like ones you might like because you watched something else like it, award-winning shows/movies, binge worthy shows/movies, shows about friendship, and more.
While this seems deeply personal, some find that the choices are lacking. What's more, you can only search by one streaming service at a time. Add network television to the mix, and you have to search a variety of apps and sources to find out not only what shows and movies are coming when, but which ones are even worth watching and where you can find them.
There are some great apps and websites that can help you find what's streaming where, with two of the biggest being Reelgood.com and Decider.com. But there are others you might not have heard of as well. 
Many of these websites and apps, including Reelgood and Decider, function like advanced pseudo-TV guides. They gather content information from multiple streaming services, even linear networks, to tell you what is streaming where. But some of these also use various methods, algorithms, and questionnaires to provide recommendations and other useful information that can help you find what to watch next. Like the recommendations engines in individual streaming services, they keep learning over time, providing you with a carefully curated list of content you'll probably want to check out. A few, in particular, stand out.
JustWatch: The Most Comprehensive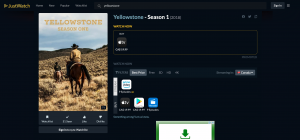 One of the more comprehensive options is JustWatch, which provides not only movie and TV show recommendations from all the top services, but also what's popular. Use the discover link to see personalized recommendations based on your interests and tastes. The menu displays in a format similar to Netflix and Amazon Prime with rows of categorized titles like "users with similar preferences watched this" and "best brawls." The advantage is that results come from multiple services.
How does JustWatch know what you would like? First go through a process whereby you indicate which streaming services you subscribe to, and if you're interested in free content or buy/rent options as well. Then, select TV shows that appeal to you based on various options that pop up. Once you select four or five, JustWatch begins personalizing recommendations for you. Continue to choose, and the more the site learns about you, the more curated your selection will be. The best part? While there is an option to sign up for a free account, you don't have to: you can get all of this without entering your personal information. With an account, however, you can sync the service with JustWatch's own TV app and access your watchlist on all devices.
The best part about JustWatch is that it includes Canadian streaming services as well, like Crave, amidst the mix. So if you search shows like Yellowstone, for example, from an Canadian IP address, you'll see that it's streaming on Amazon Prime Video in Canada, whereas in the U.S., it's exclusive to NBC's Peacock Premium service.
Watchworthy: Like a Dating App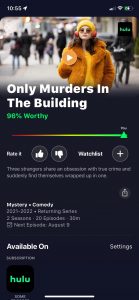 Anyone familiar with modern-day dating apps will understand the concept behind Watchworthy. It uses a system of swiping right or left to determine which specific shows and types of shows you tend to like then curates a personalized list of recommendations for you based on that information. Powered by Ranker, the immensely popular website that allows web users to vote on content of all kinds, the advantage with Watchworthy is that you can filter out shows you have already seen along with ones you're aware of but aren't interested in. This is accomplished through that aforementioned swiping system: when a poster pops up, select if you liked or disliked it (if you've already seen it) or if you are interested in it or not (if you haven't). The more titles you go through, the smarter Watchworthy will get about your tastes and determining what content is "worthy." You can create a watch list based on this information right in the app, and even see titles that are coming soon that are matched to you. Like the others, options are also provided in categorized rows under headings like "the best comedy-drama TV shows ever" and "the greatest shows about parenting."
The only downside with Watchworthy is that the app is U.S.-based, so if you search for a show like Only Murders in the Building, you'll see that it's available on Hulu but won't learn that you can stream it in Canada on Disney+. Watchworthy is also only available in app format with no desktop option. It's easy to set up an account using your existing Apple, Facebook, or Google credentials, and the app can be used without a sign in as well.
Flixable: Best for Netflix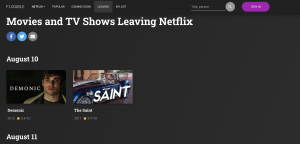 Despite the vast number of streaming services available, Netflix still remains tops when it comes to subscribers. While the service has notably been losing subscribers of late, as of 2022, according to Statista, Netflix has 19 million users in Canada, projected to rise moderately to 19.9 million by 2025. Flixable is designed just for finding content on Netflix, but it is U.S. based which means Canadians can only rely on this app and website if they are logging into a U.S. Netflix account using a VPN.
If this is the case, you can search movies, TV shows, and both by genre, actor, ratings, and even specific release year. One notable feature is the ability to see what will be leaving the streaming service soon, a great motivator to watch something you've had your eye on before it's no longer available.
Qewd: Best Social App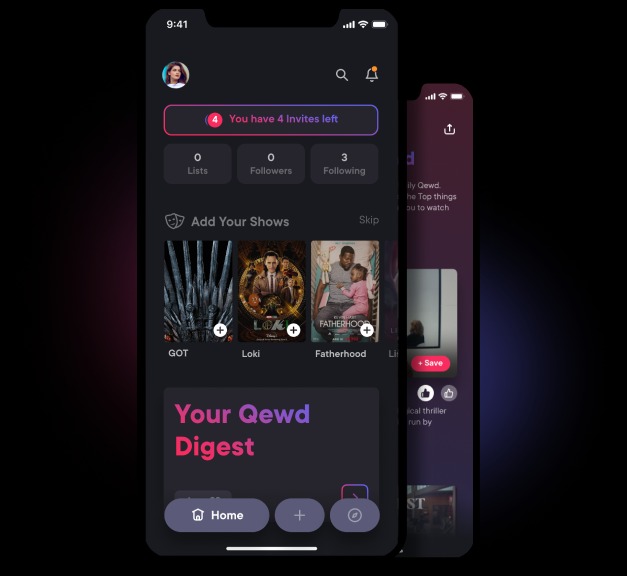 QEWD, a new app that hasn't yet officially launched but is open for waitlisting. Qewd adds a unique twist to the equation: its idea is to help users connect with friends, family members, influencers, and brands to get a feel for what other like-minded people are watching and have enjoyed.
Once you create your own personal "channel" based on content from various streaming services and networks as well as social platforms and even other video sources online, you can review it online any time you want to see what you have bookmarked to watch later. But you can also explore what others are watching, including people you might know and want to follow, much like you do on social networks like Instagram and Twitter.
-30-
Interested in back to school tech?   Check our contests and enter to WIN cool tech prizes