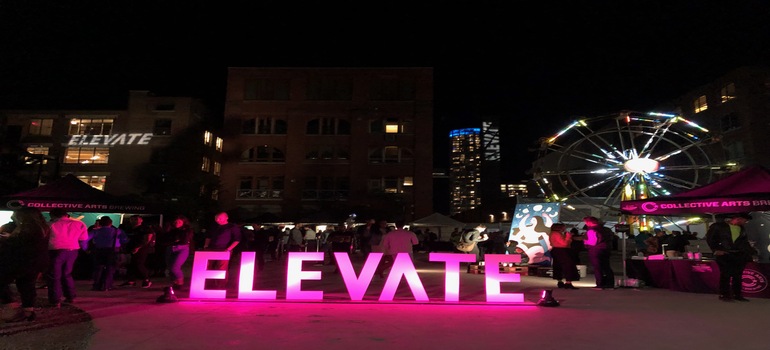 The 2022 Elevate Festival, the country's largest Canadian-led and founded technology and arts festival, will return to Toronto's downtown core on September 20-22, 2022. The Elevate Festival will bring together hundreds of creative thought leaders to shine a global spotlight on Canada's innovation ecosystem.
Elevate is a Canadian non-profit that builds and unites world-class innovators through tech training courses, entrepreneurship programs, and industry-leading events at the intersection of technology, arts, and social innovation.
This year's festival will tackle today's most pressing and trending topics, from digital wellness in web3 to audience engagement in the streaming space to data governance, through to responsible consumption and construction of sustainable smart cities.
Presenters
Joining headliners Venus Williams, tennis champion and entrepreneur, Krista Kim, creator of the Mars House and founder of the Techism Movement, Raquel Urtasun, founder and CEO of Waabi, Chris Hadfield, Astronaut and Elevate Co-Chair, City of Toronto Mayor John Tory and Lisa Zarzeczny, Elevate Co-Founder and CEO, are an eclectic and innovative panel of presenters, such as:
Andre De Grasse, Ten-Time Olympic and World Championship Sprint Medallist
James Ehrlich, Founder, RegenVillages
Zabeen Hirji, Executive Advisor Future of Work, Deloitte
Qasim Mohammad, Director, Wittington Ventures
Michele Romanow, CEO and Co-Founder of Clearco and CBC Dragon
Jay Rosenzweig, CEO, Rosenzweig & Company
Douglas Soltys, Editor-in-Chief, Betakit
George Sully, Footwear Designer and Founder of Black Designers of Canada
Minda Zetlin, Columnist, Inc. Magazine & Author, Career Self-Care
Explained Lisa Zarzeczny, CoFounder & CEO, Elevate , "As is the case with so many innovative thinkers and leaders, left- and right-brained thinking plays a big part in the way they build their influence and make an impact on their communities."
"There are a number of notable speakers that illustrate the myriad ways in which the intersection of arts and technology have come to life in our world."
"Take athletes Venus Williams and Andre De Grasse, for example. Both are at the top of their field as global athletes, but are also pushing the boundaries of innovation beyond the sports world. Venus is an entrepreneur having started an interior design company and clothing line, authored a book that looks at how sports can impact business leaders, and has also led a number of philanthropic projects. Andre De Grasse values the power of education based on his own experiences of committing to graduating. By taking the foundation of his rise to success on the world's track stage, he built a foundation committed to youth education, sports, and health care."
"What inspires me most about Elevate Festival are the conversations that are shaping what tomorrow will look like; I encourage young people to engage in these conversations, become active members of this growing community, and leave empowered to dream big," said Andre De Grasse.
Attendees
Attendees, which could reach 30,000 or more this year, can participate in panels, fireside chats, and pitch competitions, experience endless networking opportunities, explore an NFT Art Gallery, and more before the festival transforms into evening Block Parties with performances by award-winning artists.
Zarzeczny shared with me how diverse festivalgoers will be.
"From passionate tech and industry leaders at the forefront of innovation to those newly wading into the space of digital technology Elevate Festival 2022 is for anyone who wants to be inspired by topics that are shaping our future, like the Metaverse, NFTs, and Web 3.0."
Zarzeczny added, "Elevate also attracts students from universities and colleges across Canada to inspire today's youth as they prepare to become the new generation of innovators."
And, "start-up founders also call Elevate Festival home as they can come to network with investors looking to invest and relish the unique chance to pitch their businesses live on stage to a captive audience."
With its new NFT Art Gallery and the 3-day Block Party, the Elevate Festival also aims "to make technology and the arts accessible to everyday consumers and first-time tech explorers," stated Zarzeczny
Inclusion
The Elevate Festival is billed as an event that unites technologists and creative thinkers, 'who envision a future that includes us all.'
Said Zarzeczny, "Elevate ensures that equity-deserving world-class thinkers, creatives, and innovators are part of the critical dialogue that will impact our communities and help build a better future through its commitment to a minimum 50/30 framework."
"For example, Elevate's Marketplace for ecommerce entrepreneurs will include 50 per cent women founders and 30 per cent underrepresented entrepreneurs, showcasing these impact-driven businesses to over 30,000 festival attendees."
Added Zarzeczny, "the NFT Residency Program, developed with TD Bank Group, will conclude with a showcase in a physical gallery that'll be accessible for free to all festival passholders. The program, which is currently underway, and features industry-leading mentors like Krista Kim and Anand Venkateswaran, aims to empower these creators to thrive in the fast-paced NFT space through access to mentorship, community, and capital."
"Additionally," explained Zarzeczny, "Elevate Festival's programming, including a dedicated lounge for women in tech and women founders, thanks to supporting partners BMO and BDC, as well as programming partner, The Firehood, will provide opportunities for women to collaborate, network, learn, and grow."
"Elevate Festival is dedicated to providing more opportunities for women founders to have access to VC funding and angel investors," remarked Zarzeczny. "One way this is coming to life is through Elevate's partnership with Firehood, a movement focused on increasing the participation, leadership and prosperity of women in technology, will unlock $250,000 in funding for women founders during the festival."
Return of In-Person Events
"This month has marked a clear return of in-person events for Toronto, and the city is more alive than ever without any signs of slowing down. As people from around the world and across industries reunite, Elevate Festival will bring a surge of electricity to the heart of Toronto," said Zarzeczny.
With three stages located in Toronto's downtown core and over several content themes to choose from, pass holders will enjoy sessions with thought leaders in sustainability, the future of work, the metaverse, artificial intelligence (AI), retail, fintech, women in tech, and beyond.
Added Zarzeczny, "Beyond a singular tech focus, Elevate Festival reimagines the well-known conference format by fusing the high-energy of an arts festival, presenting the best of both worlds. This talented community has so much to offer, and we're providing attendees with a wide spectrum of opportunities to learn, network, and grow."
Partners supporting the Elevate Festival include the City of Toronto, Interac Corp., Province of Ontario, Mastercard Canada, TD Bank Group, AIR MILES® Reward Program, Bank of Montreal, Beanfield, Dropbox, OLG, Symcor, and others. This year's festival will also see collaboration with BetaKit, Corporate Knights, and TechTO as Programming partners across several festival stages.