When we think about technology for the office and home office, we often consider functionality first, and rightfully so. Whatever the products, it needs to play well into our workdays, helping us accomplish tasks faster, better, and more efficiently. But another important factor is usability when it comes to ergonomics. If you'll be sitting at a desk for at least eight hours a day, often longer, you'll want to use technology that is designed to conform to the contours of your body, ease pressure on joints and tendons, and make the experience comfortable as well as functional.
This is precisely why there's a growing focus towards ergonomic tech, especially with office workers suffering from muscle strains, back pains, and conditions like carpel tunnel syndrome; not to mention the increased levels of stress of workers, overall.
We have rounded up some great options to consider adding to your office space and travel bag to help with everything from sore hands to slouching posture, neck pain, and more.
Kensington SmartFit East Riser Go Adjustable Ergonomic Laptop Riser and Cooling Stand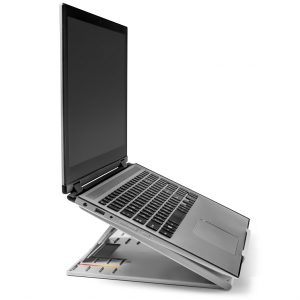 One of the often-overlooked aspects of working at a desk is having your computer at the right height, especially if you use a laptop that isn't situated on a riser stand. The Kensington Smart Fit Easy Riser Go helps ensure that you aren't shrugging your shoulders or arching your back by raising a laptop to the proper height and eye level. Suitable for laptops with up to 14-inch screens, it offers adjustable heights and angles to help you improve posture and thus reduce the likelihood of developing back, neck, and shoulder pain. It comes with anti-slip footpads so it won't move around while you work and the slim and foldable design means you can bring it with you on business trips to use in a hotel room or business centre as well.
At just $30, this office accessory is affordable, too. But keep in mind that you'll need a wireless ergonomic keyboard to pair with it: you won't be able to comfortably type on the keyboard when the laptop is raised.  Enter our contest to win an ergonomic computer accessories prize bundle from Kensington.
Logitech ERGO K860 Wireless Split Keyboard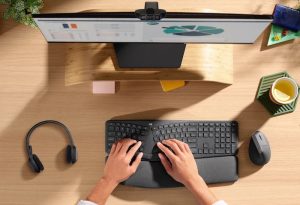 Speaking of wireless ergonomic keyboards, Logitech is a top brand in the computer accessories space, and this keyboard might not come cheap, but when it comes to comfort and ergonomic design, it's tops. At $150, the Logitech Ergo K860 Wireless Split Keyboard is designed to help you type more naturally, your hands gliding nicely around the curved design of the keys and slope of the board itself. The idea is to help reduce strain, improve posture, and offer more support. The slope design, says Logitech, helps reduce strain on your wrist muscles and forearms so you can relax your hands and shoulders as you type.
The design is topped off with a pillowed wrist rest that positions forearms just above the keyboard, offering more support. It has three layers of material: the surface layer is made of knitted fabric that is easy to clean and resistant to stains. The support layer of 2mm high density foam is next, followed by the comfort layer of 4mm memory foam. It's great for both sitting and standing desks.
Microsoft Sculpt Ergonomic Mouse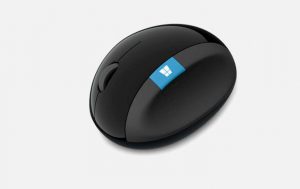 A third option to consider to complete the experience in your office is an ergonomic mouse, and the Microsoft Sculpt Ergonomic Mouse fits the bill. The curved design is intentional to help maximize wrist comfort, conforming to a more natural hand, wrist, and forearm posture. The idea, as with the other items, is to help prevent strain and pain from repetitive stress. You can still navigate nicely across a document or webpage using this mouse, which is ideally paired with a Windows-based computer. It even has a dedicated Windows button for one-touch access to the Start menu.
A thumb scoop, meanwhile, can be used to maintain the correct hand and wrist position, while a back button makes it simple to navigate more quickly without having to engage the keyboard or touchscreen. Enjoy four-way scrolling left, right, front, and back so you can get more done in less time. At $60, it's a small investment that could make a huge difference.
Satechi M1 Mouse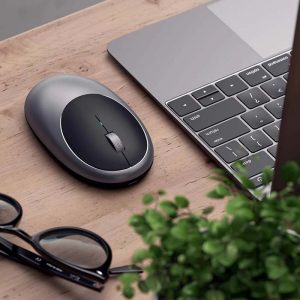 Satechi is known for creating a variety of accessories designed to pair perfectly with the colours, finishes, and styles of Apple products, including MacBook computers. If you own a MacBook, consider the Satechi M1 Mouse (US$30). It operates via Bluetooth 4.0 and includes a rechargeable Type-C port and modern design that also happens to be ergonomic, contouring to the curves of your hand whether you're right- or left-handed.
Available in five finishes that match MacBook colours, you can most certainly still use this mouse with a Windows computer or even Chromebook as well, along with some tablets (check the list of compatible devices to be sure). The M1 offers precise tracking, fast scrolling, and soft touch navigation buttons combined with an aluminum scroll wheel. It even comes with a Type-C-to-Type-A charging cable, so you don't need to search your junk drawer for a spare.
Jabra Evolve2 65 Office Headset
Holding the phone up to your ear for long periods of time is bound to put a kink in your neck. Most of us nowadays, however, use headphones. Or you might opt for a speakerphone, although this doesn't always offer the best sound quality, can be distracting, and confines you to a specific spot. The best option if you tend to spend many hours on the phone at your desk is a dedicated office headset, which might cost more, but it could pay off in spades when it comes to comfort.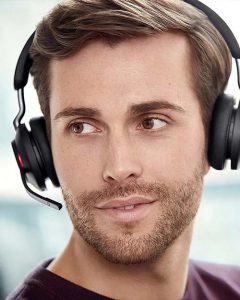 The Jabra Evolve2 65 is one of the more expensive options at $323, but you might be able to get a credit from your employer. If you're self-employed, it's a valid write-off business expense if it's pertinent to your job. You get the benefits of wireless so if you want to continue a conversation while you tend to a courier at the door or make yourself an afternoon latte, you have the freedom to do so. You'll enjoy the great sound quality for which Jabra is known, and compatibility with the most popular Unified Communications (UC) platforms, like Microsoft Teams. With advanced battery efficiency, get up to 37 hours of operating time per charge, enough for a full work week minus lunch breaks.
The foam oval ear cushions and angled earcup design are made for comfort and help block out distracting surrounding noise via passive noise cancellation. The BusyLight, meanwhile, illuminates red to let others, like family members or co-workers, know that you're on an active call and not to be disturbed.