If you were lucky enough to invest in a brand-new Apple iPhone 14 and have already received it, or have one on the way (the company has confirmed supply chain issues, which means yours might be delayed), you'll want to pick up some accessories for it. In fact, having the essentials in advance is a good idea so you're fully ready to go right out of the box.
As with every iPhone launch, several manufacturers have already come out with some great accessories designed specifically for this phone. Meanwhile, there are others that would be a perfect fit.
1. A Protective Case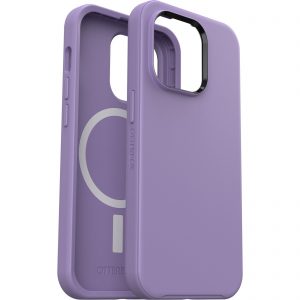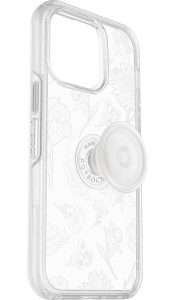 A protective case is the first, most important, accessory to buy for any smartphone, including the iPhone 14. While the phone is built to be rugged, you still want something that will offer a nice grip and provide an extra layer of protection. When it comes to cases, Otterbox is one of the best you can buy, and the company recently released its Symmetry+ cases for iPhone 14. They are slim, work with MagSafe accessories thanks to built-in magnets, come in fun and bright colors, and offer durable protection.
There are several models in the line, but the ones that stand out include the Otter + Pop Symmetry Series case, which combines a protective case with the popular PopSockets PopGrip. The removeable PopSocket is ideal for securing the phone to your hand while you walk, watching videos while the phone is propped up on a tabletop, using the PopSocket as a kickstand, and as a hand grip while taking selfies.
There's also the Symmetry Series+ Antimicrobial case, a one-piece design made of polycarbonate and synthetic rubber with MagSafe compatibility and DROP+ protection. As a plus, it has an antimicrobial coating.
2.Extra Cables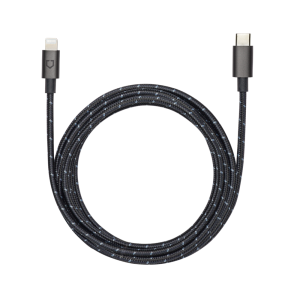 You can never have too many cables, and while the iPhone will likely eventually be moving to USB-C, the iPhone 14 still has a Lightning port, so you'll be using these cables for some time to come. The RhinoShield braided lightning-to-USB-C cable is rugged and durable, so you can leave it in your car or stuff it in your backpack, briefcase, or carry-on to use on the go. There's a one- or two-meter length option. I'd advise grabbing the longer one, perfect for use in a hotel room while on a business trip where you have minimal outlets or they're always situated in the most awkward spot. The extra length will come in handier than you realize in a variety of settings. The cable is durable and MFi-certified and is compatible with third-party USB-C wall adapters.
3.Wireless Charger
Now that the iPhone finally supports wireless charging, you could make good use of a wireless charger.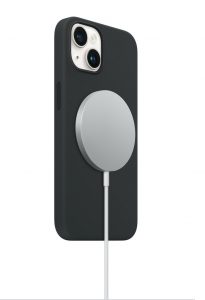 It's best to go direct to the source, and Apple's own MagSafe Charger is the best you can buy as a pairing with any MagSafe-enabled iPhone, including the new iPhone 14. It attaches right to the back of the phone (even with a MagSafe-compatible case on it) to recharge the battery as needed at a speed of up to 15W. It's also compatible with Qi charging, which means you can use it to charge other devices, too, including the iPhone 8 or later as well as AirPods. Note that you will need a USB-C power adapter, which is sold separately, and Apple recommends its 20W model.
4.True Wireless Earbuds
Of course, when it comes to true wireless earbuds and the iPhone, the best option is the Apple AirPods. Make sure to get the latest third-gen AirPods, which offer upgrades like personalized spatial audio, Adaptive EQ to tune music to your ears, and MagSafe charging. They also offer longer battery life, which anyone can appreciate, no matter if you wear them for an hour a day for your morning run or for several hours for commutes to and from work or school. They offer a seamless pairing experience and can use Siri voice control to hear notifications read aloud through the buds, control music playback, and more. You can even personalize the case with the person's Memoji for free when you order online through Apple.
5.Magnetic Battery Pack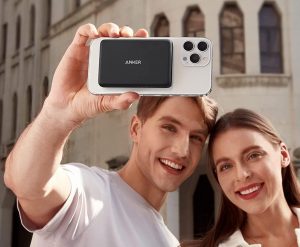 The magnetic charging capabilities of MagSafe iOS devices like the new iPhone 14 open up the possibilities for on-the-go charging. Apple does offer its own branded battery pack, but you can also consider alternatives like the Anker 521 magnetic battery. The 5,000mAh battery pack simply snaps onto the back of the phone to wirelessly charge it, without you having to be tethered to a specific spot. It's lightweight and won't add a ton of bulk to the phone. You should get an extra full charge of the phone, and the device itself recharges quickly via USB-C. It's a must-have to keep in your bag when you need a quick top-up in a pinch.
-30-
More on smartphones
Still looking for cool tech holiday gifts?  Check our contest section and enter  for your chance to win!