With the release of the new TCL 40 smartphone line-up in Canada early this month, the electronics manufacturer is offering three new models: TCL 40 XE 5G, TCL 40 X 5G and TCL 40 XL.
What TCL Canada is really offering, though, are affordable price points, good screen quality, and a special gift for phone purchasers (the special is good through May 14 – more on that to come).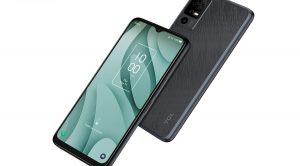 Looking at TCL's most affordable 5G smartphone to date is easy on the budget: among the new models, the TCL 40 XE 5G makes the opportunity to get into 5G connectivity very accessible with its approximate purchase price point of $320 (depending on carrier; these devices are available in Canada through Bell, Virgin Plus, and Videotron). Monthly pricing is about $11 or $12.
Looking at the TCL 40 XE 5G is very easy on the eyes: the phone's 6.56-inch screen looks bright and sharp with its HD + resolution (720 x 1612) and a 90Hz refresh rate, which can cut down on blurry scrolling and fuzzy gaming.
Looking at digital snaps this smartphone takes is easy on the eyes, too: the rear camera uses a 13 MP imager, the front an 6 MP, and there are two 2 MP sensors, as well, for macro shots and depth sensing. Those might not sound that impressive compared to other phones (TCL itself puts a 50 MB sensor in its higher-end model), but photos taken with the 40 XE 5G can be excellent, especially in good lighting conditions.
The phone specs include a MediaTek Dimensity 700 5G chipset with a 7nm processor, a quick-charging 5000mAh battery, 4 GB RAM, 128 GB internal storage, making this affordable smartphone a capable smartphone, too. The unit was running the latest update of Android 13. There is a mini headphone jack, which you will probably want to make use of, as the speaker on the phone can be hard to hear outdoors.
All this comes in a nice slim, balanced and lightweight form factor, but only available in black.
Special Gift with Every Purchase
The fact that a purchaser of this new phone, as mentioned, also gets a special gift only makes the purchase more valuable:  a 32-inch TCL smart television (Model# 32S350G-CA, with a market value of $199.99 CAD) is given with every purchase until May 14!
So, if you are still looking at the phone, and not the TV, another reason imagery on the smartphone can look so good is TCL's NXTVISION software real-time processing tool. It's used to increase the colour accuracy, contrast, and sharpness on its TVs and smartphones. Image video and gaming enhancement settings are available with the software, and it has tools for controlling the display overall, such as one optimizing more for pure reading activities, one that filters out blue light for added eye comfort, one that darkens the display if you need to see it in a dark room, one that increases readability in bright sunlight.  Such added controls over screen colour and display modes are nice features to have in budget-conscious device.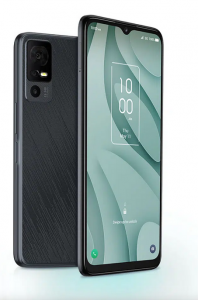 As mentioned, even with its medium-sized imager, the TCL 40 XE 5G can take photos that are sharp, clear, vivid and very impressive on-screen. Just a few shots in a local flower garden, taken on a bright but very windy day, gives a sense of this (see samples below); the nighttime highway shot shows its performance in a high contrast environment; likewise, the hockey fans watching an outdoor TV screen. All were taken in auto mode, save for the flower show, where a high shutter speed was set.
Macro photos are good, but good lighting can make them better (it's a 2 MP sensor), especially indoors. Low light conditions may reveal some overall softness in the photos, and high contrast scenes will look, well, like high contrast scenes in auto mode; pro mode gives you added control over image clarity and impact through shutter, aperture and other software tools.
The main features of the TCL 40 XE 5G are said to be 5G connectivity and the 6.56-inch HD+ display, and that is the case; whether you'll like those features more than the price and the gift is another matter.  TCL and WhatsYourTech.ca are giving away a TCL 40 XE 5G .  Enter for your chance to WIN!