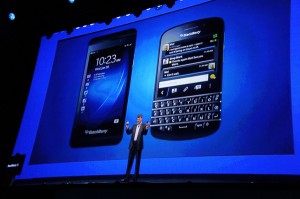 Text and photos by Gadjo Cardenas Sevilla
Research in Motion took the wraps off its BlackBerry 10 operating system and new handsets in New York, London, Dubai, Toronto, Paris and Johannesburg.

RIM CEO Thorsten Heins, who took the helm of the beleaguered Canadian tech giant around a year ago, started the launch by thanking RIM employees for working so hard towards "the new day in BlackBerry history."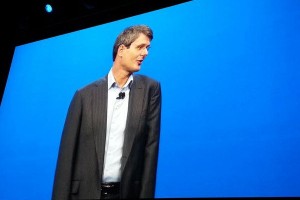 Heins spoke about transforming RIM inside and out and  also announced that the company sill be known as BlackBerry and has retired the Research In Motion brand that has endured a lot of negative press and criticism in the past.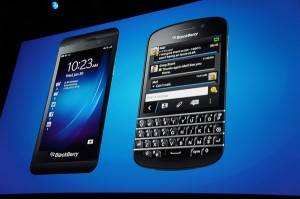 Heins also introduced the new BlackBerry 10 handsets, the large screen z10 and the Q10 which carries a QWERTY keyboard  similar to the previous Bold line. Heins demoed the people-centric nature of the new BlackBerry handsets on stage.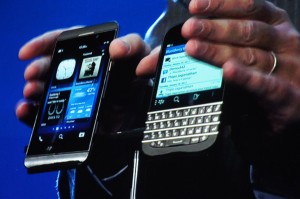 Rogers is among the Canadian carriers who will have the BlackBerry z10 smartphone available on February 5.
"At Rogers we're very excited about BlackBerry 10 and we're looking forward to launching the BlackBerry Z10 in black and white in only 6 days, at $149.99 on select 3-year terms," said a Rogers spokesperson.
"We'll also be carrying the BlackBerry Q10 with full QWERTY keyboard in 2013. Rogers customers can already beat the lines and pre-register for the device as of tomorrow, January 31st."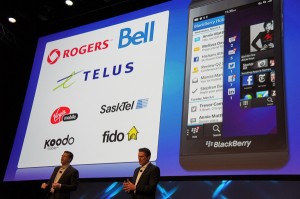 Rogers  says the Z10 will be powered by LTE, Canada's fastest wireless internet. "We'll make our exclusive apps available to our customers: My Account, Rogers One Number, Rogers Anyplace TV live, Rogers Smart Home Monitoring, Sportsnet mobile and our mobile wallet application suretap."
Bell, TELUS, Virgin, SakTel, Koodo, Fido and Videotron are some of the Canadian carriers that expect to provide BlackBerry 10 devices to their customers.