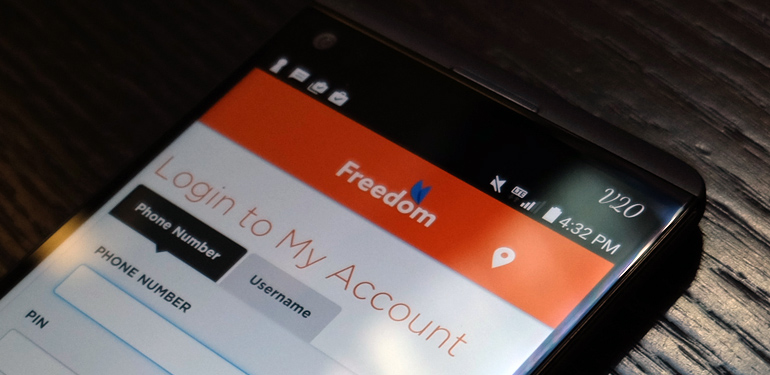 The carrier formerly known as Wind Mobile rebranded as Freedom Mobile at the same time it launched its own LTE network in November 2016 in Toronto and Vancouver, so how good is it three months in?
It got off to a rough start initially, with customers reporting they weren't seeing LTE connections, but things have gotten better since. The constant caveat for this LTE network is that it runs on AWS-3, otherwise known as Band 66, which has little support up to now.
Network rollout
Freedom (then Wind) had acquired it through government wireless spectrum auctions for Ontario, Alberta and B.C. Rolling out the network will cost an estimated $250 million, staggering it out through the Greater Toronto and Greater Vancouver areas first up to this spring, followed by Calgary, Edmonton and Ottawa by the summer. Southwestern and southeastern Ontario would cap things off in the fall.
The same "Home" and "Away" zones apply. Venturing into an Away zone onto another carrier's network costs $0.15/minute of talk, $0.05 per text and $0.05 per megabyte of data. It doesn't include the Everywhere Talk and Text Freedom offers on other plans.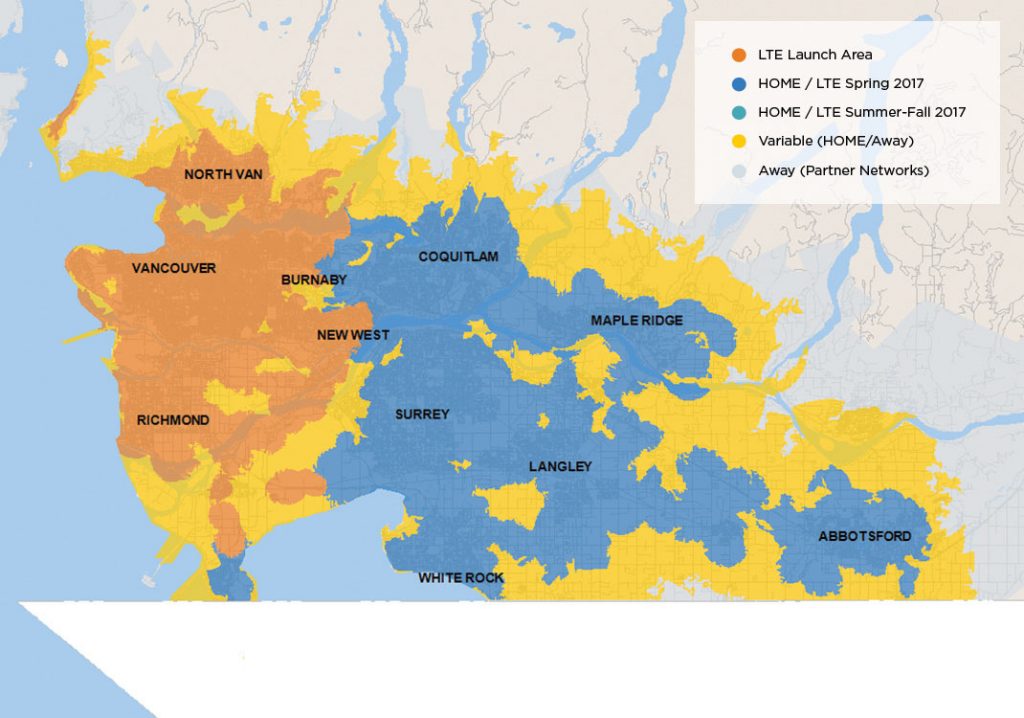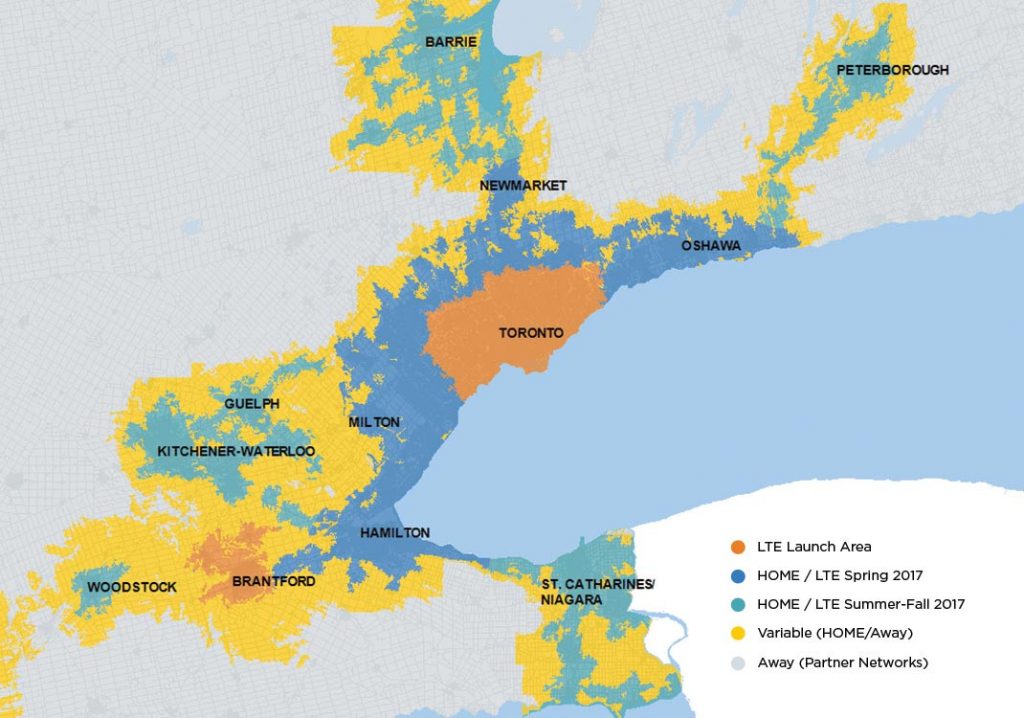 Roaming in the U.S. on LTE networks there will be opened up in the spring, likely through AT&T or Verizon, who both own Band 66 spectrum too. Those on 3G plans will continue to access 3G when roaming, and will also act as a fallback for LTE customers.
Despite the limitations, the monthly plan is compelling. Until Feb. 22, Freedom is offering its LTE plan for $35/month, switching to $45/month after 10 months. It includes unlimited calling to Canada and the U.S. There is 3GB of data already in there, but another 3GB is tacked on for a total of 6GB, except that will expire on January 31, 2018. Freedom says there will be "different offers and plans available" customers can choose from, but has not elaborated on what those might look like.
Even at $45, that is a fraction of what a similar plan would cost with one of the Big 3. For example, a Rogers Share Everything plan with 5GB of data is $115/month. With Telus, a similar plan with 2.5GB of data is $100/month. Bell has a 5GB Share plan that costs $125/month.
The discrepancy is huge, except there's another current roadblock. As of this review, only the LG V20 and ZTE Grand X 4 are capable of running on Freedom's LTE network. That is poised to change as newer devices are launched this year, where Band 66 could be included in a number of flagship devices, including the Samsung Galaxy S8 and LG G6, among others. What about the iPhone? We won't know until Apple launches the next one.
Network performance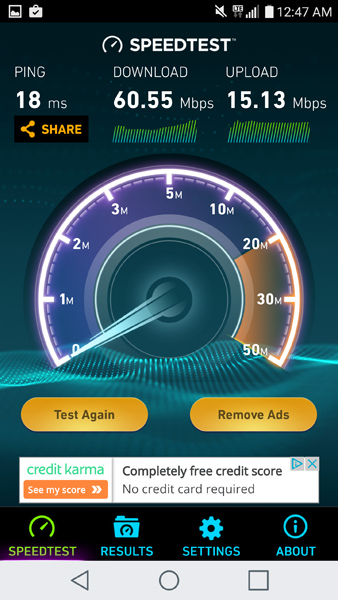 Freedom's LTE network is like a highway that has one or two cars on it. Congestion is not a problem and speed isn't constrained too much by traffic. I was only able to test the network in the GTA, so am not sure how well it currently operates in Vancouver. I did, however, test it with both compatible phones.
Far from being a scientific experiment, my testing was largely a collection of many anecdotes to ascertain connectivity and note any patterns. For instance, Freedom's 3G network is plagued by poor reception indoors, largely because AWS-3 doesn't penetrate walls very well.
Band 66 seems to be far more consistent. There were instances where I was getting better coverage indoors in downtown Toronto than I was with Fido or Bell. Other times, it was the opposite. Even when it was, reception was never terrible enough to ruin a browsing session or drop a call.
Still, there were indications coverage needs a little work. Random drops down to 4G would happen at various times, lowering the connection to 3G+ speeds.
Latency on LTE was quite low, usually between 17-21 milliseconds. Download speeds consistently topped 50Mbps, though the average was slightly lower — about 48.62Mbps — which is more than competitive compared to the Big 3. The heart of downtown Toronto skewed upwards toward 60Mbps, whereas the fringes of the current LTE coverage area could drop down to 40Mbps.
As good as it is, Bell's network is super fast by comparison, topping 100Mbps in the same areas. Even averaged down, the final tally doubles what Freedom can deliver. However, that's largely the case with Bell (or probably Telus, which uses the same network too). Fido, which uses Rogers' network, fell short of Freedom in several locations. In others, it was on par or better.
One benefit of Freedom's network compared to all others is access in Toronto's subway stations. LTE connectivity was excellent in downtown core stations, though it doesn't extend north of Dupont or Rosedale, east of Sherbourne or west of High Park. Freedom says it will be expanding the footprint futher in the coming months, but no firm timetable or deadline has been confirmed.
Moving forward
Freedom's LTE network will rest on future support, which should come in greater numbers this year, but there are other features that would help. Wi-Fi Calling, which would negate any reception issues when connected to a Wi-Fi network, would make a real difference. Calls, texts and picture messages transfer over Wi-Fi under such a feature, which also works really when travelling abroad.
Freedom has only said that it is "working with phone manufacturers to include the feature as standard in mid to high-end phones" the carrier sells. VoLTE (Voice over LTE) is another feature that is reportedly coming, improving voice quality for calls.
It's unclear how more congestion might affect Freedom's new network, but it's probably a good bet that performance will be similar to how competitors operate.
For now, though, it's a pretty good start, and a far cry from the nagging issues the 3G network suffers from. With only two phones currently compatible, the most popular models have yet to jump onboard, but with more choice and a monthly cost well below the competition, Freedom may be appealing to more than a few defectors.