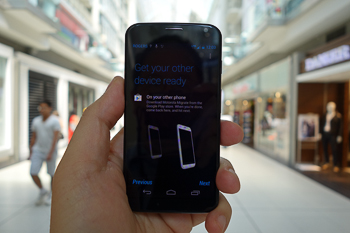 Text and photos by Gadjo Cardenas Sevilla
Moto X is an ambitious new mid-tier smartphone from Google created under its Motorola subsidiary.  The device is coming to Rogers later this month in black and white for $189.99 with select two-year plans.
Moto X is the first smartphone created by Motorola under Google's strict supervision and it offers some features available in no other Android device.
Launched earlier this month in New York, Moto X received gushing praise from early reviewers because it offers a different spin on what a Google phone can offer.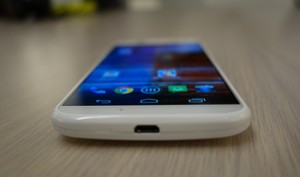 It is one of the few devices designed and assembled in the US, a milestone of sorts since most mobile devices are made in China. Being US-made to an extent, helps Motorola turn around orders quickly. The company is also ushering a new system of customization which allows users to design their Moto X devices using an online tool called Moto Maker.
We won't cover this in detail since it is only available to US customers and only those who are on AT&T. The gist is that Moto X can be made in various colours, finishes and even accents such as buttons can be tweaked online before devices are built. Users can also determine the amount of memory on the device, between 16GB and 32GB.
One of the more important differences of the AT&T version of the Moto X is that users can design the colour an capacity of the device. Customization sounds cool but I would have loved a Moto X with a 32GB option. Setting the ceiling at 16GB for the Rogers version is unrealistic, specially given the price point of $550 outright.
Canadians only get the device in good old black or white and only on Rogers.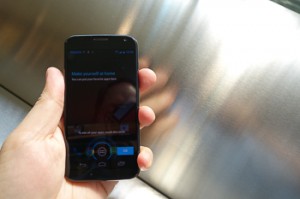 In terms of design, the Moto X vaguely resembles a Samsung-made Google Nexus from a few years ago. It has a similar curved shape and a sloped profile. Of course, there are various traits that are distinctly Motorola's. Such as the use of durable materials like Kevlar as well as water resistance.
The  Moto X comes with a 4.7″ AMOLED (RGB) / HD 720p display. Motorola says it skipped going full 1080p HD because you can't really tell the difference and they'd rather have great battery life, which the Moto X has, at least on paper. With a 2200 mAh promising "mixed usage up to 24 hours." Motorola has pushed the boundaries of battery life with their RAZR MAXX line and this technology is present in the Moto X.
The Google part of the device is the OS and aside from running  a recent  (but not the latest ) Android OS 4.2.2 OS, Moto X has a slew of hyper intuitive features such as advanced voice recognition and control that is always listening. This can be triggered by saying " OK Google Now," followed by a command or question. Unlike Apple's three-year old Siri assistant, Google Now doesn't answer back or offer suggestions, so it is a little half-baked.
Active Notifications push information to the screen which are easily accessible through a gesture. There's also a camera that can be accessed quickly by shaking the wrist.
Other Moto X specs include a 10MP CLEAR PIXEL  rear camera, a 2MP 1080p HD video front facing camera, a software optimized Qualcomm Snapdragon S4 Pro (1.7GHz Dual-Core Krait CPU, quad-core Adreno 320 GPU). The specs themselves are mid-tier and the focus on customizations and voice commands are aimed at the consumer market and not the higher end.
While an interesting addition to the Android smartphone range, the Moto X isn't the Nexus-level flagship many had hoped for. It seems like Google is purposely staying out of its own flagship Pure Google device game and letting manufacturers like LG run that business.
Moto X will not entice anyone away from their Galaxy S4's, their HTC Ones or their LG G2s, these devices offer better specs and more premium features but they are also more expensive.
First Impressions
My first impressions based on around a week of using the Moto X was that it is a laudable device, thoughtfully designed and more user focused than most. It feels great in the hand and while made out of plastic or polycarbonate, still feels rather robust so it doesn't have to be babied. It feels more premium than Google's Nexus 4 and while there are various similarities in look and feel, the Moto X feels like a more thoughtfully conceptualized device.
Touchless Control using voice commands was impressive, smart and accurate. Once the device learns your voice it can be woken by simply saying "Ok, Google Now" in the tone you used when you programmed it. I could send messages, check the weather, run searches on Google as well as enable various settings.
The Quick Capture camera is something of a novelty at first but really works once you learn to shake your wrist to enable the camera. It beats hunting down an app icon on a screen and the camera's photos are of reasonable quality.
Voice quality on the Moto X is about as good as we've experienced on any smartphone. It has three microphones with active voice cancellation as well as support for HD voice which adds up to clear, well-defined calls even in unbearably noisy conditions.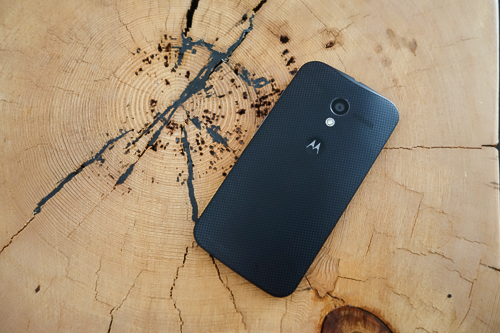 Google hopes that Moto X will target iPhone users with an intuitive and responsive device that's got a trick or two in the voice recognition and camera department. But a new iPhone is coming soon, and it will be available on far more carriers than Moto X, so that's one  showdown remains to be seen.
One one end, Moto X brings the best of Google and Motorola in one device and could generate some interest in Motorola which has been big in the US with its RAZR and Droid phones but hasn't really captured much interest anywhere else.
The worst that could happen is that the Moto X becomes the Microsoft Surface RT of smartphones. A thoughtfully designed and somewhat innovative aspirational device that fails to capture intended user's interest and subsequently gets discounted to irrelevance.
It is too early to tell and right now the Moto X is an exciting new handset that could create a niche of consumer-focused Google smartphones or could fragment Android even further.