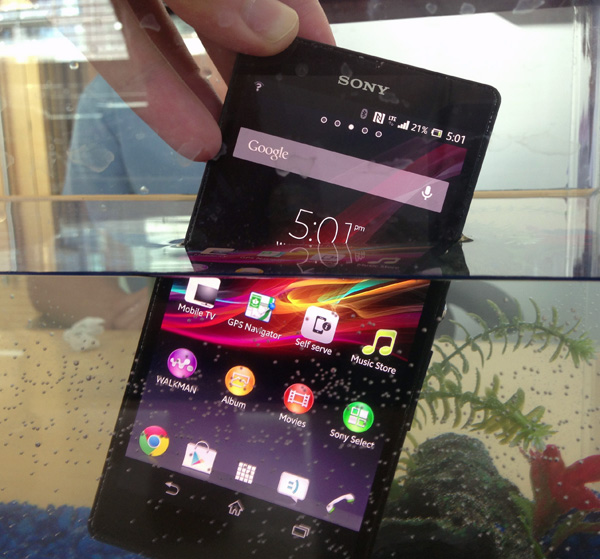 It's not often that you can pour water over a smartphone or dunk it in a pool and not expect irreparable damage to befall it, but Sony has done just that with its Xperia Z, a premium Android handset. But the competition for solid smartphones is tight these days, so how good can the Xperia Z measure up to the others? We take it for a test drive and find out.
In many respects, the Xperia Z is essentially a clone of the Xperia ZL, another Sony handset that came to market only a few months prior. The specs under the hood are virtually identical, with the same 1.5GHz quad-core processor, 2GB of RAM, 16GB internal storage and 13-megapixel camera. The 5-inch 1080p display is also exactly the same, as is the feature set that includes NFC, an expandable microSD card slot (up to 64GB) and Android 4.1.2 Jelly Bean.
If not for the very different bodies, these two phones would be almost indistinguishable. But on the outside, they look nothing alike, and that's where the Xperia Z comes into its own. A sleek and stylish phone with tempered glass on both sides and compartments to protect ports, it never fails to surprise friends by putting the phone under a faucet or dropping it into an aquarium. Waterproofing might come off as gimmicky, but it really isn't. The fact is, it can be a useful thing to have, though its practicality is always another story.
It's been designated to withstand 30 minutes underwater at no more than one metre depth, but it is conceivable to push the envelope on those figures a little bit. Taking this to the pool is just as easy as watching a TV show on Netflix while taking a bath. And though it could be used in saltwater, it's much better to keep it in fresh bodies of water, just in case. It's certainly nice to snap photos while in the pool, lake or wherever, but because there isn't a set shutter button, images can only be captured via the touchscreen.
That's a bit of a problem underwater because capacitive touchscreens don't recognize touches when submerged. It also means that you have to rely on automatic focusing. The two ways around this conundrum are to set up Burst mode above the water and then let it fire away in succession after dunking it. Another is to shoot a video and then use a third-party app to capture stills from the footage. Not the most practical options, but at least they're doable, since the technological limitation isn't really Sony's fault. Using one of the volume buttons as a shutter (like the iPhone) might have been dangerous because of water seeping in through the crevice when pushed.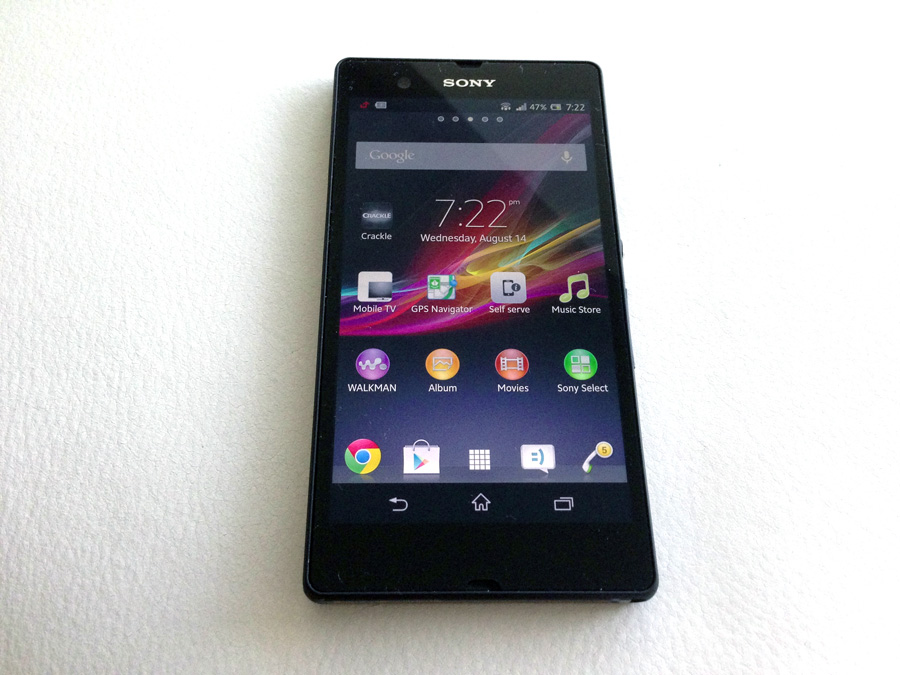 The display itself is a nice size at 5-inches, and looks fabulous when viewed head on, but tilt it and the angle washes out its vibrancy. It may not matter to you in the grand scheme, since you look at your phone dead ahead most of the time anyway, but it was something that should have been done better.
The camera's performance is also a bit of a mixed bag, though this largely depends on what and where you're shooting. Daytime and brighter settings are perfectly fine, and the HDR mode gets the job done. Superior Auto mode is nice to have because it evaluates a scene and changes the mode automatically (it's turned on by default). Burst shooting is also good for moving objects, firing up to 999 shots in one long process. Sony smartly separated these photos from the rest of the gallery, so that you could choose the ones you wanted.
Night and low-light shooting, on the other hand, is mediocre. There's a lot of noise and focusing can be tricky. It's nice to see Sony trying, but the only way to get a good shot at night is to be super still or capture something that isn't moving. The amount of light available to the lens is crucial to how the photo might turn out.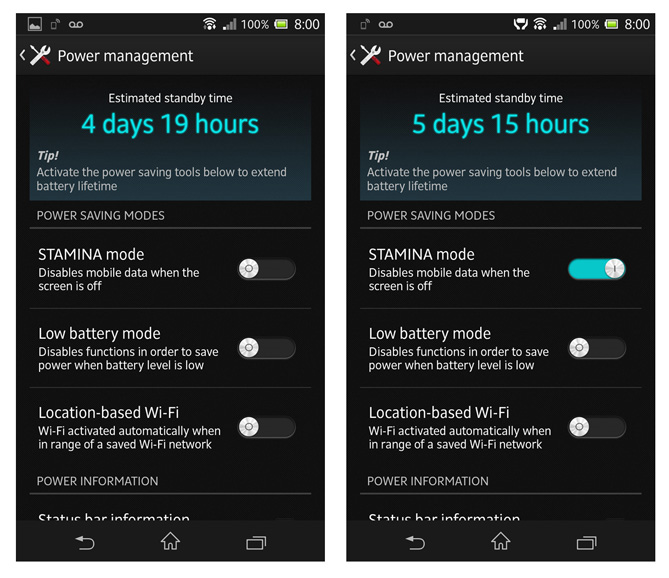 Aside from the main hardware functions, there are some interesting software ones Sony included here worth noting. Stamina Mode (found under Power Management in the Settings) can be turned on to cut off the Xperia Z's data connection once it goes to sleep. The battery savings are then shown on the ticker above.
You are able to whitelist apps that you want to keep pulling in data, like email, Twitter, Facebook or WhatsApp, for example. If you'd rather not have anything get through, only calls and text messages will come in.
Low Battery Mode is a similar option that can kick in when your battery hits 30%. It effectively kills every signal (Wi-Fi, Bluetooth, GPS, LTE/3G) coming out of the phone, and even dims screen brightness, goes to silent mode and stops data syncing. There are customization loopholes, like keeping Wi-Fi and vibrate on, or you can turn on Location-based Wi-F, which only comes on when it can connect to networks it already knows. This way, battery life is saved because the chip isn't constantly searching for any and all networks around it.
Smart Connect has always been a cool feature because of how it allows for customizing tasks based on actions. For example, plug in a pair of earbuds (the condition) and the music app starts up with a set playlist ready to go (the actions). You can customize new ones as you see fit, and they can include using NFC (Near Field Communication) tags. An example of this could be playing music on a certain Bluetooth speaker at home once the phone is within range. Another is to turn off all signals once the clock hits a certain time.
The "Throw" feature found in the Xperia menu under Settings is worth some experimentation, too. This allows for content to be "thrown" over to a compatible Sony Bravia TV, but the protocol is open enough to possibly connect to other components at home. I managed to play music stored on the phone (but not streaming music apps) on a Sonos Play:3 speaker, even though they aren't technically compatible.
There are also mini-apps that you can try out by tapping the multitasking button so they pop up at the bottom. There's a calculator, voice recorder, timer and notepad to start. Tap the + icon and you can download more from the Google Play store.
As is evident with all the features, there's a lot in this phone, much of which is actually useful as opposed to filler disguised as innovation. Though it would've been nice to see Sony trim down the amount of bloatware preloaded on the Xperia Z, it's not a fatal flaw. Nothing on the phone is, actually. But it's important to note that there isn't anything groundbreaking, either. Sure, the waterproofing is impressive and adds a dimension to phone usage that other handsets need a special case to match, but that shouldn't be the only reason to go with the Xperia Z.
Bell is carrying the phone (in black, white and purple) exclusively for $149.99 on a two-year contract. Not a bad deal for this phone, but also consider buying it outright for $649.99 to save yourself from the prison of a contract and to give you the option to upgrade to a newer Xperia next year.
It's a nice phone, from top to bottom, and should do well for you if you're an average user looking for something you can rely on with minimal fuss.  Enter our contest  to win a Sony Xperia Z