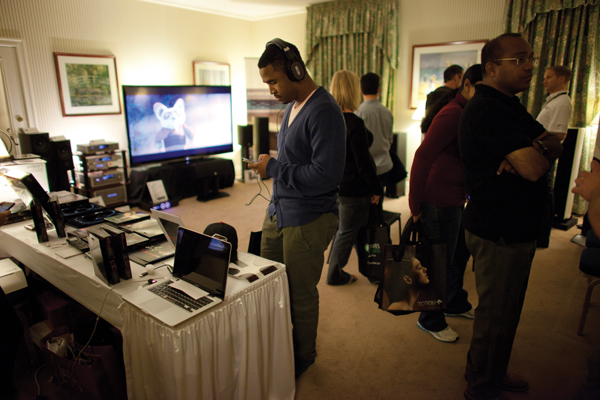 The Toronto Audio Video Entertainment Show (TAVES) will be going into its third year when it goes live at a downtown Toronto hotel November 1-3, showcasing and demonstrating some of the latest and greatest in home audio and home theatre technology.
Taking place at the King Edward Hotel, the show will feature over 60 exhibitors from across Canada and the U.S. representing 300 different brands of products. Rather than going with a standard convention-style layout, TAVES organizers opt for cozier setups where exhibitors can show off their wares in typical home like settings.
When the first TAVES show took place in 2011, it had been 15 years since a pure AV show had gone live in Toronto. Montreal has traditionally played the role as the main location for a big AV show, but TAVES has been looking to put Toronto on the map, now that more regional AV shows are slowly growing across North America.
In many ways, the show leans more toward the audio and video enthusiast, what with systems and products that cost thousands of dollars on display for any and all to see and hear. Audiophiles love to see the best manufacturers and dealers have to offer, but not everything displayed at TAVES is entirely skewed towards such a specific crowd. While much of what will be there is on the high end, show organizers have insisted there will be plenty of the affordable variety, as in past shows.
Part of the idea behind the show is to educate attendees, not just about the newest products and technologies, but also for how things work in a home theatre environment. Whether it's something digital, like Bluetooth, AirPlay or knowing the difference between MP3 and WAV formats, or something analog, like turntables, old-school speakers or digital-to-analog (DAC) converters, there is something for even the average AV consumer.
Much of this goes beyond just visiting vendors and getting the scoop that way. There are seminars for buying and setting up a home theatre system, how audio streaming works, 4K TV demos and how smartphone and tablet apps play a role in the bigger picture. This will also be one of the few opportunities to get up close and personal with OLED TVs, both flat and the new curved models.
The mix of old and new is really the underlying theme for the show because home theatre is no longer simply plugging audio and video components together. Mobile devices, wireless technology, apps and mobile accessories look to be the future. What you would find at a show like TAVES is very unlikely to match what you would usually see at a big box retailer like Future Shop or Best Buy. If the manufacturers on the show's website might not ring a bell, that might be one reason why. But unlike in some of those retailers, exhibitors actively demo and test their products in front of you — and with your own music, in some cases. And if you like what you see, you might even be able to buy it on the spot.
Canadian manufacturers are expected to be well-represented, with a solid mix of brands from across the country. Some companies are even brand new entities, having only recently entered the industry.
Details of the show are still coming out and we'll be following up with more information as we get closer to opening day. Ticket prices start at $22 for a one-day pass or $30 for all three days. Seniors and students pay $14 and $19, respectively.For more information check http://taveshow.com/
Think you know Audio? TAVES will show you a thing or two