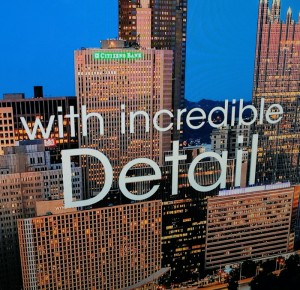 Unsurprisingly, 4K Ultra HD televisions have figured prominently in the buzz and conversation on the show floor at the 2014 Consumer Electronics Show (CES) in Las Vegas, though the focus has largely been on where the content will come from and how to best deliver it.
The big TV manufacturers — Sony, Samsung, LG, Sharp, Panasonic and Toshiba — have all invested heavily in 4K Ultra HD, as was evidenced at last year's show. This time around, it's less about size and more about substance, as in content partners that can deliver 4K resolution in a pinch. Streaming platforms like Netflix offer the most logical and practical solutions, though it might be early to proclaim this the eventual death knell of cable and satellite TV — and perhaps physical mediums like Blu-ray discs. Despite talk of a looming UHD disc at last year's show, there was no mention of any of that this time.
Filling the vacuum, Netflix will begin offering 4K streaming content in the spring when manufacturers ship their latest TVs. The crowning jewel of this content infusion, at least for Netflix, will be Season 2 of the political drama House of Cards. However, Season 1 of the hit show will not be available in 4K. Netflix representatives we spoke with couldn't confirm just how much 4K content will be ready to go once it goes live, so it's hard to say whether it will be a negligible amount or an impressive numerical debut.
From there, content delivery still remains somewhat of a mystery for Canada. Licensing usually acts as a roadblock for opening the floodgates to everything other markets, particularly the U.S., take for granted. Perhaps the biggest hurdle is bandwidth, or lack thereof. Data caps and 4K content don't mix. A two-hour 4K movie is 9GB, on average, which seems like an albatross next to a monthly data cap that offers only 60GB. Expect this to be a developing story over the course of the year as pressure mounts on Internet Service Providers to raise their caps significantly.
Samsung managed to awe some when it unveiled its "bendable" 85-inch 4K LED TV, which curved on the sides at the press of a button on the remote. Surprisingly, Samsung did this with an LED and not an OLED display, which is far more naturally flexible. The point of it appears to be mostly conceptual, since there's no word on what it would cost or if there are serious plans to market and sell it.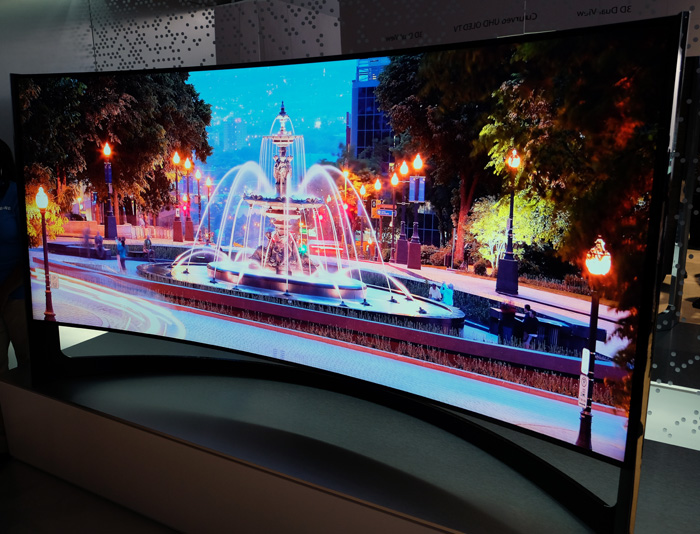 Then there was the 105-inch Curved Ultra HD TV, proclaimed as the world's largest. Indeed, curved displays were everywhere in the Samsung booth, and the company is taking it seriously with even regular 1080p models of varying sizes coming in that form factor. It's also confirmed that they will be coming to Canada, though pricing isn't known yet.
LG also showed off its curved 77-inch OLED display, which probably won the unofficial title of having the best overall picture quality at the show. When it comes to market is unknown and the cost would seem to be well beyond reach of most consumers anyway.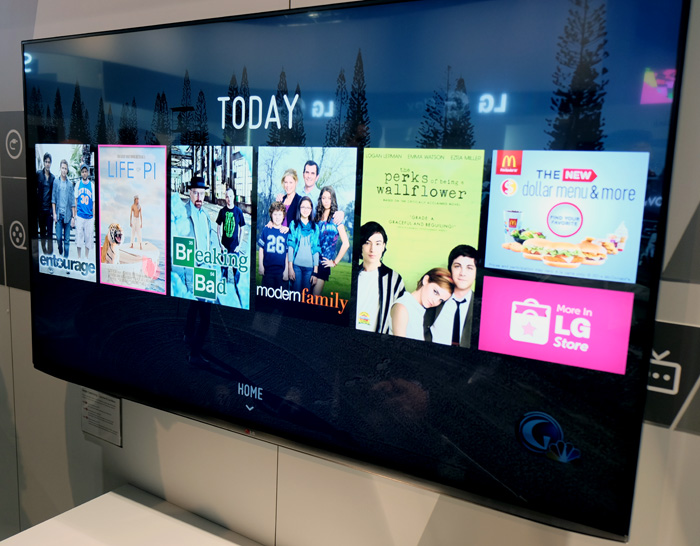 LG's biggest story from CES was the revitalization of webOS. While revitalized, it will be interesting to see if it turns out to be rehabilitated. After being all but forgotten after HP's meltdown with the TouchPad tablet in 2011, the functional OS has found a new look and new purpose as LG's proprietary smart TV platform. The initial impression is certainly positive with an elegant interface and useful features that consumers will actually use. The openness of the platform is also encouraging, though there are still some questions over how mobile devices will integrate with it moving forward.
Panasonic announced that Mozilla, the company known for the Firefox Web browser, will be the focus of a new smart TV platform for the struggling TV maker. There was no demo, however, so it's hard to say what it even looks like or how practical it may be.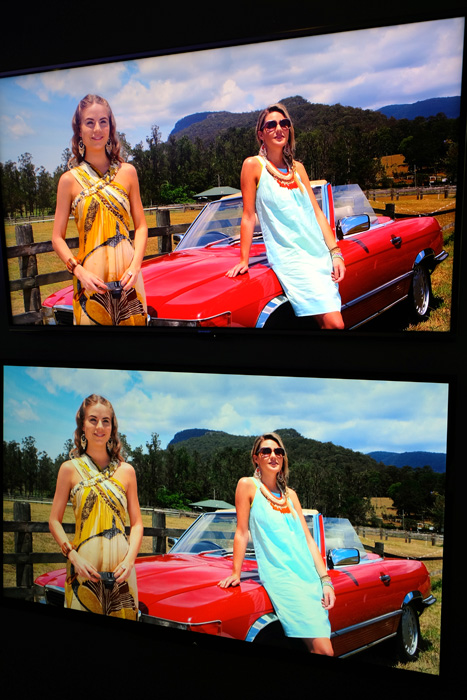 Sharp played up its 4K offering, but is also seeking to bridge consumers who might not be able to afford the heftier price tag. The Quattron Plus, is a higher-resolution HDTV that isn't quite 4K, but is close enough that it can play shows or movies at that level. How does it do that? It splits the eight million pixels of a 1080p display into sub-pixels, so you have 16 million to work with, at least on paper. The difference between a Quattron Plus and 4K TV is noticeable, though less so than with a regular Quattron flat-panel. The purpose behind this move is largely based on price. Sharp's 70-inch 4K set will sell for $8,000 compared to $4,000 for the 70-inch Q+. An added bonus is that 4K content from Netflix will work on the Quattron Plus, according to Sharp reps on the show floor.
Sony had a more muted TV presence at CES compared to its competitors, eschewing anything with a curve and doing little to overhaul its smart TV platform. The 4K streaming service that it launched in the U.S. last summer has also yet to reach the Great White North, and there was no insight into when that might change this year. Data caps are cited as being one reason, though there could be more. One thing is for sure and that is that Sony will likely want to avoid a VHS-Betamax situation by trying to build a 4K walled garden of its own, opening it up instead. This is speculation, of course, as nothing concrete was announced.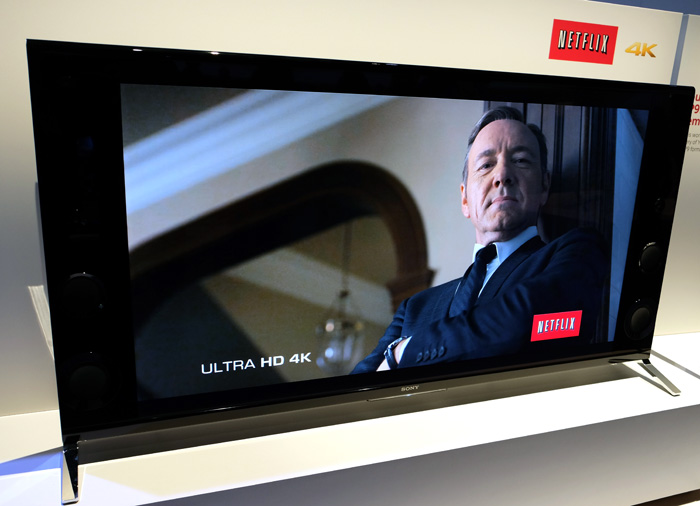 Sony's immediate focus instead is to try and improve 4K picture quality even further using its X-tended Dynamic Range Pro, which is techno speak for a backlighting algorithm that allows for a three times wider brightness range and deeper blacks. In other words, it's trying to get closer to what OLED can do. It looked impressive, but we'll see once TVs embedded with it come to market.
The content race will ultimately determine how far and how fast 4K Ultra HD is adopted by the market, much like 3D when it was unveiled with fervor at CES four years ago. Pricing puts the TVs out of reach for most consumers now anyway, but without content to actually watch at that resolution, the market will do what it always does when there's some uncertainty — wait and see.