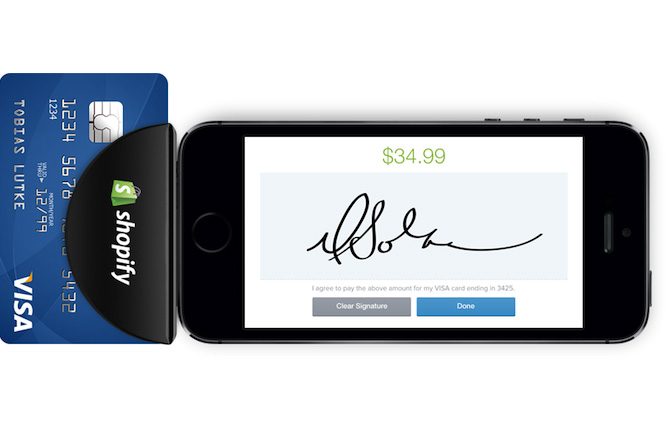 The disruptive nature of the Internet and mobile devices is such that it seems to creep into almost every piece of exchange between people, and point-of-sale (PoS) providers are a growing contingent. It has never been easier for small businesses and sole proprietors to accept payments from customers wielding credit and debit cards.
The Canadian Payments Association (CPA) estimated that mobile PoS transactions amounted to about 3.4 billion in 2013, and trending upward. There isn't more of a breakdown on which devices or services are driving that growth the most, but it's clear enough that it's a growing category.
Interestingly, the Interac Association issued a report in March indicating that Interac debit card fraud from skimming had fallen to a record low — $29.5 million compared to a high of $142 million in 2009. Credit for the plummeting figures is being given to the overwhelming adoption of chip technology, now at 95% of PoS terminals. Credit card fraud still remains a problem, however, amounting to 71% of reported fraud in Canada.
But the use of plastic is still pervasive in spite of the potential risks. And mobile PoS providers, some of which are homegrown, are offering more than just a payment terminal and processing to aspiring entrepreneurs. They are also including backend support, particularly for e-commerce, accounting and website hosting.
Here is a short list of some of the standout providers and options that are out there right now for the 'little guy'.
Shopify
Based in Ottawa, this company has become a fast-mover, trying new products and services in the U.S. market first before bringing them back home. Shopify offers a small card reader that simply plugs into an iPhone's headphone jack and works in tandem with its own app to read and process credit card payments. A more robust brick-and-mortar PoS system running through an iPad is also available (and it accepts Visa, MasterCard and American Express). Rates are currently 2.7% on Shopify's Basic Plan, 2.4% on a Professional Plan and 2.15% on an Unlimited Plan. The iPhone card reader itself is free for Canadians, including shipping. Android support is reportedly coming, but those interested in signing up now would have to pony up the money for iOS devices.
Lightspeed Retail
Based in Montreal, Lightspeed Retail isn't really meant for the go-anywhere type of vendor, but more for brick-and-mortar retailers. There is a card swipe for mobile payments, but the company pushes its hardware system more. Its PoS system does run through an iPad, and on top of payments, it can also help manage inventory and multiple retail locations if business is good enough to expand. Nothing here is given away for free though, as a subscription (starting at $80/month) will be required to tap into the company's resources. Not to mention that the systems themselves start at $700.
Square
Though not Canadian, Square has made inroads into Canada, and fully supports credit card payments through its small card reader — the smallest you will probably find. Working on its own with an iPhone or Android phone, or the Merchant case for the iPhone 5 and 5s manufactured by Griffin, the reader is similar to others in that vendors can use it just about anywhere. Square charges a blanket 2.75% fee for swiped transactions and 3.5% + $0.15 for manually-entered transactions where the card and buyer aren't present at the PoS. Like Shopify, no chip cards (only swiping the magnetic stripe works) or debit cards can be accepted, so this is purely for credit cards.
Intuit GoPayment
The company known for finance and tax software also offers a mobile PoS card swipe for the iPhone or iPad to process credit card payments (only Visa and MasterCard) at a base fee of 2.7% per transaction. That goes up to 3.3% for manual or "keyed" transactions. These fees can be lowered by opting for a $10/month subscription that lowers them to 1.69% and 2.3%, respectively (MasterCard is slightly higher at 2.32%). There is no setup fee and the card reader can be ordered for free. There is QuickBooks integration as well, which is a bit unique amongst this group.
TouchBistro
For small businesses in food and beverage, like restaurants, bars, cafes and coffee shops, TouchBistro is an intriguing choice, where iPads are used for PoS at all times. There is a partnership with PayPal as well, wherein customers can "check in" in advance, order what they want, pay and pick it up. For example, a customer could order a specific latte on the commute home and not have to wait for it because it's been ordered and paid for within a one-kilometre radius. It costs $40/month per iPad and there are no fees per transaction (though there would be if payments were made via PayPal).
This handful is just a taste of what's actually available for vendors, but these ones are scalable enough to handle small mom-and-pop operations, pop-up stores, weekend vendors and all the way up to businesses with millions in revenue. But the fact they don't accept debit cards is a gaping hole that they all say they are working to support. More established PoS systems naturally support debit, but may not offer the kind of mobility these guys do, so finding the right mix might be the best way to ensure you give customers all the payment options you can handle.