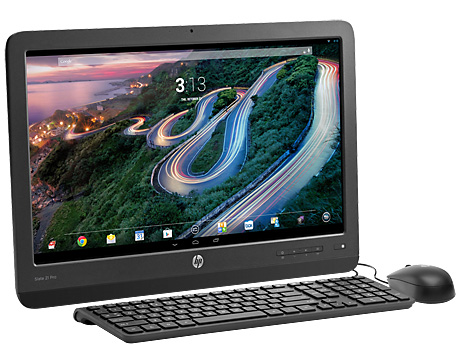 It's not common to see Android displayed on a 21.5-inch desktop computer, but HP's Slate 21 Pro is an interesting and affordable machine that brings the mobile operating system to an all-in-one form factor that could cater equally to both consumers and business users.
The Slate 21 Pro is actually the commercial version of the consumer Slate 21 that came to market last year. The two are pretty much the same in appearance (except for colour), but differ in spec, where the Pro has 16GB of internal storage, 2GB of RAM and runs on Nvidia's Tegra 4 quad-core processor. The IPS screen's 1080p resolution is the same, though uses an optical touch technology where cameras embedded in the bezel recognize where and how the screen is being touched. This limits things to just two simultaneous touches, compared to capacitive technology that can recognize 10. You can still pinch to zoom or double tap but this is clearly not a screen meant for more intricate touch activity.
It also runs on Android 4.3 Jelly Bean out of the box (the consumer Slate 21 is at 4.2.2), though an upgrading road map to 4.4. KitKat is unclear in either case. Android looks like it would on a tablet, with no major difference in how the interface functions. That means there isn't much of a learning curve for those who already have experience using devices running it.
Another key difference is the inclusion of GPS, which the consumer model doesn't have. This opens up apps that require it to work that were shut out with the other model. It doesn't always have a business use case, though it certainly does come in handy for some productivity and VPN apps, but it also applies to apps that require it. Streaming video from Crackle or NHL GameCenter,, for example, is possible here simply because there's a GPS chip inside. Other location-based apps are also readily available to use, so while HP doesn't highlight this very much, bringing GPS into the Slate 21 Pro puts it more in line with premium Android devices than the budget variety.
HP touts the unfettered access to Google Play, which is indeed the case. Any app that can run on Jelly Bean will run here, including portrait-only apps that take up only the middle of the screen. Despite the somewhat awkward presentation, this actually turns out to be more useful than you might think. Any app that you would normally use on a smaller device translates fairly well here in either orientation, making it a little hard to truly distinguish it as a business or consumer product. It has no real flair, which suits business users just fine, but also offers better access, which consumers are all for.
The keyboard and mouse included in the box are cheap and uninspiring, which shouldn't be surprising for a desktop at this price point. On the back of the unit is a number of connections, including one Ethernet, an HDMI, two USB 2.0, and an upstream USB port. On the side is another USB 2.0 port with a headphone jack and SD memory card reader. It's unfortunate HP wouldn't outfit what it considers a business desktop with at least one USB 3.0 port, but at least the 2.0 ports help mitigate the storage situation.
The onboard storage is paltry for any Android device, much less a computer. Plugging in an external hard drive and memory card is an easy way to do it physically, but cloud storage plays a role here, too. HP includes 50GB of free storage with Box, and another 15GB for free via Google Drive to sweeten the pot, and it's likely that you won't be able to ignore those offers if you don't already subscribe to another cloud service.
Then there's the ability to tether a Windows PC directly to the unit by using an upstream USB cable (the same ones typically used for physical computer-to-printer connections) that would allow you to control the PC using the Slate 21 Pro. While there is no Windows OS installed on the Slate 21 Pro itself, this is the closest you can get to using it, thereby turning the machine into a quasi-dual-use device.
This makes sense given that HP wants it to come across as a business machine before anything else. Citrix Receiver is preinstalled to allow the Slate 21 Pro to work as a thin client in an office environment, and while you couldn't run Microsoft Office natively on Android, it would be possible to use the browser-based version via an Office 365 subscription. There's also Google Docs, plus Kingsoft Office Suite comes preinstalled as well, giving you an Office-esque experience.
We weren't sold on the Slate 21 Pro being more of a commercial desktop than a consumer one because the lines are too blurred. The consumer version may look a little nicer, but it closes doors that shouldn't be closed. The Pro model is a bit boring on the outside, yet more open on the inside, allowing you to essentially use it like any other Android device on the market.
We liked it for that reason the most. We found we would actually use it more for basic tasks, playing games and streaming media than for productivity and office use. That was just how it played out for us, but the scale can go in either direction, depending on what you're looking to do.
And at $400, it's almost a bargain for what you get. Its business designation means it isn't as readily available in retail as its consumer cousin is, but you can still find it relatively easily through online retailers or HP directly.