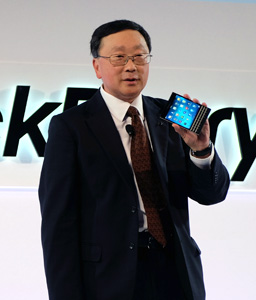 BlackBerry launched its anticipated Passport smartphone at events in Toronto, London and Dubai, marking the first major release since CEO John Chen took the reins 10 months ago. The device's appeal is largely aimed at business and productivity-focused users, rather than the average consumer, but its performance in the market could signal where the struggling company goes from here.
For a man steering what some believe to be a sinking ship, Chen exuded confidence, charm and just enough humility on stage in unveiling the Passport. It didn't hurt that the likes of legend Wayne Gretzky and outgoing Maple Leaf Sports and Entertainment (MLSE) president Tim Lieweke appeared separately to pat the company on the back for its latest hardware creation.
Still, Chen briefly noted that the days of layoffs and embarrassing losses had come to an end. It's true, BlackBerry is hiring again. To do what exactly depends on the job description, but even in the face of a hardware launch, it's evident that the company is plying its trade in software services that businesses and users will actually want.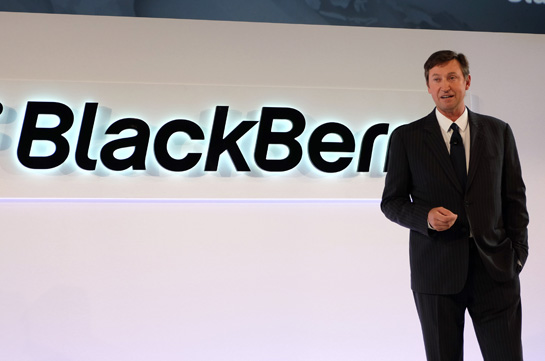 In that sense, the Passport is a reflection of that renewed focus. Chen flatly stated that the phone is only aimed at 30% of the market that wants a physical keyboard and long battery life in a unique format. He even joked that the only credit he can really claim from its development is that he "didn't kill it" when he entered the CEO's office in Waterloo, ON. That means the Passport was already in the product road map prior to his arrival, and it seems the designers and engineers behind it were persuasive in keeping it from the chopping block.
Either way, it will be a hard sell, given the odds facing BlackBerry these days. The lack of an event in the U.S. illustrates the challenge in simply hoisting itself into any kind of relevance in such an important market. While the Passport is available in Canada as of yesterday, first with Telus and then Bell and Rogers on October 1, Americans interested in purchasing a unit will have to wait a bit. AT&T is the exclusive carrier, and for an unexplained reason, the device is also $100 cheaper south of the border.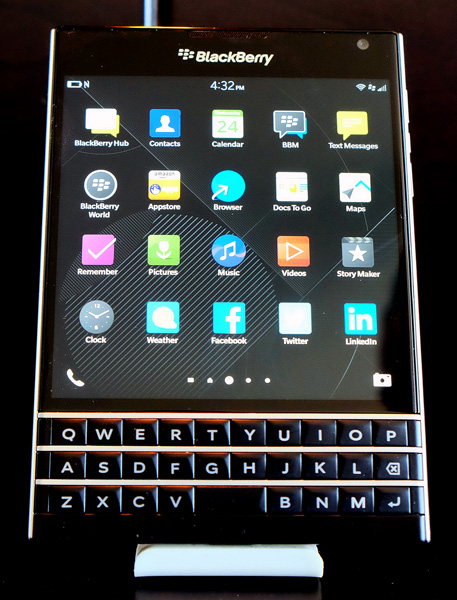 The truth is, the Passport is a bit of an attention-grabber, thanks to one of the oddest form factors ever seen in a smartphone. The squared design and perfectly square 4.5-inch IPS display is unlike any other screen out there. The screen's 1440 x 1440 resolution is basically a 1080p display reoriented to fit an equal number of pixels on all sides. BlackBerry has done the same thing before with the Q10, except that model had a smaller display with a quarter of the pixels.
To make room for that extra real estate, the physical keyboard was narrowed down to three rows, made up only of letters and a spacebar. The punctuation and number keys are now "soft", as in touchscreen ones that appear in fourth and fifth rows above. It creates a new learning curve for typing, including for current and past BlackBerry users long accustomed to having that period and comma so close to the spacebar. Smartly, no room was allocated for a trackpad, opting instead to turn the keyboard itself into one. Scrolling and swiping anything onscreen can be done by swiping on the keys rather than touching the screen. BlackBerry 10's predictive text engine is still at work here, though now three words appear along the fourth row that can be swiped up from the keys from below. It's still an intuitive way to type and still better than what is typically seen in the other mobile platforms.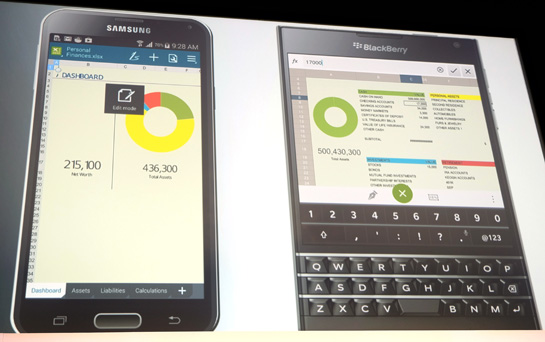 Productivity is the central theme here, which explains the tagline "serious business" used to describe the device. The screen's extra width makes it possible to view documents and Web pages without having to pinch to zoom, in many cases. A typical 8.5 x 11 sheet translates well to a screen like this, and websites, which tend to be more square and rectangular on a computer browser, don't need to default to mobile versions here.
Nice as that is, it's not enough to sway people, so BlackBerry had to deliver more. The BlackBerry Assistant is an improved version of the previous voice assistant in that it's able to mine and dig deeper. We were able to navigate straight to a website or link by voicing the URL, and also ask how our week was looking, bringing up the calendar for the next seven days. For those with two profiles, Personal and Business, the assistant is able to pull details from both, separating them by colour-coded circles — green for business, purple for personal. It apparently also knows when you're in a car driving, and adjusts to hear you better in those situations, too.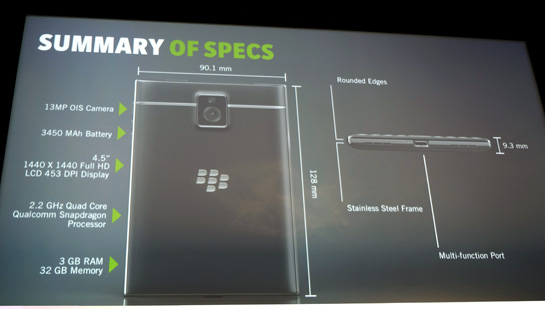 The Hub has improved as an overall email and organization client, making it easier to take action on incoming messages or notifications. Apps also get a modified menu layout that displays more widely used actions on the bottom, and another menu of options that slides in from the left.
Blend is another feature that isn't exclusive to BlackBerry, but is important to the BB 10.3 version of the OS the Passport runs on (the Z10, Z30, Z3, Q10 and Q5 will all be getting the free upgrade soon). Blend is BlackBerry's cross-platform answer to the need for multi-device interoperability. With free apps for Windows PC, Mac OS X, the iPad and Android tablets, much of the market is covered, except for the gaping omission of the iPhone and Android handsets. There are no apps for those, nor for Windows Phone, for that matter.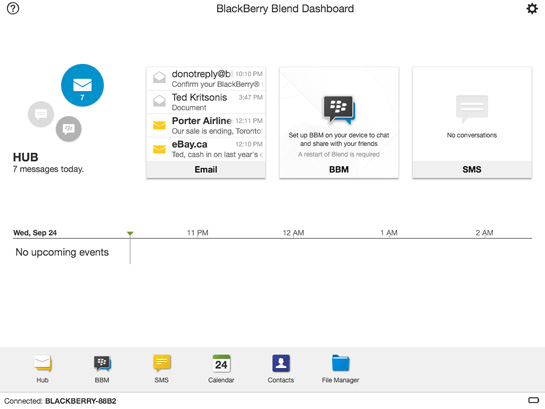 What Blend does is use a secure login and password (your BlackBerry ID) to access files stored on a BlackBerry device that has Blend. For example, we were able to grab a document stored on the Passport using a MacBook Pro. We were then able to get that same document onto an iPad. We could check our calendar or respond to text and BBM messages on either the Mac or iPad and see email from all the accounts set up on the Passport. It was seamless and impressive, and best of all, there wasn't a single trace left of the data left on the devices. This will work on a cellular data connection, Wi-Fi or direct via USB with a computer for those times where access isn't possible.
The interesting part of it is that it's not a cloud solution, in and of itself. Instead, it uses other cloud services you have accounts with — Dropbox, OneDrive, etc. — and leverages that storage instead. That makes Blend more a window into your device rather than a cloud-based ecosystem with a central repository, like Apple's iCloud Drive or Google Drive, among others.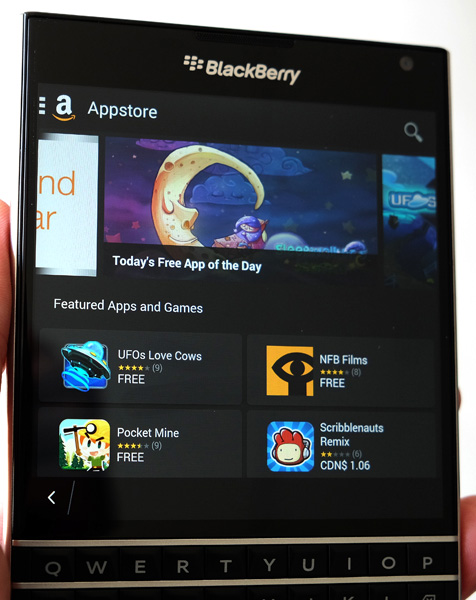 Not to leave consumers out in the cold, BlackBerry's partnership with Amazon includes the latter's Appstore to 10.3, essentially opening the door to a clearer path to using Android apps on the Passport. With the other BB10 devices, the only option was to sideload them by downloading APK files of the apps themselves and installing them through what was basically an emulator. The Appstore does away with that (though you can still sideload apps, apparently). If you've used a Kindle tablet before, you will recognize the look and feel. BlackBerry World still exists on its own, but acts independently of Appstore, so as to keep the updates for respective apps separate.
When devices like the Z10, Z30 and Z3 get the update, Android apps should translate well to those screen sizes, but the Passport's unusual 1:1 ratio doesn't guarantee proper scaling.
Even with the ode to Android, the Passport is the hardware in the spotlight, but the real story from yesterday may be that the software it is helping to showcase is what BlackBerry is going to be better known for. The company reckons that people will be carrying two phones, and they're clearly hoping some of those will choose a Passport (or the upcoming Classic) to hold in one of their hands.
It's far from being a cheap device. Solidly built, with an air of class, and a 3400mAh battery that can last past a day, the Passport is going to appeal to a minority, in any case.
It's available now with Telus for $200 on a two-year contract or $700 outright. After September 30, the price goes up to $250. On October 1, Bell and Rogers will begin selling the unit as well, with pricing likely to be the same. Unlocked versions of the phone can also be purchased directly at ShopBlackBerry.com, though it appears the Passport has already sold out.
Check out this short hands-on video on the new device.