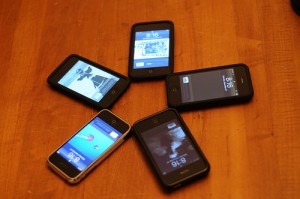 Text and photo by Gadjo Cardenas Sevilla
According to leading market research company The NPD Group, Canadians spent more than $4.66 billion on computer and information technology products in 2009, up one percent from the $4.61 billion spent in 2008.  The modest annual growth was fuelled by an exceptionally strong fourth quarter, which saw eight percent year-over-year growth across all product categories.
Canadians purchased more than 83 million IT products – eight per cent lower than the year before – at an average price of $56 per unit. The most popular among these items was the computer notebook, which came down 15 per cent in average price, fuelling a 31 per cent rise in the total number of units sold.
The rise of the notebook came at the expense of the traditional desktop computer, which saw sales numbers drop 15 per cent from the previous year. Digital cameras and digital video cameras have also come down in price while offering a compelling array of features and functionality. Handheld video cameras from Flip, Samsung, Sony, Sanyo and Kodak offer the same HD quality recording quality at the fraction of the price of  their upscale hard-drive and MiniDV counterparts.
Personal media players, gaming consoles, LCD TVs and GPS devices have also come down in price and have sold well specially during the holiday gift-buying season.
Sales within the IT industry were stronger than those within consumer electronics, which saw an 11 per cent decline in revenue from 2008, although the 15 per cent drop in the average price of flat-screen LCD televisions sparked an 11 per cent rise in the number of units sold.
"Clearly, Canadians have come to see computers and other IT products as essential to their lifestyle, even more so than the television and stereo," said Darrel Ryce, Director, Technology and Entertainment, The NPD Group.
Total sales figures for gaming-related products generated $2 billion, more than half of which went to software products for gaming systems.
"As work hours get longer and time spent at home decreases, Canadians are investing more in technology that allows them to work and communicate on the go." said Ryce. "In fact, almost 40 per cent of computer software purchases were related to business or finance to help Canadians do their work while they are in transit or away from the office.