Vancouver-based Canpages, the online local search firm, is launching a nation-wide contest for smart phone application developers on the iPhone, BlackBerry, Android and web platforms.
The contest signals Canpages' desire to provide greater access to its more than one million Canadian business listings through mobile and geo-targetted apps, through a new and enhanced Application Programming Interface (API).
Canpages will give one grand prize winner $5,000 in cash, and present three runners-up with $1,000.
"We see this as a great chance to showcase and reward developer talent from across the country by allowing them to tap into our database of Canadian business listings-effectively every business in Canada," said Amy Rae, Director of Business Development. "By opening our API, web and mobile developers will have the opportunity to create geo-targeted mobile applications and we anticipate some very innovative entries."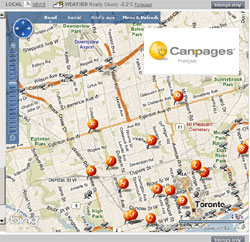 Between now and March 28th, entrants to the contest should develop an application leveraging Canpages' listings database for the iPhone, BlackBerry, Android or web platforms, and create a video showing how the application works.
Full contest details are available at: http://winmoney.canpages.ca.
You will get a chance to help select the winning development, with online voting open to the public between March 15 and March 28, 2010. The popular vote will shortlist four applications, then Canpages' will decide on the grand prize winner.
On March 29, 2010, Canpages will announce the grand prize application and three runners up. Along with the cash prizes, winners will have their applications featured on Canpages.ca.
Canpages.ca claims more than 3.5 million unique visitors every month, making local search requests. Headquartered in Vancouver, Canpages also has offices in Alberta, British Columbia, Ontario and Quebec.
If you're not that familiar with Canpages, you can check our story, posted at whatsyourtech.ca: You Who? Street View!