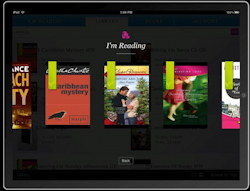 By Gadjo Cardenas Sevilla
As the launch date of the Apple iPad nears, a number of developers are prepping software offerings for the device. Canadian eBook retailer Kobo just announced its own application that gives users access to over 2 million book titles.
Canadian eBook retailer, Kobo Inc., with over 2 Million eBook titles, already has an iPhone application, and once the iPad hits Canadian shelves, there is one already waiting.
Kobo is device agnostic, and by that I mean you can use it on whatever device you want.  So, read on your iPad while you are at home. When you're on your way to work, pick up where you left off on your iPhone, Blackberry or any smartphone.  You can read on your PC, your Sony Reader and almost every other device you want.
"The eBook market just got a lot more interesting.  We love the device and can't wait to show consumers what Kobo can do on iPad. We have been waiting for a platform that allows us push the envelope and rethink the traditional eBook.  Expect to see new formats and multimedia content from us very soon." Says Michael Serbinis, CEO Kobo Inc.
The iPad's potential as a supreme eBook reading device has been clearly outlined. Apple's own iBooks store is the built-in application for book buying and reading while Amazon has also announced its Kindle app will be available on the iPad soon.
Its good to see a Canadian company  in the mix, which means more choice for consumers and an even wider selection of eBook choices down the line. Not only has Kobo extended the functionality of its existing iPhone app to work on the iPad's dimensions, it has also incorporated a lot of iPad specific features including:
• Easy to use page and chapter transitions, offering a seamless reading experience
• Kobo iPad App offers print quality resolution, for easy reading
• Kobo bookmarks your eBooks automatically so you always return to the last page you read
• Flexibility – customize font styles and text size to suit you.
Kobo's iPad app should be available by April.