Text and photos by Gadjo Cardenas Sevilla
The HTC Legend looks completely different from anything HTC has done before. It does have similar shape as the HTC Hero, but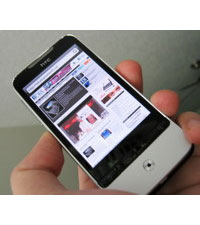 that's it. Looking at this sleek phone with its sturdy but lightweight unibody aluminum construction and precise industrial design, one might come to the conclusion that  maybe Apple designed it and not HTC.
The  design inspiration is just too strong. Hues of matte black rubber swathed in the brushed aluminum frame that's been precision milled, the rounded edges, perforated speaker grilles and even the glossy black border surrounding the screen are all reminiscent of the iPad, iMac and Macbook Pro.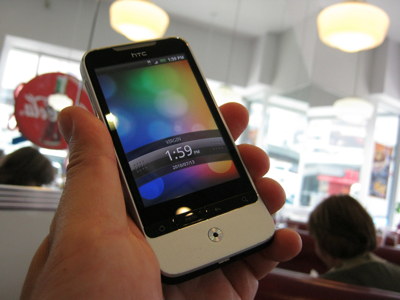 The HTC Legend, which is available to Bell and Virgin Mobile subscribers, is an Android 2.1 smartphone with a sleek  Aluminum unibody shell, a bright AMOLED screen and a new optical trackball that doesn't actually have a ball. What it does have is character, style, speed and the latest Google mobile  OS with the HTC overlay (version 2.1 Éclair) has to offer in a small and fun to use form factor.
Available from Virgin Mobile ($80.00 on a 3-year-plan or $349.99 for 30 day plan). Bell loyalists can get the HTC Legend for $80.00 on a 3-year-deal or cash it out for $400.
This phone feels incredibly lightweight yet rigid and isn't as slippery as many of the glossy plastic phones we've reviewed.
One thing that bothered us was that our review unit already seemed to have a few nicks and minor scratches on the aluminium case when we got it, which means while it is sturdy, it isn't immune to getting scratched and dented… we suppose no smartphone is.
An added plus is that the HTC Legend runs on the sweet looking Sense UI that offers up useful widgets and updates for news, weather and social media all atop of the Android OS. HTC succeeds where Motorola's Blur and Samsung's TouchWiz overlays have failed. These widgets are intuitive, non-obtrusive and manage to stylishly render as much information on the screen without looking too busy.
To top it all, there's that striking 3.2-inch AMOLED screen, which is crisp, bright and clear and manages to play back  photos and video impressively.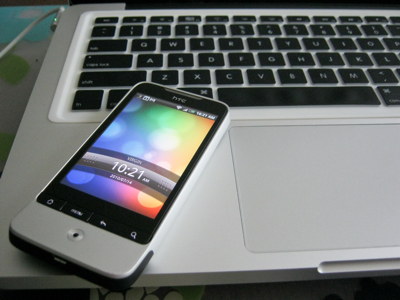 In terms of performance, we were actually amazed at the HTC Legend's speed in navigating through applications and widgets.
We tested it alongside a Motorola Milestone (which has  a similarly clocked processor at 600Mhz but less RAM) and the HTC Legend was just so much faster that it made the Milestone feel kludgy and awkward. Running searches, accessing webpages and invoking Google Maps took half the time on the HTC Legend than it did on the Motorola Milestone, not bad for a phone that's actually $100 cheaper.
Call quality and signal availability was good to excellent around Toronto and that's because Virgin Mobile actually uses Bell's large  HSPA network.
We were also impressed by the loudness and quality of the built in speaker for handsfree calls and playing back music as well. Battery life was  good for three days with moderate web surfing via Wi-Fi, media playback and some calls.
The camera is 5 Megapixel autofocus with an LED flash and is one of the better cameras on a smartphone we've tried this year eclipsing even the one on the Nexus One in terms of  focusing speed. It also has better than average low-light performance.
As for the optical trackball, it is a mixed bag. It does work as advertised and totally replaces the trackball of previous devices but seems overly sensitive. We found that we interacted directly with the screen more often than twiddling this imaginary trackball which seemed to save us time.
The HTC Legend is an impressive smartphone all around. We hope HTC continues the aluminum unibody construction in their upcoming models. If you're into Android, want HTC's Sense UI plus are in the market for a lightweight smartphone with a bright screen then the HTC Legend won't disappoint.
It is really an evolution of HTC's Android line which started with  the Magic and the Hero but which brings some of the cooler features of the Nexus One and the upcoming HTC Desire into a tight and truly capable little package.
Rating: 4 out of 5