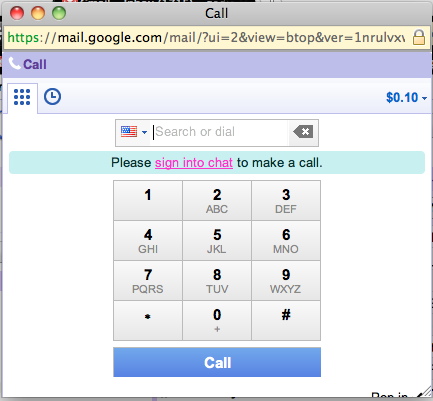 Earlier this year, Google expanded Gmail's functionality by adding the ability to make calls directly from the mail interface. The cloud based service is available to customers in Canada and the US and gives you unlimited free calling to those to countries for all of 2011.
There are also competitive international rates that rival that of Skype. Gmail subscribers just need to sign into their accounts and follow the installation steps or mosey on to http://www.google.com/chat/voice/
We've been using Gmail's free calling for over a month and found it to be just as good as or better than Skype. It seemed like the sound was consistently clearer, there were no delays  or instances where you hear your voice echoing before you hear the response from the other party.
The brilliance of Google's move is that it already has a captive and loyal following of 170 million users. By installing the phone call plugin, all of these accounts magically turn into handsets. While the vast majority will take advantage of the free PC to landline or celfone calls there will be a significant number that will avail of the great overseas rates and this might be great long-term revenue generator for Google.
We tested the service on a MacBook Pro which took about two minutes to install. Since we have a Gmail account tied to our address book, all our commonly called numbers were already on hand. Making local calls within Canada was easy although on the receiving end, the person you are calling gets caller ID from Escondido, California (possibly where the server originates from). It would be great if a proper caller ID system could be set in place (which we are sure will happen, possibly for a small fee).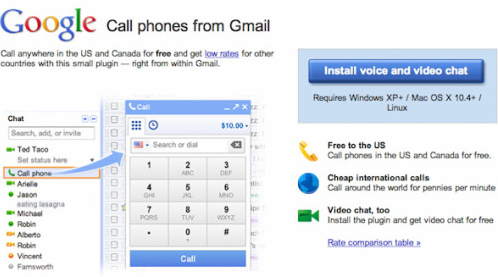 The convenience of this technology built in to your browser (We were using Google Chrome) is great for situations where you have a crappy cellular signal or are unable to use a landline to make a phone call. We also see this as an option for teleconferencing. How long before this functionality gets built into the Android OS? I'm guessing that it is a matter of time. The ability to slip from a 3G call to a Wi-Fi call automatically depending on where you are is simply genius if implemented properly. Webcam owners can also enable video chat which is impressive.
As long as you have an Internet connection, a mic and speakers you can easily make calls. Google will continue the free service until the end of 2011 which is great news for GMail users who already benefit from this service. For more details check here.